Mens Gold Turquoise Rings Information
---
Durango Silver Company specializes in the finest Turquoise from American mines, as well as important Turquoise mines, worldwide. We have mined Turquoise with many of America's most famous Turquoise miners for over 40 years and have been collecting the finest Turquoise specimens from them over the years. We now have one of the finest collections of high-grade Turquoise in the world and we use our highest grade of Turquoise to make our Men's Gold Turquoise Rings. If you appreciate quality unique Gold Jewelry and you like Gem Turquoise, we invite you to check out Durango Silver Company.

Above is an unusual Men's Gold Ring created by John Hartman of Durango Silver Company of Durango, Colorado USA, This is what we call a lost wax ring, it was hand carved in jewelers wax around this particular stone and then cast into gold. This ring has natural Colorado Gold Nuggets inlaid all the way around the ring shank and features a very rare Bisbee Turquoise gemstones. We produce many different styles of Turquoise Gold Rings for men, our style of Gold Turquoise Jewelry is significantly different than any other you will find elsewhere, in the world! The Hartman family have been producing some of the finest silver and gold jewelry coming out of the American Southwest for over 40 years now and we market our jewelry only at Durango Silver Company located in Durango, Colorado USA and Online at DurangoSilver.com. We invite you to view our Gold Turquoise Jewelry, you will find unique quality gold jewelry with the worlds finest Turquoise gemstones.
| | |
| --- | --- |
| | |
Both gold rings pictured above are part of Durango Silver Company's saddle ring collection. Our saddle rings are made by creating a completely round ring band with its own design and then applying the low profile top setting to fit the round ring, a gemstone is then inlaid into the top channel to create a great men's ring. This is a wonderful style of a men's gold ring that is greatly appreciated by most all men who wears one.
The golden saddle ring on the left was created in 14k yellow gold with a beautiful, natural, lime green Carico Lake Turquoise gemstone was then inlaid into the top channel of the band. This is a very classy mens gold Carico Lake Turquoise Ring with an astonishing gemstone. You can see this Men's Gold Ring Band on its presentation page located here!
In the upper right hand photo is a mens gold and Turquoise saddle ring. This ring has a beautiful deep blue Spiderweb Turquoise stone from the Lander Blue Turquoise Mine. A gold saddle ring from Durango Silver Company is an unusual ring handmade in the American Southwest - made in America! You can see additional photo of this ring by going to its presentation page.

Take a look at some high quality, handmade, Men's Gold Turquoise Rings from Durango Silver Company
Durango Silver Company has produced Quality Turquoise Jewelry in Gold for over forty years now. We know of no other American Jewelry producer that specializes in Gold Men's Rings with authentic natural high-grade Turquoise. Turquoise is a spectacular gemstone that is believed by many to have spiritual and metaphysical powers, native peoples worldwide have coveted Turquoise for over 7000 years, in fact, Turquoise is known to be one of the first gemstones found by mankind on the Sinai Peninsula of Egypt prior to 5500 BC. We believe we produce some of the most beautiful Mens Gold Gemstone Rings in the world.
Above and to the left is an awesome Mens Gold Turquoise Ring of unmatched beauty. It was hand carved by John Hartman and features a spectacular red web Bisbee Turquoise gemstone along with Colorado Gold Nuggets running down each side of the Gold Ring Band. The design is freeform flowing gold vines engulfing the magnificent deep blue Turquoise gem.
To the upper right is a photo of another Gold Mens Ring with an outstanding Bisbee Turquoise webbed gemstone. This was also an handcarved ring produced by John, it has Gold Nuggets inlaid all the way around the band - it is a piece of work! Go to the presentation page for this unique Gold Ring to see additional photos showing several angle of the piece and the Gold Nugget work. Bisbee Turquoise is considered the best Turquoise that ever came out of the ground in North America, mining of Bisbee Turquoise was closed around 1978 and has not continued since. It stopped due to it being a liability to the largest copper mine in North America - The Bisbee Mine.
| | |
| --- | --- |
| | |
The Gold Men's Ring to the upper left features a high-grade Blue Wind Spiderweb Turquoise Gemstone from Lander County, Nevada USA. This Turquoise is extremely rare and unbelievably beautiful, Dick Edgar found a small pocket of this Turquoise, (less then 100 lbs.), in 1973. The setting for this fine Turquoise stone was created by John Hartman by carving a master in jewelers wax and then using the lost wax process to cast it into gold. This is a fantastic Mens Gold Turquoise Ring.
About 20 years prior to Dick discovering the Blue Wind Turquoise is elder, Cutler Edgar discovered the Number 8 Turquoise Mine which is what you see in the photo to the upper right. This mine produced a tremendous amount of spiderweb Turquoise, however, most of it was to soft to use in Jewelry. The bulk of Number 8 Turquoise was treated with resins to harden the Turquoise making it applicable to use to make Native American Turquoise Jewelry. Authentic natural Number 8 Turquoise as in this ring is rarely scene - it is beautiful, don't you agree? This is a wonder Gold Mens Ring that is a Museum quality example of Number 8 Turquoise.
Here are some more artisan handmade, top shelf, Men's Gold Turquoise Rings from the American Southwest
It has not been common practice for Native American Jewelers to make Gold Turquoise Jewelry or Gold Turquoise Mens Rings. Silver has been the precious metal of choice for Turquoise Jewelry made in the American Southwest since 1865. We began producing Gold Turquoise Jewelry in 1975 and found it to make our Jewelry unique from all other Jewelry being made in the Southwest, there has been very few others producing Gold Turquoise Jewelry with high-grade Turquoise other then our company, for this duration. Durango Silver Company focuses on creating exceptional quality Gold and Turquoise Jewelry with authentic natural high-grade Turquoise from the American Southwest.
| | |
| --- | --- |
| | |
Above and to the left is a fabulous Men's Bisbee Turquoise Ring in 14ky Gold. This quality of Bisbee Turquoise is very hard to come by, it is truly rare! This Gold Bisbee Ring was created by John Hartman - John cut the stone and did the Gold work as well. It was created by hand carving the wax around this stone and then it was cast in Gold by the lost wax process. Colorado Gold Nuggets were inlaid into the channels with Gold solder and the Ring was completed to perfection.
The Gold Ring on the right has a Morenci Turquoise gemstone set in 14ky Gold by John Hartman. John cut this beautiful Morenci Turquoise Stone, hand carved the wax master and cast it into this beautiful one-of-a-kind Ring. Morenci Turquoise is also very scarce and quality Morenci Turquoise as seen in this photo is very hard to come by. There has been very little Turquoise come out of the Morenci Mine since the late 1970's.
"Lost Wax" style Pieces from Durango Silver Company are very unique
The Gold Men's Ring on the left was created by John Hartman of Durango Silver Company. The Red Mountain Turquoise gemstone was purchased from Rick Gibson in about 1980 by John and it has been in his collection since. The setting of this Red Mountain Turquoise Gold Ring was created by carving a wax master pattern around this particular stone, it is a one-of-a-kind. The uniqueness of a lost wax ring by the Hartman family is one thing and it is another that there will never be another created like it! If you choose to have one of our one-of-a-kink lost wax rings, you will be the only one with that particular ring design in the world.
To the right is a Men's Gold Ring with a Damele Variscite gemstone. The Damele stone was hand cut by Dillon Hartman and the Gold Ring was made by John. It too is a one-of-a-kind Gold Ring that was made specifically for this freeform shaped Damele gemstone. Many consider Damele Variscite to be Turquoise, however, a lot of material that comes out of the Damele Mine is Variscite. There is however Turquoise that comes out of the Damele Mine, but, you must have a trained eye to detect the difference.
All of our jewelry is built to last and become a family heirloom
Above and to the left is a Men's Gold Royston Turquoise Ring handmade by John Hartman of Durango Silver Company. The Royston Turquoise Stone was hand cut by Dillon Hartman and John made the Ring by carving a wax master pattern around this particular gemstone. It is a one-of-a-kind Turquoise Gold Ring that was specifically designed to be a men's ring. It is a unique ring that a lucky gentleman will enjoy for years to come and when he is ready to hand it down, it will become a valuable heirloom from the American Southwest.
Above is an Indian Mountain Turquoise Gold Men's Ring produced by Durango Silver Company. This ring was made differently than many of the others you see on this page, this was made in a combination of Sterling Silver and 14ky Gold. A Gold bezel was wrapped around the stone and then twisted Gold wire was wrapped around that, they were then soldered to a Silver sheet and then a Silver Ring Shank was hand made and soldered to the table of the ring. It was then finished to perfection and made available for our customers.

View other examples of artisan handmade Jewelry produced by Durango Silver Company
To the upper right is a photo of a Bisbee Turquoise Gold Pendant, this is an example - one of many Gold Turquoise Pendants that we produce at Durango Silver Company. We have created a great informational page on Gold and Turquoise Pendants that we believe you will appreciate if you like high quality Turquoise Jewelry, check it out!
We have also made another informational page on Gold Turquoise Necklaces that has a lot of good factual info as well as many photos. We invite you to check out both of these presentation pages as we are certain you will learn a lot from them.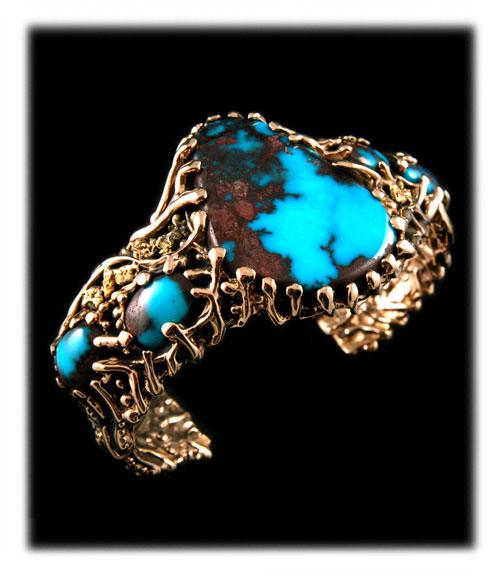 Above is a masterpiece created by John Hartman. This 14ky Gold Bracelet was sculpted in Jewelers wax by John to feature five outrageous high quality Bisbee Turquoise Gemstones. Once John used the lost wax method to cast the piece in Gold, he set Colorado Gold Nuggets into channels that he created to accommodate them, a river of Gold Nuggets runs down each side of this bracelet. This is a one-of-a-kind Bisbee Turquoise Gold Bracelet featuring America's finest Turquoise from the past, it is also one of America's more rare Turquoise types and hardest to find. Look at more good examples of unique gold Turquoise jewelry from Durango Silver Company on our Pinterest account.
We have created a good informational page on Turquoise and Gold Bracelets that we think you will appreciate, check it out! Also, check out our Turquoise in Gold Video.
For more informative reading and viewing, check out these great pages from Durango Silver Company:
Gold and Turquoise | Gold Bisbee Turquoise Jewelry | Turquoise Gold Rings | Turquoise Gold Jewelry | Gold Turquoise Pendant | Turquoise in Gold Video | Gold Turquoise Necklaces | Gold Turquoise Jewelry | Gold Turquoise Ring

We invite you to learn more about Men's Gold Turquoise Rings and American Jewelry by following the links in our Learning Center, we have written on different topics directly related to Men's Gold Turquoise Rings. In addition, we would like to invite you to join our E-Mail Newsletter - about once every other month we send out a Newsletter to inform our members of what's happening with Durango Silver Company, new products, specials for our members and more. We also have a monthly drawing from our member base to give away free Turquoise Jewelry from our company. Please take a moment to become one of our friends by signing in below. We hope you have enjoyed our presentation on Men's Gold Turquoise Rings and have gained some useful knowledge from it.