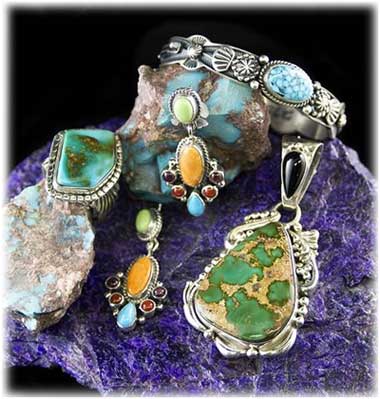 Indian Turquoise Jewelry by Durango Silver Company
Indian Turquoise Jewelry began when the Spaniards came up from the south (Mexico) in search of Gold. The Navajo People admired the fancy silverwork the Spaniards had on their horses and one man named Atsidi Sani, a blacksmith, convinced the Spaniards to teach him how to work silver. It is believe Atsidi actually started working with silver around 1870-1873. Navajo Silver and Turquoise i.e. Indian Turquoise Jewelry started showing up around 1880.
In the 1880's, Indian Turquoise Jewelry was made for self adornment and traded among the Native Americans of the Southwest. By the 1890's, Silver and Turquoise became more prominent and noticeable by Traders and the settlers. Records show that Indian Traders were bringing Navajo Indian Turquoise Jewelry to the west coast, mainly Southern California around the turn of the century 1890-1900 and it is certain that Indian Turquoise Jewelry really took off when tourism began at the Grand Canyon. Grand Canyon National Monument was founded in 1908 by President Theodore Roosevelt, and became a national park in 1919.
It is known that tourism to the Grand Canyon began shortly after President Roosevelt toured the Grand Canyon area and brought it to the attention of the American public. We know that between the Indian Traders bringing Indian Turquoise Jewelry to California and the advent of Tourism to the Grand Canyon is how Indian Turquoise Jewelry really took off.
So, it is safe to say that production of Indian Turquoise Jewelry in notable quantities began around 1910. By that time, Navajo's, Zuni's and others were making and marketing Silver and Turquoise Jewelry in many venues along Route 66, at the Railroad stops that went from Flagstaff to Albuquerque and at the Grand Canyon.
By the 1930's, the economies of the west had ramped significantly and so did the development of the Indian Turquoise Jewelry industry. The Zuni Indians had came on board to create their own style of Indian Turquoise Jewelry, The Hopi Indians were making their style of Indian Silver Jewelry and Turquoise Jewelry was being manufactured in the homes of Southwestern Native Americans as well as Indian Jewelry manufacturing shops that were springing up throughout the Southwest. The market was brisk for Indian Turquoise Jewelry and a new industry for the Southwestern United States was well under way.
There was a general incline in demand for Indian Turquoise Jewelry through the 1960's with few bumps in the American economy that slowed it down. The 1970's brought a new age for Indian Turquoise Jewelry that was shocking to the industry. Arizona Highways came out with an issue on Turquoise Jewelry and the media took it from there. Indian Turquoise Jewelry seemed to be the hit topic in all media formats and a major boom began. For several years, the demand for Indian Turquoise Jewelry far exceeded the supply with no way to make it fast enough to meet the public's thirst for Turquoise Jewelry from the Southwest. By 1980 the mad rush for Indian Turquoise Jewelry has slowed and things went back to somewhat normal.
Since the 80's, Indian Turquoise Jewelry has been on a fairly even keel. It has been totally accepted throughout the American public and is cherished by all who have and wear it.
Many things have changed in the Turquoise Jewelry industry over the past 100 years. Today, there are many options for people to choose from when considering Turquoise Jewelry and Indian Turquoise Jewelry is one of the many. It is produced in many countries, in many styles and in many qualities from highly collectible and expensive all the way down to plastic look-a-likes.
Indian Turquoise Jewelry, remains the grand daddy of the global Turquoise Jewelry industry and will be looked up to forever. Southwestern Turquoise Jewelry is part of our American heritage and will continue to be forever.
Durango Silver Company of Durango, Co USA is located in the heart of the Southwestern Turquoise Jewelry Mecca of the U.S. We produce high quality Turquoise Jewelry and we deal in Turquoise Jewelry made throughout the Southwest including Native American Indian Turquoise Jewelry. We specialize in Authentic Natural Turquoise with high quality handcrafted silverwork. We invite you to take a look at what we have to offer.
Your total satisfaction of our Turquoise Jewelry is of the greatest importance to our company. Enjoy browsing through our site and if you find an item you would like – we guarantee you will love it when it arrives to you.
Below are some examples of Indian Turquoise Jewelry with descriptions for your knowledge and pleasure.
Native American Indian Turquoise Jewelry Examples
Above; On the left; is a Indian Turquoise Bracelet, Navajo Handcrafted, with a beautiful natural Turquoise Gemstone from the Broken Arrow Mine in Nevada, they call this Nevada Green Turquoise. Notice the beautiful tooling that Navajo Silversmiths are so famous for, this is a Mens Turquoise Bracelet but can be considered a Womens Turquoise Bracelet for a larger lady as well. This is a great example of classic Indian Turquoise Jewelry. On the right; is a beautiful Navajo Turquoise Pendant with unique silverwork surrounding a Blue Gem Turquoise Stone. The Blue Gem Turquoise Mine has been out of production for over 25 years, but when it was in production it produced some of the finest Turquoise in America. Navajo Turquoise Pendant Necklaces like this one, as well as other Indian Turquoise Jewelry can be found at the Durango Silver Online Store.
| | |
| --- | --- |
| | |
Above; To the left is a Zuni Navajo (Zuni or Navajo) Turquoise Pendant called a "Turquoise Cluster Pendant" made with Spiderweb Turquoise from Nevada. You can easily see that each Turquoise Stone is unique to itself as the matrix and color varies in each Stone. Another great example of old style Indian Turquoise Jewelry. To the right is another type of a Navajo Turquoise Pendant with a different clustered Bisbee Turquoise stone layout. This pendant has a little more silver design surrounding the Turquoise Stones to make it unique.
Many people collect American Turquoise and hunt for Indian Turquoise Jewelry with rare stones as are in the two Navajo Turquoise Pendants above. The Native American Indian Silversmiths seek high quality Turquoise Gemstones as they make their Jewelry more valuable as well as collectible.
Above: To the left is a pair of Zuni Navajo (Zuni or Navajo) made Turquoise Earrings with Sleeping Beauty Turquoise Stones. These Earrings are a classic Indian Turquoise Jewelry design from this period of time. To the right is a classic Navajo Turquoise Jewelry piece, a Squash Blossom Necklace that has been in style in the Southwest for over 75 years. This necklace is made with rare Turquoise from the Manassa Turquoise Mine of Colorado. Manassa Turquoise was one of the first Turquoise deposits found by the Native American Indians possibly a thousand years ago and is now out of production. This is a a neat example of green Indian Turquoise Jewelry.
| | |
| --- | --- |
| | |
Above are two Zuni Inlay Mens Rings; To the left is a Zuni Coral Mens Inlay Ring made with Mediterranean Coral, it has eight individual stones inlaid into channels that were made in the Ring to accommodate the Coral. To the right is a Zuni Inlay Turquoise Mans Ring. These are classic styles for Zuni Inlay Jewelry, they are easy to wear for men and make a wonderful Zuni Turquoise Mens Ring.
Above are two types of Zuni Inlay Jewelry which is another neat form of Indian Turquoise Jewelry. To the left is a Zuni Turquoise Inlay Mens rings with Turquoise, Jet and Mother of Pearl stones. To the right is a pair of Zuni Inlay Turquoise Earrings of a classic style. Zuni Turquoise Inlay Jewelry is generally very good quality and durable, if it is authentic Zuni Indian Jewelry. Zuni Inlay Earrings are favored by women as they are beautiful and light weight.
| | |
| --- | --- |
| \ | |
Above; are two pair of Zuni Turquoise Earrings – To the left is a pair of Zuni Turquoise Petit Point Earrings with two types of Petit Point, round and pear shaped Petit Point Turquoise Stones. To the Right is a pair of Zuni Turquoise Needlepoint Earrings with one Petit Point round stone in the center of the Earrings. Both Petit Point and Needlepoint styles of Zuni Turquoise Earrings have been made for a long time and are still favorites in Indian Turquoise Jewelry today. These styles are timeless!
Above; are two pairs of Zuni Turquoise Chandleir Turquoise Earrings. This style of Zuni Turquoise Earrings is very popular and has been for over 30 years. They are exquisite, lighweight and durable. This is a great choice for Native American Turquoise Earrings and a great example of Indian Turquoise Jewelry.
Above are two Navajo Turquoise Cuff Bracelets. To the left is a Navajo Turquoise Bracelet with a row of graduated sized Sleeping Beauty Turquoise Stones, this is called a Navajo Row Bracelet. To the right is a three stone Navajo Turquoise cuff Bracelet with its bracelet frame made from six pieces of square wire. This Navajo Turquoise Bracelet is a classic Indian Turquoise Jewelry design that has been made for nearly 100 years and is still popular today – timeless!
To the left is a piece of Indian Turquoise Jewelry style silver jewelry made with graduated Mediterranean Coral Stones on a twisted silver wire Bracelet Frame. The Navajo Turquoise Bracelet on the right is another Navajo Row Bracelet with Sleeping Beauty Turquoise stones.
Above are two unique pieces of Indian Turquoise Jewelry, they are both considered Turquoise Cuff Bracelets. The Turquoise Bracelet on the left was Zuni Navajo (Zuni or Navajo) made. In the past this was considered Zuni Inlay but today the Navajo's do as much Inlay as the Zuni's,that is why we call this a Zuni Navajo (Zuni or Navajo) Inlay Turquoise Bracelet. The Zuni Bracelet on the right is considered a Petit Point Zuni Bracelet and is made with Sleeping Beauty Turquoise. This is a classic Zuni Turquoise Cuff Bracelet.
| | |
| --- | --- |
| | |
Above are two Zuni Inlay Cuff Bracelets. The Inlay Bracelet on left is Inlaid with Turquoise, Coral, Jet, Mother of Pearl and Yellow Shell. This type of multi stone Inlay Bracelet has become very popular for the Zuni Jeweler, it is very comfortable to wear and is durable as well. The Inlay Bracelet on the right is Zuni Indian made as well and is slightly different in design, notice the Inlay is flat across the Bracelet unlike the other Inlay Bracelet to the left which is rounded. Both of these Zuni Inlay Bracelets are timeless and can be worn be either sex. Great examples of modern Indian Turquoise Jewelry.
| | |
| --- | --- |
| | |
Above are two Navajo Turquoise Buckles. To the left is Navajo Turquoise Buckle that is in the shape of a typical Concho (Oval). A Turquoise Buckle is the first piece of Indian Turquoise Jewelry a man usually gets as he will wear a Turquoise Buckle every day. To the right is a rectangular shaped Navajo Turquoise Buckle that has typical heavy stamp work Navajo Silversmiths are so famous for. Both of these Turquoise Buckles are of classic Navajo Style and Buckles similar to these have been made for over 100 years – Classic and Timeless!
---
Back to the Jewelry Learning Center
We hope you have enjoyed this page about Indian Turquoise Jewelry we have made for you and we hope you will check out our site for Turquoise Jewelry that might interest you.