Navajo Jewelry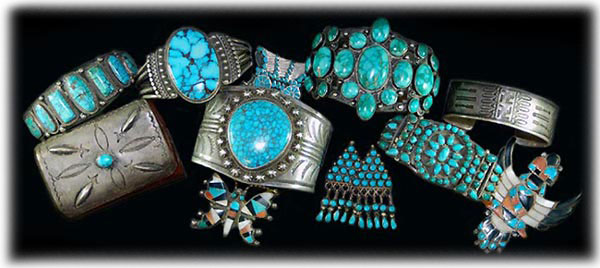 Navajo Jewelry History
Navajo Jewelry History - The first Navajo Jewelry was made by Atsidi Sani around 1865. Atsidi Sani was a Navajo Blacksmith who admired the Silver Trappings the Spaniards and their horses were adorned with when they came to this area in their quest for Gold and Silver. Atsidi Sani got Spaniards to teach him how to work Silver and began making Silver Concho's, adornments and the first Navajo Jewelry. Atsidi Sani found an immediate market for his Jewelry to his own Navajo people who appreciated Navajo Jewelry very much. Atsidi taught his brother how to Silversmith and they both taught many others as there was an immediate demand for Navajo Jewelry by the Navajo's as well as others Indian Tribes and the white men.
The Navajo had previously been trading for Turquoise and Turquoise Beads from the Santo Domingo Indians of the Rio Grande region. It is believed that Turquoise was first set into Navajo Jewelry by the early 1880's and by 1885 Navajo Turquoise Jewelry was in high demand by many. Trading Posts had sprung up in the Southwest and Navajo Jewelry was big trade for the Indian Traders. The Indian Traders took Navajo Jewelry out to Southern California which was in a boom and their Silver Jewelry as well as Silver and Turquoise Jewelry was immediately excepted by the Californians.
Shortly after the turn of the 20th century tourism began in the Southwest mainly due to the Grand Canyon and the Railroad. Navajos would set up at all of the Train stops along the route to sell their Jewelry. Tourists favourite thing to buy was Navajo Jewelry such as Turquoise Rings, Squash Blossom Necklaces, and Navajo Bracelets. By the 1920's Navajo Jewelry was for sale in Indian Trading Posts, at the Grand Canyon and in Dry Good Stores from Arizona, New Mexico and beyond.
The Navajo Silver and Turquoise Jewelry business boomed and became a brisk industry with Navajos making Jewelry in their homes to production Jewelry manufacturers run by the white men. Several Turquoise Jewelry booms came and went as time went on and all told Navajo Jewelry had become a major industry throughout the Southwest.
Today, Navajo Jewelry is still in vogue and in high demand as well. People throughout the world appreciate Navajo Jewelry and come to the Southwest to buy Silver and Turquoise Jewelry as well as to tour the great Southwest. Navajo Jewelry has an important roll in the history of the American Western Frontier and is very much a part of the American Heritage forever more.
For addition Navajo Silversmithing History, check this page out or read our page about Navajo Jewelry Origins
Vintage Navajo Jewelry
Vintage Navajo Jewelry - We consider Vintage Navajo Jewelry to be fifty years old or older and Antique Navajo Jewelry to be eighty years old or older. In purist terms, and according to the U.S. Customs Service, an antique is an item with at least 100 years of age under its belt. Navajo Jewelry took a major turning point about 1930 and most seasoned Indian Traders consider Antique Navajo Jewelry is Indian Jewelry made before1930. Navajo Jewelry took another major turning point around 1955-60, the movie and media industries created a fad (major demand) for Turquoise Jewelry which changed the way Navajo Jewelry would be made from that point on.
As Southern California played an important roll in the development of the Navajo Jewelry industry, when the movie industry went into its boom around 1960, Navajo Jewelry was worn by the movie stars and the mass American public woke up to the fact of how beautiful Navajo Jewelry and Navajo Turquoise Jewelry was. A great increase for Navajo Jewelry began at that time and the industry responded by building up the Jewelry production manufacturing industry as well as putting on a push campaign to the Navajo's to produce more Navajo Jewelry and at a faster pace to meet the market demand. There actually is a big difference between Navajo Jewelry made prior to 1960 and this is the period that we consider it to be Vintage Navajo Jewelry.
For more information on the history of Navajo Silver, view our presentation page.
To the left is a piece of Vintage Navajo Jewelry and to the right is a piece of Antique Navajo Jewelry. The Navajo Bracelet to the left was made around 1920 and although the product description in the Durango Silver Co online store says Antique Navajo Jewelry, we consider this Vintage Navajo Jewelry, but, possibly Antique as it may have been made prior to 1911. This piece of Navajo Vintage Jewelry is called a Navajo Turquoise Cluster Bracelet and was a popular style of Navajo Jewelry from 1900 on. The Type of Turquoise, the fact that it was made with Coin Silver and the actual Silver design tells us the approximate age. Coin Silver Navajo Jewelry takes on a different patina then Sterling Silver which was used extensively after world war two. This Vintage Navajo Bracelet has Arizona Turquoise and we can tell this as it remains fairly clear sky blue in color.
The Coin Silver Navajo Bridle is a piece of Antique Navajo Jewelry as it was made around the 1880 to 1900 period. This Antique Navajo Horse Bridle was a common piece of Navajo Jewelry found in the Southwest and traded for by many horsemen in the early years of Antique Navajo Jewelry. The Navajo got Silver Coins from the U.S. Calvary and then Indian Trading Posts, melted them down into ingots and hammered the ingot Silver out into sheets and other Silver forms. They welded their Silver pieces together in a open pit fire or a blacksmith forge with bellows which blew air on the fire to make it hot enough to melt their Silver solder which laminated their Silver Jewelry designs together. You can read more on this Antique Navajo Silver Jewelry on its presentation page. Navajo Coin Silver Jewelry is very collectible and Antique collectors hunt high and low for this type of Antique Navajo Jewelry.
A lot of Antique Navajo Jewelry is horse related regalia. Actually, Navajo Silversmiths made Silver ornaments and embellishments for the equestrian industry well into the 1960's for the movie industry as well as the cowboys and cowgirls of the west. Navajo Turquoise Jewelry has always been admired by western minded people as it still is today. You will notice the Hollywood group, movie stars and country western stars continue to wear a lot of Turquoise Jewelry.
| | |
| --- | --- |
| | |
Above are two pieces of Vintage Navajo Jewelry with Turquoise. To the left is a Vintage Navajo Squash Blossom Necklace that was made in the 1940's - 1960. This Navajo Necklace was made with Sterling Silver and was totally bench made, including the Silver Beads. This piece was strung on cotton string when we purchased it over 25 years ago. You can read more about this Vintage Navajo Squash Blossom Necklace on its presentation page. To the right is a photo of a pair of Vintage Navajo Earrings made with Arizona Turquoise. This pair of Vintage Navajo Turquoise Earrings were made about 1940 and are of a classic Navajo Cluster design which Navajo Silversmiths are well known for from that period. This pair of old Navajo Earrings have old style screw-on backs which also helps us identify their age.
John Hartman of Durango Silver Company has been a Antique Navajo Jewelry as well as Vintage Navajo Jewelry collector and dealer for over forty years and is an expert on authenticating Antique and Vintage Navajo Jewelry. Read the Ft. Defiance Trading Post acquisition story! John also purchases authentic old Navajo Jewelry, if you have an old Navajo Jewelry collection, you can send photos for him to examine to John@DurangoSilver.com.
Navajo Silver Jewelry
Navajo Silver Jewelry - The Navajo Indians began by making plain Silver Jewelry with no stones, they were prolific at leaning their many ways of forming and stamping their Navajo Silver Jewelry. The Navajo Indians were the first Native American Indians of the Southwest to make Native Indian Jewelry followed by the Zuni Indian and the Hopi Indians of the Southwestern regions of the USA. Native Indian Jewelry made by the Navajo Indians was sought after by many other American Indian Tribes throughout North America as well as Tourists traveling through the Southwest and the American public, mainly in the west. Navajo Silver was the original Indian Jewelry from the Western American Frontier!
For more Native American Facts, visit our educational page.
Navajo Silver Jewelry - Above are two pieces of Navajo Silver Jewelry. The Navajo Silver Bracelet on the left is a classic piece of Navajo Silver Jewelry! This photo shows you the beautiful Navajo Silver Stampwork that Navajo Silversmiths are so famous for. Navajo Silver stamp work is admired worldwide and rarely copied by other Silversmiths as it is done with special concentration, skill and a sledge hammer - amazingly beautiful!
To the right is a Vintage Navajo Silver Concho Belt handcrafted about 1930. This belt was made with Sterling Silver which was fairly rare out on the reservation, but, available in the towns such as Flagstaff, Gallup and Albuquerque. Indian Trading Posts on the reservation began to carry Sterling Silver in sheet, wire and solder forms around this period. This is another way we can date Antique or Vintage Navajo Silver Jewelry. This Vintage piece of Navajo Jewelry was made from sheet Sterling Silver, the metal was stamped, reposed (bumped up from the back side) and domed to make the Silver Concho's three dimensional. Navajo Concho Belts and Navajo Bracelets were the most common pieces of Navajo Silver Jewelry made in the early years.
For more information on Indian Jewelry and Indian Turquoise Jewelry, visit our educational presentation page.
Navajo Turquoise Jewelry
Navajo Turquoise Jewelry began shortly after Atsidi Sani learned how to make Navajo Silver Jewelry from the Spaniards, this was about 1880-85. The Navajo's had been trading with the Santo Domingo Indians for Turquoise Beads and other Turquoise Beaded Jewelry for many years. As the Navajo people loved Turquoise, it was a natural fit to put it in the Silver Jewelry made by the Navajo Silversmiths.
Navajo Turquoise Jewelry became popular with the Navajo people, the Indian Traders and demand by the Californians was grand once the Indian Traders took it to the Markets on the west coast. Tourists coming to see the Grand Canyon as well as travelers on the Railroad loved Indian Turquoise Jewelry and many took the Navajo Turquoise Jewelry home with them as souvenirs.
Navajo Turquoise Jewelry was popular with the movie stars from Hollywood and a lot of Navajo Turquoise Jewelry was even worn in the movies. California has been a big market for Navajo Turquoise Jewelry and continues to be today. Indian Turquoise Jewelry of all types including Zuni and Hopi as well as Navajo is admired worldwide today and it has become a major part of our American heritage.
Above are two pieces of Navajo Turquoise Jewelry - The Navajo Silver and Turquoise Pin to the left is a classic piece of Navajo Silver Jewelry that has been popular since the late 1800's. The Navajo women would wear these pins on their beautiful blouses along with many Silver buttons. The Navajo Turquoise Pendant to the right is a recently made piece with unique Silver work the Navajo Silversmiths are known for.
Above are two Navajo Turquoise Necklaces in two totally different styles. The Navajo Turquoise Necklace on the left is called a Navajo Tab Necklace and this one is made with beautiful green Nevada Turquoise from the Broken Arrow Mine. The Navajo Necklace on the right is called a Naja Necklace as the bottom Pendant is called a Naja by the Navajo's. This Navajo Turquoise Necklace is simple yet unique and is a great every day piece of Navajo Turquoise Jewelry that goes great with any casual dress style.
Above are two different pair of Navajo Turquoise Earrings. The pair of Earrings to the left are called Navajo Turquoise Cluster Earrings because there is a cluster of Turquoise Stones that create the unique design. There are many types of Navajo Turquoise Jewelry pieces that are made in this Navajo Cluster design. The Navajo Turquoise Earrings on the right are of a classic Navajo design, the Turquoise Stone being the center point with Sterling Silver accents surrounding the stone.
Navajo Earrings are bold and most often unique onto themselves. The Navajo show their love for Turquoise in the way they accentuate their design in Turquoise Earrings. Navajo Turquoise Earrings are a beautiful form of Native American Turquoise Jewelry that many people really appreciate.
The Navajo Pendant Necklace to the left is a great example of Navajo Turquoise Jewelry as it has it all, a beautiful Turquoise Stone surrounded by unique Silver designs and other gemstones in a cluster affect. The Navajo Cluster Pendant on the right is a classic Navajo styled pendant that has been made since the 1920's and remains popular today. This Navajo Turquoise Pendant has beautiful blue spiderweb Turquoise surrounding a green spiderweb Turquoise center stone which makes a nice and attractive Turquoise Necklace.
| | |
| --- | --- |
| | |
The Navajo Turquoise Bracelet to the left is a beautiful example of Navajo Turquoise cluster work on a Sterling Silver Bracelet. This Navajo Turquoise Cluster Bracelet has a beautiful array of blue and white spiderwebTurquoise. This is one of those Navajo Bracelets that really stands out from the rest. To the right is a three stone Turquoise Bracelet that was made by making a heavy Bracelet Shank out of heavy weight Silver, tooled and stamped deeply and then the three bezels are soldered on top of the Bracelet frame to make this outstanding piece of Navajo Silver and Turquoise Jewelry. This is a niceNavajo Bisbee Turquoise Bracelet.
You can read more about Navajo and other Native American Artisans on our presentation page.
To the left is a Navajo Turquoise Row Bracelet that was made with Sleeping Beauty Turquoise Stones. This style of Navajo Bracelet has been made for decades and is truly a classic. This is a great type of Navajo Bracelet that can be worn on an every day basis. To the right is a Navajo Turquoise Buckle made in a cluster style. This Navajo Buckle was made with Kingman Nugget Turquoise stones in Sterling Silver.
Here are two different yet unique Navajo Turquoise Rings. The Turquoise Ring on the left focuses on the beautiful blue Turquoise stone with a minimal amount of Silverwork which makes the stone stand out. You can read more about this Navajo Ring on its presentation page. Navajo Rings such as the one on the right show the classic Navajo Silverwork they are so famous for. This Navajo Silver and Turquoise Ring is a good example of Navajo Silver Jewelry.
| | |
| --- | --- |
| | |
The Navajo Silversmiths are well known for their Turquoise Necklaces as well as their beautiful Turquoise Pendants and here are two good examples of their work. The Necklace on the left is an example of a Navajo Squash Blossom Necklace, it has Manassa Turquoise from Colorado which was one of the first Turquoise Mines discovered by the Native American Indians over one thousand years ago. On the right is a Navajo Turquoise Pendant with stamp work design surrounding the stone. Navajo Silversmiths make their own tooling and each piece of Navajo Silver Jewelry has its own character do to this. This is a classic style Navajo Turquoise Pendant with Manassa Colorado Turquoise.
Above to the left is a beautiful hand stamped Navajo Turquoise Bracelet with Manassa Turquoise stones. To the right is a bezel set Navajo Turquoise Pendant. We call it bezel set as the stone is wrapped with a Silver bezel and backed with a Sterling Silver plate.
Navajo Inlay Jewelry
Today many Navajo Jewelry artisans have started making Inlay Jewelry. Classically inlay jewelry was known in the Southwest as an art form perfected by the Zuni Jewelry artisans. Today, many Navajo Jewelers have taken the Zuni inlay jewelry and have taken the intricacy of the inlaid stone work and the color combinations to the next level. There are many Navajo jewelry artisans that are considered to be the best inlay artisans around. Infact, most of the inlay jewelry that is made today is made by Navajo artisans and artisans from the Phillipeans. This type of jewelry is a newer art form to the ever changing skill set of the Navajo jewelry makers. It is pretty easy to tell the difference between Navajo Inlay Jewelry and Zuni Inlay Jewelry. Most Zuni Inlay Jewelry will be made with the traditional colors, which are Turquoise, red Coral, Mother of Pearl (White), and Jet (black). Zuni Inlay artist rarely deviate from this color scheme or some form of it. Navajo Inlay Jewelry artisans will use almost any color combination and any gemstone to get the look they desire in their gold and silver jewelry. Durango Silver Company carries a few of these modern Navajo Inlay Jewelry artisans, one of our favorites being Stanley Manygoats. You can find out more about Stanley Manygoats on his page.
For other educational pages on American Turquoise Jewelry check out Silver Jewelry, Turquoise Jewelry, Indian Jewelry, Turquoise Beads and Antique Turquoise Jewelry.
We hope you have enjoyed our presentation on Navajo Jewelry and have gained some useful knowledge from it. We invite you to learn more about Turquoise and Turquoise Jewelry by following the links in our Learning Center to other informational pages that we have written on different topics related to Turquoise Jewelry. In addition, we would like to invite you to join our E-Mail Newsletter - about once every other month we send out a Newsletter to inform our members of what's happening with Durango Silver Company, new products, specials for our members and more. We also have a monthly drawing from our member base to give away free Turquoise Jewelry from our company. Please take a moment to become one of our friends by signing in below. Thank you for learning about Navajo Jewelry.