Spiderweb Turquoise Rings and their Values
Spiderweb Turquoise and Spiderweb Turquoise Jewelry are a specialty of Durango Silver Company, we have been mining, collecting and cutting quality natural Turquoise for nearly 50 years. We have a very large Turquoise collection and cut Turquoise on a regular basis. We always have a good selection of Spiderweb Turquoise Rings available. Below is an informational page on highgrade Spiderweb Turquoise Rings and their values, as of 12-15-2012, there is also a lot of important information here for individuals who appreciate collector quality Turquoise Jewelry.
You can click on any of the photos in this page which will take you to each individual rings presentation page.
Above and to the left is a Dry Creek Spiderweb Turquoise Ring. This ring features a gorgeous Dry Creek Spiderweb Turquoise gemstone, it was cut from our personal collection of Dry Creek Turquoise from Nevada USA. The silver and gold combination ring was created by John Hartman. John remembers setting tens of thousands of carats of this beautiful gemstone in the 1980's, it ran about $1.00 per carat back then, today this stone would easily bring 6 - 8 dollars per carat. This Gold and Silver Dry Creek Spiderweb Turquoise Ring sold for $1250.00 in 2012.
The Dry Creek Turquoise Mine was originally discovered in the early 1930's near Austin, Nevada on Dry Creek at the Damele Horse Ranch. Many know this as the Godber-Burnham Mine, however in one area a very light blue to white Turquoise was discovered and they called this deposit "Dry Creek Turquoise". This light colored Turquoise is caused by high aluminium concentrates, it is beautiful and very collectible.
Above and to the right is another combination Silver and Gold Spiderweb Turquoise Ring. This ring features an exceptional 26ct Kingman Spiderweb Turquoise gemstone with rich color and beautiful spider webing matrix. The matrix in this stone runs from areas of amongst black, a dark brown and then fading into a golden brown, there is even a water web appearance on one end of the stone which gives it a two tone effect. This is a beautiful and unusual Kingman Spiderweb Turquoise gemstone.
The Kingman Turquoise Mine is located near Kingman Arizona, the Turquoise mining contract is owned by the Colbaugh's and has been in their family for generations. The Colbaugh's produce the bulk of Turquoise being mined in the United States today and the Kingman Mine is the only active Turquoise mine left in Arizona as of 12-12-2012. This Kingman Spiderweb Turquoise Stone is valued at $6.00 - $10.00 per carat (wholesale) and this Silver and Gold Spiderweb Turquoise Ring is currently available at $1375.00.
How does Spiderweb matrix form in Turquoise?
Turquoise is a sedimentary mineral which means it is formed by moisture, (water,) that seeps from the surface of the earth through certain minerals, which are predominately Copper, Iron and Aluminium Sufites, and deposits a solution into voids below the earths surface. These voids can be small cracks, pockets and cavities left behind from the stems of fossil plants that have dissolved through evolution. In some areas Turquoise was formed into areas of clay where a bubblely affect accures in the process of mineral accumulation, the clay would dissolve and conglomerate into a spiderweb formation. In some rare occasions, Spiderweb Turquoise is found in fossil clam voids, this is called "Fossil Turquoise". Spiderweb Turquoise is a rare phenomena in evolution that takes millions of years to develop, it commands a premium value - highgrade Spiderweb Turquoise Rings are investment quality Turquoise Jewelry.
| | |
| --- | --- |
| | |
Spiderweb Bisbee Turquoise - Above and to the left is an amazing Bisbee Turquoise Ring with very unusual smoky spiderweb matrix. The Silverwork on this ring is unusual as it has an overlaid ring shank with Turtles in a rock art design. This Bisbee Turquoise gemstone is a special gemstone to a Bisbee Turquoise collector as it has highly unusual chocolate brown smoky webbed matrix. We have cut very few Bisbee Turquoise Cabochons like this one and after cutting tens of thousands of carats of Bisbee Turquoise, we have never found a more diversified amount of character in any other type of Turquoise. It is apparent, each and every Bisbee Turquoise gemstone is a one-of-a-kind! Spiderwebbing in Bisbee Turquoise is not its general character which makes Spiderweb Bisbee Turquoise more rare than in other types of Turquoise. This Silver Bisbee Smoky Webbed Turquoise Ring has a 16 carat stone and sold for $850.00 in 2012.
There was only one Turquoise Mining permit grated to mine Bisbee Turquoise at the Bisbee Mine in Bisbee Arizona, it was granted to to Bob Mathews in 1962 and it expired in 1978. There has been no legal mining of Bisbee Turquoise, other then one day per year to Bisbee Gem Club Members, since. Bisbee Turquoise is considered to be one of the hardest, richest blue and unusual types of Turquoise that has ever come out of the ground in North America.
To the above right is a Tibetan Spiderweb Turquoise Men's Ring, this is an old Navajo style Silver setting that attractively sets off this beautiful blue Spiderweb Turquoise gemstone from Tibet.
Tibetans have been mining Turquoise for thousands of years, the Tibetan people cherish Turquoise and believe it possesses metaphysical and spiritual powers. Most every home in Tibet has a Turquoise Alter and most every Tibetan wears Turquoise on a regular basis. We invite you to read more about Tibetan Turquoise on the informational page we wrote for it. The Tibetans share the mountain range that Turquoise is found with China, when looking at Tibetan Turquoise, you will see similarities in its color range and characteristics. The biggest difference is that it is mined and processed by the Tibetan people who are very special spiritual people with a unusual historic past.
Gold Spiderweb Turquoise Rings
Durango Silver Company specializes in high quality Gold Spiderweb Turquoise Rings. We use our finest quality Turquoise in our Gold Jewelry.
The above Lander Blue Spiderweb Turquoise Ring is in 14ky Gold. Lander Blue Turquoise is absolutely the rarest highgrade spiderweb Turquoise in the world. It is said that less than 125 lbs of this Turquoise ever came out of one pocket of Turquoise in Lander County, Nevada USA. This Gold Ring features a good example of Lander Blue Turquoise and is typical of exactly what Lander Blue Turquoise looks like - jet black matrix with deep blue dots of Turquoise that create the spiderweb affect. Lander Blue Spiderweb Turquoise of this quality will bring $200.00 per carat in today's market, some Lander Blue Turquoise sells for over $300.00/ct (these are wholesale prices!) - This Lander Blue Turquoise Ring is currently available in our online store for $2750. Click on the photo.
To the right of the Lander Blue Turquoise Ring is another rare American Spiderweb Turquoise Ring - A Bisbee Spiderweb Turquoise Ring! Looking at these two gorgeous Turquoise gemstones next to one another, you can see there is a vast difference in their nature - Bisbee Turquoise is true sky blue in color while the Nevada Lander Blue is more of a gray blue. This is a spectacular Mens Spiderweb Bisbee Turquoise Gold Ring that was created by John Hartman. This Gold Bisbee Turquoise Ring has a very rare stone, Colorado Gold Nuggets along with a remarkable design by John, it sold for $8500. in 2013 and in today's market the sky would be the limit on this quality of spiderweb Bisbee Turquoise gemstones.
The Bisbee Copper Mine in Bisbee, Arizona USA is one of the highest mineral producing mines that North America has ever known. The Bisbee Mine was originally founded in the mid 1870's and by 1975 when it was closed had become the largest and richest mine the world has ever known. Taking out over 8,000,000,000 pounds of copper the mine was given the name "The Copper Queen". The Bisbee Mine also produced nearly 3,000,000 ounces of Gold, 77,000,000 ounces of Silver and billions of pounds of lead and zinc! The Bisbee Mine also produced a variety of outstanding minerals including Malachite, Azurite and of course Turquoise that are by products of the metals and minerals that are native to this Mine. Mining at Bisbee did not include mining for gemstones, Turquoise or other gemstone materials were discarded by the mining companies and prohibited to be taken out by the minors due to liability reasons. The Bisbee Turquoise story is very interesting and well worth your time if you like Bisbee Turquoise.
| | |
| --- | --- |
| | |
Above and to the left is a Tortoise Spiderweb Turquoise Ring in Gold. This ring was created by John Hartman and sold for $2600. in 2012. Tortoise Spiderweb Turquoise of this quality has a value of $5.00 - $10.00 per carat on today's market (2012).
The Tortoise Turquoise mine is located in the Candelaria Hills near Mina, Nevada USA. It was named Tortoise because the Turquoise runs amongst deposits of Variscite, which has a color range from brown to yellowish/gold and then onto mint green and all the way to a robin egg blue Turquoise. We have take out nuggets from this mine that look like Tortoise shells, yellowish brown on one side and rich green on the other, this is a festinating and enchanting gemstone.
Related to the story above on How does Spiderweb matrix form, it is interesting that when Dillon Hartman was mining at the Tortoise Mine, he found a unique plant that had very hard black roots that were like a web of thick hair. We had been finding Tortoise Turquoise around these plants so Dillon kept digging deeper and deeper and found chalk Turquoise had begun forming around the roots of this plant. We all agreed, this plant is how, at least some of, the spiderweb Tortoise Turquoise was formed.
To the right is a Blue Wind Spiderweb Turquoise Ring, again set in 14ky Gold. This Blue Wind Turquoise Ring was created by John Hartman and sold for $2200. in 2011. Blue Wind Spiderweb Turquoise of this quality has a value of $150.00 per carat to $300.00 per carat (wholesale) in today's market (2012).
Blue Wind Spiderweb Turquoise was found in Lander County shortly after Lander Blue has played out. It was found by the Edgar Brothers in Crescent Valley, Nevada, this mine was much like the Lander Blue Mine, it produced only about 100 lbs of Turquoise. John Hartman, Tim King and Bing Crosby went in partners and purchased the bulk of the material from Dick Edgar in 1974. Blue Wind Spiderweb Turquoise is amazing Turquoise, if you are lucky enough to find a piece of this material - Cherish it!
| | |
| --- | --- |
| | |
To the left is a beautiful Spiderweb Bisbee Turquoise Gold Ring. This Bisbee Turquoise gemstone has broad bold chocolate brown webs with fine webbing branching from the larger veins. Although the majority of Bisbee Turquoise is not webbed, when you do find Spiderweb Bisbee Turquoise it is usually very dynamic. This Spiderweb Bisbee Turquoise Ring is unique and the matrix configuration is enchanting. This Ladies Bisbee Turquoise Ring sold for $2200. in 2012. Bisbee Turquoise of this quality has a retail value of $40.00 per carat (wholesale) today.
To the right is a Damele Spiderweb Turquoise Ring in Gold. The lime green spiderweb Damele Turquoise in this ring is exceptional and a great example of high grade Damele Turquoise. Located in Nevada, the Damele Mine has produced a lot of Variscite and some spectacular Turquoise. Damele Turquoise of the caliber would run about $12.00 per carat or more (wholesale) today and this ring sold for $1800. in 2010.
Authentic Spiderweb Turquoise Rings
Durango Silver Company has a fine collection of Spiderweb Turquoise, we produce some of the finest authentic, natural Spiderweb Turquoise Rings coming out of the American Southwest today. We invite you to view our present selection of authentic spiderweb Turquoise Rings by typing "Spiderweb Turquoise Rings" in the search box to the upper right, we also hope you will come back often to see new additions of authentic spiderweb Turquoise Rings we put up often.
| | |
| --- | --- |
| | |
Above and to the left is Mens Silver Ring Band with Turquoise from the Blue Eagle Turquoise mine in Nevada. This is a beautiful Men's Saddle Ring with a beautiful rich blue spiderweb Turquoise gemstone from Nevada. This is one of many Mens's Band Rings produced by Durango Silver Company, we inlay many different types of Turquoise into these bands and they are priced accordingly. The Blue Eagle Turquoise Mine was a small mine that was most likely owned by a family that came to Nevada to mine Turquoise once or twice a year. We purchased about two lbs of this Turquoise from the descendants of the miner in the mid 1970's. Nevada Spiderweb Turquoise of this quality from an unknown Nevada mine would sell for about $8.00 per carat and this Ring sold for $450.00 in 2012.
Small Private Turquoise Mines
The Blue Eagle Turquoise Mine is one of many small Turquoise Mines that was privately owned and mined many years ago. Small privately owned mines were common in the past and typically the owners would take their vacation out to the mine in Nevada or Arizona, mine on a casual basis for a couple of weeks and maybe go home with 100 -200 lbs of rough Turquoise. They would probably spend the following year cleaning the host rock away from the Turquoise and then cutting, the highest quality of their Turquoise into cabochons. Most often, 100 lbs. after cleaning generates 1/2 - 1 lb. of AAA grade (including small portion of spiderweb Turquoise, worthy of Gold Jewelry), 5-10 lbs of AA - A grade (good cutting material that produces beautiful stones for Silver Jewelry) and 20 - 30 lbs. of low to medium grade Turquoise that usually got put into 5 gallon buckets and put in the storage shed.
With this said, you can begin to understand just how rare high grade and spiderweb Turquoise is! It is very rare and it is very valuable. Turquoise from small, unknown private mines has often went on to be mi s-read and guessed to be Turquoise from another more well known mine, not from dishonesty, just from lack of knowledge. In reality, this is not bad, it is just confusing! An experienced Turquoise Authority can identify the general area Turquoise is from by the hardness, color range, the matrix type & configuration and the quality. It should also be noted; it takes an experienced Turquoise stone cutter to identify the most advantageous direction and method of cutting a Turquoise rock to ultimately become a valuable Spiderweb Turquoise Gemstone.
Above and to the right is a Blue Wind Turquoise Men's Band Ring produced by Durango Silver Company. This is a marvelous Silver and Gold Gentleman's Ring with an exceptional Blue Wind Spiderweb Turquoise Gemstone created by John Hartman of Durango Silver Company - Durango, Colorado USA. In today's market this quality of Blue Wind Turquoise would have a retail value of $150.00 per carat and this Blue Wind Spiderweb Turquoise Ring sold for $2800. in 2011.
The Blue Wind Turquoise Mine was much like the Lander Blue Turquoise Mine, they both produced less than 150 lbs. and most all that was produced was ultra high grade Turquoise. This Turquoise Mine got its notoriety purely from its outstanding quality and beauty, however, there was not enough of this Turquoise to create legionary fame such as Bisbee Turquoise, Morenci Turquoise or Royston Turquoise. There was enough of this Turquoise, however, to establish notable records by collectors and Turquoise authorities - Blue Wind Turquoise is included in Bob Brucia's "Jewel of the Southwest -TURQUOISE" . We encourage you to get this book if you appreciate high quality Turquoise and Nevada Spiderweb Turquoise.
| | |
| --- | --- |
| | |
Above and to the left is an outstanding Red Mountain Spiderweb Turquoise Ring, created by Navajo Artisan - Leo Yazzie. This is a classic Navajo style Turquoise Ring that has been made by many Navajo Silversmiths and is still made today. It is the Red Mountain Spiderweb Turquoise Gemstone that gives this Turquoise Ring its value. It should be of note, there has been a lot of Navajo Turquoise Jewelry made in the past, made by known artisans, that has or has not been signed, the value of Navajo Silverwork is based on its unique individual quality of craftsmanship - in our opinion! Red Mountain Turquoise Cabochons of this caliber will bring $25.00 - $100.00 per carat in today's market and this Ring sold for $650. in 2011.
The Red Mountain Spiderweb Turquoise Mine is located in Northern Nevada, it has produced a fair amount of beautiful blue-green to deep blue spiderweb Turquoise for the past 50+ years as the mine has gone through several owners. The highest grade runs a rich deep blue with golden the rust colored spiderweb matrix.
To the right Morenci Spiderweb Turquoise Ring produced by Durango Silver Company and created by John Hartman in his Victorian style of Silverwork. Morenci Turquoise of this quality will bring $40.00 - $50.00 per carat in the present market, this ring sold for $475. in 2012. There was a lot of wonderful highgrade Morenci Turquoise in its day, rich blue, rich blue with Iron Pyrite and Spiderwebbed Morenci Turquoise. The above Turquoise Ring made by John has two beautiful water webbed Morenci Spiderweb Turquoise Stones with flecks of Iron Pyrite. These are good classic examples of high quality Morenci Turquoise, however, Iron Pyrite Spiderwebbing in deep blue Morenci Turquoise is premium.
The hay days for Morenci Turquoise were between the late 1960's through 1980 when the Brown's had the rights on the Morenci Turquoise coming out of the Morenci Mine located in Morenci, Arizona USA. This mine was rich in Copper as well as many other minerals that are still being mined today, however, very little quality Morenci Turquoise has come out of the mine since the Brown's were involved years ago.
Above and to the left is an outstanding Spiderweb Turquoise Ring made with a beautiful Nevada Spiderweb Turquoise gemstone from an unknown Nevada Turquoise Mine. John cut this stone from his old Nevada Turquoise collection and then he set it in this Silver setting which accents the gemstone nicely.
John spent many weeks going to the bars in Nevada in the 1970's and 80's talking to individuals, getting leads to find old stashes of highgrade Nevada Turquoise. He found hundreds of five gallon buckets of Turquoise in garages of Nevada residents that just went out for the weekend scouting around the desert rock hounding. A lot of it was junk rock and a lot was wonderful treasures to John. This stone came from one of those trips. Nevada Spiderweb Turquoise of this quality will bring $5.00 per carat in the current marketplace. This ring sold for $275. in 2011.
Cheers to all those Nevada Vacation Miners of the past that have pulled out some of America's finest Spiderweb Turquoise. We hope we will be allowed to continue our small mining vacations so we can continue finding some of the greatest treasures on earth, in which most of our efforts are to help Native American Indians of the American Southwest continue to produce one of our greatest American heritages - American Indian Turquoise Jewelry from Southwestern USA.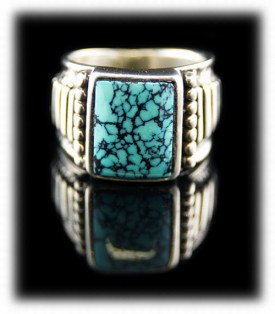 Above - This Hubei Chinese Spiderweb Turquoise Ring was made by our buddy, Ben Yazzie! Ben is a Navajo Silversmith who has made Turquoise Jewelry for some of the more famous individuals of the American past such as Elvis Presley. John cut this stone from our personal collection and had Ben do the Silverwork. It has become hard for Ben to find highgrade Spiderweb Turquoise to make his Jewelry, most all Turquoise Mining in China has recently ended, mainly due to government restrictions. Today we found out, China is now revoking Turquoise export licences from all of the Chinese businesses that have been exporting Turquoise from China. This caliber of Chinese Spiderweb Turquoise will fetch great prices in the near future and has already begun to fetch the same price as American stone.
Turquoise from the Hubei Mines in China have produced a large amount of Turquoise, in fact, some of the best in China. Highgrade Hubei Turquoise is valuable and since the Chinese Government has put a moratorium on mining, it has become quite scarce. We have cut a good amount of Hubei Turquoise and find Chinese highgrade to be a pleasure to cut. We hope to be able to continue finding more natural highgrade Hubei Spiderweb Turquoise in the future.
Do you have old Spiderweb Turquoise?
If you have or think you may have some good old natural Spiderweb Turquoise, we would like to see it! We buy, sell and trade in Authentic Spiderweb Turquoise. Please take as good of photo as you can of your material and send it along with everything you know about your rocks, include your name, area that you live in and your phone number to John Hartman - Durango Silver Company, Durango Colorado USA >>>John@DurangoSilver.com<<<
Spiderweb Turquoise Wanted!
Spiderweb Turquoise Jewelry - Turquoise Rings - Natural Turquoise Jewelry - Spiderweb Turquoise Bracelets
This document was created by Durango Silver Company on 3-15-2013.
---
Join our E-Mail Newsletter to receive more informative information on Turquoise and Turquoise Jewelry like this page. We occasionally inform our members of what's happening at Durango Silver Company, new products, specials for our members only and more. We also have a monthly drawing from our member base to give away Free Turquoise Jewelry. Please take a moment to become one of our friends by signing in below.
We hope you have enjoyed our presentation on Spiderweb Turquoise Rings and you will think of Durango Silver Company when considering your next Turquoise Jewelry purchase.