Indian Jewelry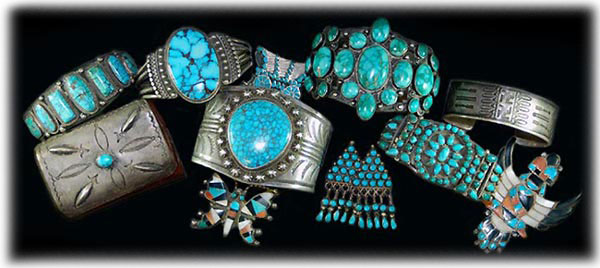 Indian Jewelry of the Southwestern United States began over two thousand years ago as self ornamentation. Turquoise Indian Jewelry began about 200 B.C. when the Anasazi Indians of North America discovered Turquoise in the Cerrillos Hills. Anasazi Turquoise eventually came from many of the famous mines today. Silver Indian Jewelry began about 1860 when Atsadi Sani learned the trade from the Spaniards.
Indian Jewelry has had an eventful and colorful history in the Southwestern USA since the Native American Indians began working with Silver. Originally, the Navajo Indians would trade for silver coins from the U.S. Calvary to Make their Indian Jewelry. Indian Traders and Indian Trading Posts came to the Southwest to work and trade with the Native American Indians in about 1880 and Indian Jewelry was one of the items that soon became a big trade item.
As the railroad made its way though the Southwest and the opening of the Grand Canyon National Park in 1919, Turquoise Jewelry became one of the top items for tourists visiting the Southwestern regions of the U.S. to bring home with them. The Indian Jewelry grew exponentially from that point on and has become a recognized industry of the Southwest to date.
Today, the Indian Jewelry industry of the Southwest USA is strong and reaches a much broader market due to the Internet. Indian Jewelry is now sold and collected worldwide by people who collect and enjoy the fine art of Sterling Silver Jewelry as well as the nostalgic factor of American Indian Jewelry being different than any other Silver Jewelry being made on earth. Indian Jewelry from the Southwestern USA is unique and world class.
---
Indian Silver Jewelry | Indian Turquoise Jewelry
---
Indian Jewelry Examples
Below are some examples of Native American Indian Jewelry that we produce, have on hand or have had in the past. We invite you to read the descriptions of the photos below them to learn more about each item. For more information on Turquoise Indian Jewelry, see our presentation page on Turquoise Jewelry.
Above to the left is an antique Turquoise Ring made about 1930 - 50, it has a green Turquoise stone most likely from Nevada. This piece was Navajo handcrafted and you can tell this by the extensive Silverwork, Navajos are known for attention to their Silverwork and they used Turquoise cabochons set in a bezel. The Indian made Turquoise Earrings on the right were also made by a Navajo Silversmith but are Turquoise Earrings that were currently made. They are a Navajo cluster style and they have Sleeping Beauty Turquoise stones. These earrings were made in an old Indian Jewelry style and are classic pieces of Turquoise Jewelry.
Read more about Turquoise Jewelry on our Turquoise Jewelry Presentation Page.
Above to the left is a Navajo Turquoise Row Bracelet and a typical piece of Southwestern Indian Jewelry made recently. This Mens Turquoise Bracelet was made by applying half round wire to Sterling Silver sheet, stamping and filing the wire then adding twisted wire and then soldering the stone bezels and Silver raindrops. The Silverwork is how we can tell it is a piece of Navajo Indian Jewelry.
The multi-stone Turquoise Belt Buckle on the right was Navajo handcrafted in Sterling Silver with nugget cut Turquoise stones. These Turquoise Nuggets come out of the Kingman Turquoise Mine, they cut them in half and gently sand and finish them to be close to their natural state, they have been heavily used and popular for about 20 year now.
A major percentage of Native American Turquoise Jewelry has always been made by the Navajo Indians, they have always been prolific and the Navajo Nation is large. There are two other prominent types on of Native Americans that make Indian Jewelry, the Zuni Indians are known for their petit-point, needlepoint and inlay stonework and the Hopi Indians are known for their Silver overlay work with no stones.
Southwestern Indian Jewelry made by Native American Indians of North America, the Navajo, Zuni and Hopi tribes have been making quality Turquoise Jewelry and Silver Indian Jewelry for a relatively short time, about 150 years now. They have created unique styles and designs that are only seen is their Indian Jewelry which is mainly made in Arizona, New Mexico and Colorado. The Internet has taken Southwestern Turquoise Indian Jewelry to new heights and it is now being collected worldwide.
The Turquoise Pendant on the left was Navajo handcrafted in Sterling Silver with a blue Turquoise stone from the Lookout Mountain Mine in Nevada. This piece of Indian Jewelry is typical of Navajo Silverwork, a stone is wrapped with a silver bezel, then twisted wire, then stamped, sawed and filed half round wire with graduated raindrops. The Indian Jewelry designs are set on top of a silver plate and soldered to it with Silver Solder. It is then cut out and filed to perfection, then cleaned in an acid bath, polished with a buffing machine and then the stone is set into the pendant.
On the right is a Navajo Squash Blossom Necklace made in Sterling Silver with green Turquoise from the Broken Arrow Mine in Nevada. The Navajo's have been making Squash Blossom Necklaces for about a hundred years and they are still being made today, which are a staple of Indian Jewelry used in ceremonies. Many old timers think of a Squash Blossom Necklace when you say Indian Jewelry, that is how prominent they have been throughout the years. The "Squash Blossom" design derived from the Pomegranate and the Navajo or bottom piece was a centerpiece or pendant.
| | |
| --- | --- |
| | |
Turquoise Beads have been a major part of the history of Indian Jewelry. Beads were the first form of Indian Jewelry when the Anasazi Indians of the Southwestern regions of North America in about 200 B.C. Turquoise being a reasonably soft gemstone was fairly easy to drill holes through and it is believed the Anasazi Indians were making Turquoise Beads by the turn of the millennium. There has been many transitions in bead making for the Native Americans and Native American Turquoise Beads are in demand more then ever. This Turquoise Bead Necklace is a contemporary Turquoise Choker Necklace made with blue Turquoise from the Kingman Mine located in Arizona.
Silver Jewelry began for the Navajo Indians in the mid 1860's when a Navajo Blacksmith, Atsidi Sani, learned how to work with Silver from nomadic Spaniards that had come up from the south (Mexico) in search for Gold. Atsidi's Silverwork was immediately popular by the Native Americans and it was not long after other Navajo's took up the trade and Native American Silver Jewelry was soon in high demand by many. The Silver Bracelet to the right is an example of Navajo Silver stamp work. This is deep stampwork that has become very popular in recent years in Mens Silver Jewelry and this type of Silverwork is a landmark in Indian Jewelry.
| | |
| --- | --- |
| | |
Indian Jewelry making began by the Zuni Indians shortly after the Navajo, approximately 1872. The Zuni had been working with metals for some time prior as Blacksmiths, as well as working in other metals. It is believed that there were Zuni Blacksmiths in the early 1850's. Shortly after the turn of the century the Zuni's became more and more noted for their lapidary skills. As time went on the Zuni Jewelers continued developing their stone cutting skills and have become prolific and well known for their exceptional and colorful Indian Jewelry.
The Zuni Inlay Pin on the left is a classic example of the colorful type of Zuni Indian Jewelry that people around the world admire. This pin was made by fabricating the shell out of Silver to house the stones. The Zuni Artisan shaped each piece of bezel to make the outline with inside dividing Silver bars to create a channel for the stones to be inlaid into. The bezel work was then Silver soldered onto a back plate, cut out and finished. Next each individual stone was hand cut to fit into the bezel, one by one, until the channels or recesses were completely inlaid. The artisan would now sand and polish the stone work to complete the piece. This is a classic piece of Zuni Indian Jewelry that was made about 1940 and the Zuni Artisans are still producing this Turquoise Jewelry design today - It is called a Zuni Knifewing Eagle design.
The Zuni Indian jewelry made Belt Buckle set on the right is called a Ranger Belt Buckle set in the Indian Jewelry community. This Zuni inlay buckle set was made much like the Knifewing pin in the above description, however, it is a belt buckle set so in was made in much heavier Silver to withstand harsher use. This piece was made fairly recently and you can see how the stonework has been perfected. This piece was made by a very good craftsman as there are no spaces between the stones and the design is nearly perfect. This is a piece of high quality Indian Jewelry with high quality inlay work. It is typical of the best Zuni Indian Jewelry available in today's market and there is good reason for this type of Zuni Indian Jewelry to be very collectible and a great investment in American history for the future.
| | |
| --- | --- |
| | |
Above are two pieces of Turquoise Indian Jewelry, the Bracelet on the left was made by a Zuni Indian Artisan and the Bracelet on the right was made by a Navajo Indian Artisan. I have put these two pieces of Indian Jewelry side by side to show you the difference between Navajo and Zuni Turquoise Indian Jewelry design. As you can see the Zuni Bracelet on the left is a sleek and a streamline appearance to it and the Navajo Bracelet to the right has more of a chunky look and feel. When put side by side you can see there is a big difference between the two types of American Indian Jewelry.
The Zuni Turquoise Inlay Bracelet on the left was inlaid in the corn row style, this is made by cutting many square and rectangular stones and inlaying them into a channel one by one to create a corn row affect. The Zuni Artisans have actually refined their Silverwork to accommodate their exquisite lapidary work to create a completely different style of Indian Jewelry than the Navajo.
On the right is a Navajo Cluster Bracelet - This Bracelet was made by taking individual Turquoise stones that were previously cut and matched in appearance specifically for this Bracelet. The Turquoise stones were then wrapped with a Silver bezel, a Bracelet frame was made and the stones were Silver soldered along with small Silver raindrops, (beads, balls), to finish the Jewelry design. This is a classic piece of Navajo Indian Jewelry which you can see is quite different in style from the Zuni Indian made piece.
| | |
| --- | --- |
| | |
Hopi Indian Jewelry - The Hopi Indians, as in the Zuni, learned the Silver Jewelry Trade from the Navajos in the late 19th century. In 1938, a group from the Museum of Northern Arizona began working with Hopi Silversmiths to help them create a style of Silverwork that would be different and unusual from Navajo and Zuni Indian Jewelry. Paul Saufkie and Fred Kabote, worked with the Hopi Silversmiths to develop a style of Silver Jewelry that was unique to the Hopi, they called the group the Hopi Guild. The idea was to overlay different layers of Silver to create a dimensional appearance. This technique involved the cutting of designs in a heavy thickness of Silver sheet and then soldering this to a solid Silver backing sheet to hold the cutout design together in one solid piece of Jewelry. The designs were originally created from the pottery shards that had geometric designs found in the Sikyatki Pueblo ruins from the 15th and 16th centuries. They also used animal motifs, mainly bird designs as well as Kachina and clan motifs. Modern Hopi Indian Jewelry designs are substantially different from their counterparts, the Navajo and Zuni Artisans, and they have created a niche of there own. Their Silver Jewelry is fairly rare as there are a limited amount of Silversmiths due to the fact that the Hopi Nation is small.
To the left is a classic piece of Hopi Indian Jewelry - You can see the overlay work clearly in this photo that the Hopi Silversmiths are now noted for. This style of Silverwork is unique to the Hopi and not found produced anywhere else on earth. The Hopi Bracelet on the right is a contemporary piece of Hopi overlay work that was created recently. This Hopi Artisan broke away from the tradition created by the guild and used a Turquoise stone in this piece of unusual Hopi Indian Jewelry.
| | |
| --- | --- |
| | |
Above are two contemporary pieces of Navajo handcrafted Indian Jewelry. The Turquoise Necklace Pendant on the left is a Navajo Cluster style with Silverwork to accent the beautiful Bisbee Turquoise stones. Bisbee Turquoise is one of the most famous and respected types of Turquoise, it is from the Bisbee Mine in Bisbee Arizona, it has been out of production since the late 1970's. This is a beautiful example of modern Navajo Turquoise Jewelry and it has historical significance. The Turquoise Pendant on the right is also Navajo handcrafted in a modern Silver design that is simplistic and is meant to enhance the beautiful piece of green Turquoise from Nevada. The Navajo's have been prolific in Jewelry design and continue to excel in the art of American Indian Jewelry.
We hope you have enjoyed our presentation on Indian Jewelry and Native American Turquoise Jewelry. You can read more on this subject in our Learning Center by following this link. Another good educational page on Turquoise and Indian Jewelry is our presentation called Turquoise Jewelry. From these pages you can follow the links to additional pages to further educate yourself on American Indian Jewelry.
Additional presentation pages you may enjoy:
Native American Turquoise Jewelry - Navajo Silversmith History - Zuni Indian History - Zuni Petit-Point Jewelry - Santo Domingo Indian Jewelry
---

We hope you have enjoyed our presentation about Indian Jewelry and have gained some useful knowledge from it. We invite you to learn more about Indian Jewelry, Turquoise and Turquoise Jewelry by following the links in our Learning Center to other informational pages that we have written on different topics related to Turquoise Jewelry. In addition, we would like to invite you to join our E-Mail Newsletter - about once every other month we send out a Newsletter to inform our members of what's happening with Durango Silver Company, new products, specials for our members and more. We also have a monthly drawing from our member base to give away free Turquoise Jewelry from our company. Please take a moment to become one of our friends by signing in below. Thank you for reading about Indian Jewelry.