Win Free Turquoise Jewelry from Durango Silver Company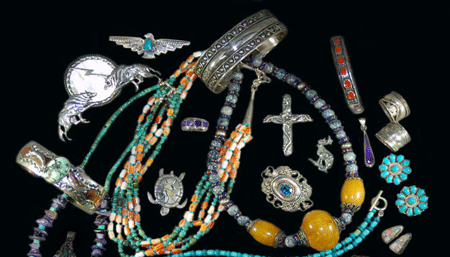 We have a monthly drawing to give away Free Turquoise Jewelry to the members of our monthly Turquoise Jewelry Newsletter that is all about Turquoise Jewelry and directly related information to Turquoise Jewelry. We only draw names from our newsletter members as we know they are interested in Turquoise Jewelry or they would not want to read about it. We really appreciate having such a great group of people that follow the Turquoise Trail and Durango Silver, so we give away substancial pieces of free Turquoise Jewelry to them monthly.
Durango Silver Company of Durango Colorado puts out a Newsletter once a month or two that has great information on Turquoise Jewelry, Antique Turquoise Jewelry, whats going on at Durango Silver Co and the Southwest. We try to have good informative information, special deals for our members and ususually tell a story about the trade.
---
Free Turquoise Jewelry
Here are some examples of Turquoise Jewelry that we have given away in the last couple of months.
Here was a Antique Style Bisbee Turquoise Eagle Pin and a beautiful Turquoise Mountain Ring that we gave away to two of our lucky members of our Turquoise Jewelry Newsletter.
Free Turquoise Earrings given away by Durango Silver Company to members of our Turquoise Jewelry Newsletter group. We randomly pick from members of our Newsletter group once a month to give away one or more pieces of Turquoise Jewelry from our company. The Turquoise Jewelry is free as well as the shipping.
Above are two pieces of Free Turquoise Jewelry that we gave away to our members in the last couple of months. We own the Tortoise Turquoise Mine and are happy to give away Turquoise Jewelry made from the Turquoise stones that we mine, cut and make into Turquoise Jewelry.
We were happy to give away this multi strand Turquoise Necklace for free as well as these nice Turquoise Dangle Earrings.
Here are a coulpe pair of Free Turquoise Earrings that our members got, we like to give away pieces of free Turquoise Jewelry that are typical of what we sell often at Durango Silver Co.
---
Feedback:
To All at Durango Silver Co., Thank you, thank you so much! I was thrilled to win a lovely piece of turquoise jewelry. I have ordered a number of rings and pendants of various kinds of turquoise from you, and have always been very pleased with my purchases. If money were no object I probably would have ordered even more. Thanks again. I will wear my new pendant with pleasure. - Sue B., Michigan
Thank you so very much for sending me the turquoise earrings! I am truly shocked to receive such a nice gift just for subscribing to the newsletter. As always, the earrings are beautiful just like the all the other pieces I've purchased in the past. The jewelry you produce are of great craftsmanship and are beautifully designed to work with many items in my wardrobe. I enjoy the convenience of being able to purchase easily from your website, and your item descriptions and photos accurately depict the pieces features. Thank you so much again for your generosity! - Katherine Kue, New York
Thank you for the beautiful Gift. I have never won anything so beautiful. Thank you again. I guess now i have to buy earings to match it :o) - Janis Pengarthit, Surprise AZ
I collect Native American Jewelry and have many pieces of Durango Silver Company creations. I recently received a free gift from Durango stating I had been randomly chosen to receive this gift, a beautiful Tortoise Turquoise Pin. I would like to say thank you very much and this will be my first pin to add to my collection. I love the color of the turquoise stone set in a small sterling silver turtle. I wear a lot of denim and am definitely a casual person, but never without wearing my Southwestern jewelry. Durango Silver workmanship is above outstanding, created by true artisans. And it's made in the U.S.A!! - Linda Ryan

Thank you so much for the handmade earrings. They are beautiful! I liked them so much I was looking for a ring to match today at a Rock and Gem show. I didn't find any as nice, so I will be checking your website. I also have my eye on a bisbee turquoise ring. If it means anything to you, this is the first time in my life I ever won anything, so thanks again! - Catherine Greeley, Carlise, PA
Thank you very much for the beautiful sterling silver pin! I love silver and I love horses, so a silver horse pin is the best of both worlds. I wish you continued success, and will visit your website often. - Barbara
Thank you sooo, sooo much for the free Turquoise Jewelry! I cannot believe I actually won a free beaded turquoise necklace! I have signed up for a lot of people's newsletters to win things and never did. The funny thing is, I just signed up for your turquoise newsletter only because I wanted to learn more about turquoise and jewelry and hear the latest news on both subjects. Thank you again for the wonderful gems. I can't wait till I have some money saved up for the Concho Belt I want! - Jessica H., Oklahoma
---
We hope you have enjoyed our presentation on our free Turquoise Jewelry that we give away monthly. We invite you to learn more about Turquoise and Turquoise Jewelry by following the links in our Learning Center to other informational pages that we have written on different topics related to Turquoise Jewelry. In addition, we would like to invite you to join our Turquoise JewelryNewsletter - about once every other month we send out a Newsletter to inform our members of what's happening with Durango Silver Company, new products, specials for our members and more. We also have a monthly drawing from our member base to give away free Turquoise Jewelry from our company. Please take a moment to become one of our friends by signing in below. To Join - Click Here!