Navajo Turquoise Bracelets
The Navajo Native American Indians began making silver jewelry in 1865 when Atsidi Sani, Blacksmith, learned the trade from the Spaniards who were in this area in search for Silver and Gold. The Navajo began making Turquoise Bracelets around the late 1890's after the first Turquoise stone had been set in silver. Around this time Native American Jewelry was not in it's infant stages, but Silver Jewelry made by Native American Indians was. These early Turquoise Bracelets would have been hand forged from ingot or sandcast and would have been more crude in form. Navajo Turquoise Bracelets have become highly valued by Jewelry collectors worldwide. Since the introduction of the Internet the demand for Navajo Turquoise Bracelets has escalated dramatically. Durango Silver Company specializes in high quality Turquoise Jewelry made in America and Navajo Turquoise Bracelets are one of our favorite styles of American Jewelry!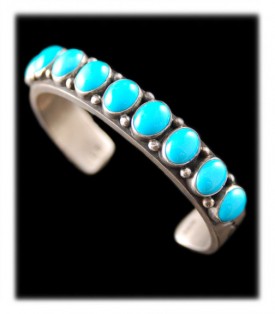 Above is a beautiful Navajo Turquoise Bracelet handmade by Navajo Artist Louise Bia. This Native American Turquoise Bracelet features a row of beautiful Sleeping Beauty Turquoise. This classic Turquoise Mine has recently closed and therefor the value of this bracelet will surely climb fast. The bracelet features classic style silverwork with simplicity and beauty. You will notice that each American Turquoise gemstone has bee wrapped in a sterling silver sheet, this is called "bezel set" and is one of the most sturdy types of stone settings. Each stone in this Navajo Turquoise Row Bracelet is seperated by classic raindrop designs (little silver balls). Check out the presentation for this beautiful Navajo Turquoise Bracelet.
Navajo Turquoise Bracelets from Durango Silver Co
We invite you to check out the Navajo Turquoise Bracelets we have available by following the links to the left side of this page.
Above and to the left is a Wide classic Navajo Turquoise Bracelet style stamp work, freeform, high grade green, Manassa Turquoise bracelet by Native American artist Darryl Becenti. This bracelet features a AAA Grade forest green Manassa Turquoise cabochon. This real Turquoise cabochon is bezel set and surrounded by a rope design. On each horizontal side of the stone is a sunburst design. This all sits atop a wide, heavy stamped and chased sterling silver cuff. This bracelet features clean and crisp stamp work that really shows off the greatness of this Native American master. . This Navajo Handmade Turquoise Bracelet puts the main focus on this spectacular Turquoise gem.
To the right is a Navajo Silver Bracelet made with Kingman Turquoise by Navajo artist B. Touchine. This Navajo Turquoise Bracelet features beautiful Silver Stampwork, nice sky blue Turquoise cabochons from the Kingman Turquoise mine and can be worn by a young gentleman or a lady. The natural Arizona Turquoise cabochons were "Nugget Cut" and are set with serated bezel. Each quality Turquoise stone is seperated by raindrop designs. This Native Silver Bracelet is one of the most popular styles of Turquoise Row Bracelet made during the 1950's -1970's and really gives it the authentic old Navajo Turquoise Jewelry look. Indian Jewelry collectors like this retro style and it is very popular.
| | |
| --- | --- |
| | |
This is one heavy duty, wide Mens Bisbee Turquoise and Silver Bracelet Native American handmade by Ben Yazzie. Gorgeous silver work defines this silver cuff bracelet. The design is made up of overlay patterns, raindrop designs and repose designs. The overlay silverwork in this Bisbee Turquoise and Silver Bracelet is amazing. To put this Museum Quality Turquoise Bracelet over the top Ben adorned the men's cuff bracelet with a top grade natural Bisbee Turquoise cabochon. The natural Bisbee Turquoise is top grade and features the famous "Smoky Bisbee" matrix.
Above and to the right is a very nice old Navajo Turquoise Cluster Bracelet made in about 1950 in the northern Navajo Reservation region. I came out of an old Indian Jewelry collection and was purchased from the Shonto Trading Post in approximately 1960. It has Arizona blue Turquoise stones and is set in Sterling Silver. This is a good example of one of the most famous types of Navajo Turquoise Bracelets ever made. These Turquoise cluster bracelets are still popular today.
Quality Navajo Turquoise Bracelets
To the above left is a vintage cluster style womens Kingman Turquoise bracelet by Navajo artist William Many Goats. 36 nugget cut Kingman Turquoise cabochons set in serrated bezels adorn this find Vintage Turquoise jewelry piece. Each American Turquoise cabochon in this cluster style womens Kingman Turquoise bracelet is separated by sterling silver raindrops. Navajo Silver Bracelets of this caliber are Museum quality, hard to come by and have great future value as important pieces of Native American Jewelry made in the U.S.A. Durango Silver Company is on a constant hunt to find unique Navajo Turquoise Jewelry of this quality at affordable prices for our customers. Make certain you check back often as we do add items to our collection frequently.
Above and to the right is a classic Navajo style, oval, high grade forest green, Manassa Turquoise cuff bracelet by Native American artist Darryl Becenti. This great Navajo Turquoise Bracelet focuses on a high-grade forest green Manassa Colorado Turquoise cabochon. This Turquoise cabochon is bezel set and set atop a classic Navajo stamp work style table. This is set atop a two-prong sterling silver bracelet shank which is considered "old style" Navajo design. This design seem like it will be in style for years to come.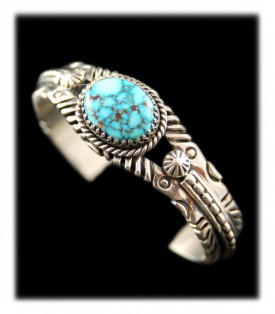 Above is a Native American handmade Turquoise Bracelet that features a top gem grade, natural, spider web Kingman Turquoise gemstone. This is a Navajo Turquoise Bracelet made by famous Native American Jewelry artist Ben Yazzie. This fabulous example of modern Navajo Turquoise Bracelets. This silver cuff bracelet is built ultra thick and heavy duty and has a lot of beautiful detail to it.
We hope you will take a look at the Navajo Turquoise Bracelets that we presently have to offer and hope you will come back often as we ad new pieces to our collection often.
We invite you to take a look at a few of our other presentations - Navajo Silver Jewelry, Navajo Turquoise Earrings, Navajo Turquoise Rings, Turquoise Bracelets Video, Learning Center and our Silver Gallery page.
---
Learn more about Navajo Turquoise Bracelets and American Silver Jewelry by following the links in our Learning Center. In addition, we would like to invite you to join our E-Mail Newsletter - about once every other month we send out a Newsletter to inform our members of what's happening with Durango Silver Company, new products, specials for our members and more. We also have a monthly drawing from our member base to give away free Turquoise Jewelry from our company. Please take a moment to become one of our friends by signing in below.
We hope you have enjoyed our presentation on Navajo Turquoise Bracelets and have gained some useful knowledge from it.