Navajo Silver Rings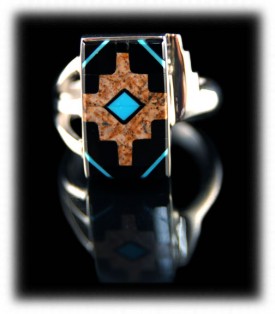 Durango Silver Company is a family owned and run business specializing in American Indian Jewelry and Navajo Silver Rings. We have produced and handled high quality Navajo Silver Rings for decades and have worked with the Navajo Indians, Zuni Indians and other Indian Traders as well as Silver Jewelry Stores in this area to be able to have some of the most precious Navajo Silver Rings coming out of the Southwest for the last 40+ years.
Navajo Silver Rings from Durango Silver Co
We invite you to check out the Navajo Silver Rings we have available by following the links to the left side of this page.
Above and to the left is a women's inlay Navajo Silver Ring handmade in a contemporary Silver Jewelry design. Although this appears to be a Zuni Inlay Jewelry design, Navajo Silver Rings are now being handcrafted by Navajo Jewelers. This Navajo Silver Ring is a inlaid ring for women that is unique, it is inlaid with Tiffany Stone from Utah, Turquoise and Opal. The way that Kenneth inlaid the Fire Opal right next to the Sleeping Beauty Turquoise in this women's inlay ring is a unique idea since it is almost the same color but adds some fire and sparkle to the Turquoise color. This is a very nice new age style for a Navajo Silver Rings, easy wear and attractively designed.
To the right is a Navajo Silver Ring made with Manassa Turquoise by Navajo artist Derrick Gordon. These Navajo Silver Rings feature beautiful Silver Stampwork, a very nice green Turquoise stone and can be worn by a gentleman or a lady. The natural green Manassa Turquoise cabochon is bezel set and surrounded by a classic cable design. This Navajo Silver Ring is styled after old Navajo Silver Rings that were made in the 1920's, Indian Jewelry collectors like this retro style and it has become very popular.
To the above left is a handmade Red Mountain Turquoise Ring by Leo Yazzie, Navajo. This handcrafted Silver Ring is very elegant with an astonishingly beautiful Red Mountain Spiderweb Turquoise Gemstone from Nevada. The cabochon is bezel set and surrounded by a twisted wire and stamped design. The Red Mountain Turquoise in this ring is very rare and collectible.
Above and to the right is an outstanding Navajo Silver Ring that is handmade in Sterling Silver with a Royston Turquoise stone by Navajo Artisan, Ben Yazzie. Ben created this beautiful Women's Navajo Silver Ring in a contemporary design with special features. The Royston Turquoise Gemstone is high quality and is an oval shape. It is set in a stamped thick Silver bezel with a unique six prong heavy band.. This is a Navajo Silver Ring with unusual characteristics handmade that is a one of a kind.
Quality Navajo Silver Rings
To the above left is a fabulous Navajo Silver Ring that was handmade in 925 Silver with a beautiful Nevada Spiderweb stone by Navajo Artisan, Ben Yazzie. This is a one of a kind gemstone, 14 carats of rare spiderweb Turquoise. This is an old spiderweb Turquoise gemstone that came out of a very important collection in Reno, Nevada. It is set in a hand stamped bezel that has a 6 prong ring shank with Silver raindrops at the top of each prong. This Navajo Silver Rings was made of heavy weight Silver and is an exceptional piece.
Above and to the right is a handmade Navajo Silver Ring with a Sugilite gemstone, this is a Women's Sugilite Ring. It has a great Silver design that has been popular in Navajo Silver Rings for many generations and is still in vogue today. This type of Navajo Silver Ring easy to wear every day and is a favourite style by everyone who buys one. Navajo Silver Rings handmade by Vernon Begay are stamped VB and collected by many.
We invite you to take a look at a few of our other presentations - Navajo Silver Jewelry, Silver Rings, Turquoise Rings Video, Learning Center and our Silver Gallery page.
---
We invite you to learn more about Navajo Silver Rings and American Silver Jewelry by following the links in our Learning Center to other informational pages we have written on different topics directly related to Navajo Silver Rings. In addition, we would like to invite you to join our E-Mail Newsletter - about once every other month we send out a Newsletter to inform our members of what's happening with Durango Silver Company, new products, specials for our members and more. We also have a monthly drawing from our member base to give away free Turquoise Jewelry from our company. Please take a moment to become one of our friends by signing in below. We hope you have enjoyed our presentation on Navajo Silver Rings and have gained some useful knowledge from it.