Zuni Native American History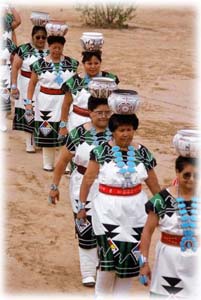 Many years ago, the Zuni people came up to this Earth from the underworld at a place that is identified as either the Grand Canyon or the Mojave Desert. They call the area where they live as the center or middle place.
The Zuni are thought to be direct descendants of the Anasazi. While many anthropologists believe that the Zuni are related to the other pueblo tribes that are scattered throughout the Southwest, they are unique in that their language, to this day, is only spoken by them and bears no resemblance to the languages of any of the other surrounding tribes. Their language is often called Zunian.
According to Zuni cosmology, everything in the universe from natural forces such as lighting, wind, or great droughts, to physical entities, such as rocks, animals, rivers, and human beings has its own spirit. Each of these spirits has the power to observe, think, and respond to humankind. An inanimate object, such as a rock or a lump of dirt, is believed to possess a spirit similar to that of a hibernating bear or a seed that has not yet been planted. The power is simply dormant, for the moment.
Links: Learn About Zuni Inlay Jewelry | Buy Zuni Native American Jewelry

For the traditional Zuni, a fetish is just one aspect of a complex religion whose central goal is to achieve a balance with nature. Throughout the Zuni religion, there is great reverence for the unseen world and the mysterious forces that continue to impact on all life.

There are twelve shamanistic societies. These not only treat sickness but participate as societies and perform feats of wonder for the people, each has several orders or degrees and each order is the custodian of some secret of healing or magic.

The Zuni people are in a way a mysterious tribe. Their culture is very reclusive and isolated much as is their city and their language. They are an interesting people who are well known for their beautiful artwork, sculpture, weavings and jewelry.

The Zuni do three types of intricate jewelry, one of which is called petit point, the other Needle Point jewelry, and the last being Inlay Jewelry. Petti Point is identified by tiny turquoise stones each supported in its own bezel. It's extremely time consuming to make and is very delicate in appearance.
The other type of jewelry is called inlay. Here again, stones are worked and then fit together, sometimes side by side, or with silver channels in between them, known as channel inlay. Each piece is meticulously fabricated; the Zunis do not cast the silver. The predominant colors and stones used in traditional Zuni inlay are turquoise, coral, jet, and white mother of pearl. Symbolically red represents the Mother Earth, and turquoise Father Sky. The black and white of the other
Zuni Native American Inlay Jewelry

Back to the Jewelry Learning Center
Thank you for reading our page about Zuni Native Americans, we hope you have learned a little bit about Zuni Inlay jewelry.