American Indian Necklaces by Durango Silver Company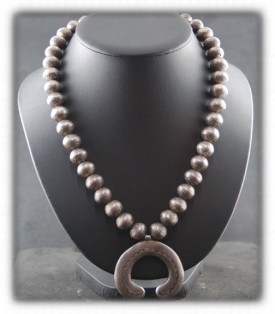 We have created this page as an informational resource on American Indian Necklaces. Below, you will find photos of American Indian Necklaces along with a description of what you are looking at in the photo. You will learn the different types of Necklaces that are available as well as types of Necklaces that are available on the Durango Silver Company online store.
The above photo is of a very early Navajo Silver Necklace, which was a status symbol of wealth and importance of the bearer when worn. You can see more photos and description on this piece by clicking on the photo of this important Navajo American Indian Necklace from the past.
We invite you to check out the American Indian Necklaces we have on hand now!
---
American Indian Necklaces
Here you will find different styles of Native American Indian Necklaces, view the photos and read the corresponding factual information.
Above and to the left is a beautiful is a beautiful modern version of a century old Navajo Squash Blossom Necklace, minus the Squashes. The famed Squash Blossom Necklace was originally an American Indian Necklace made for Navajo Bucks, the Navajo's began making Silver Squash Blossom Necklaces in the 1880's. It began as a Silver Necklace made for men to wear, the Squash Blossoms replicate the Palmegranate, this was a symbol of wealth to the Navajo men. The Squash Blossom was the second generation of a Navajo Mens Necklace, later in years the Turquoise Squash Blossom Necklaces were worn by the Navajo Squaws.
This particular American Indian Necklace in the photo resembles the Navajo Squash Blossom Necklace, but it does not have the squashes as in the two Squash Blossom Necklaces below. This is a modern version that has become popular in recent years. This is one of many modern American Indian Necklaces we have had that resembles the original Squash Blossom Necklace. This Necklace has beautiful rich green Carico Lake Turquoise and was made by Darrell Cadman, A Navajo Artisan. You can read more about this beautiful Native American Indian Necklace on its presentation page by clicking the highlighted link in the paragraph above. Note; there are links to more information on other American Indian Necklaces highlighted in the paragraphs below, check them out.
To the right is a Navajo Turquoise Tab American Indian Necklace. This beautiful blue Fox Turquoise Silver Necklace was handmade by Verdy Jake, a Navajo Artisan that calls this a Cleopatra Necklace. This Navajo made Necklace has 25 beautiful old blue Fox Turquoise Gemstones hand cut by Dillon Hartman of Durango Silver Company. Dillon cut the Turquoise Stones and then had Verdy Jake create the Cleopatra Necklace for Durango Silver Company. The Fox Turquoise cabochons were cut from an old batch of blue Fox Turquoise nuggets that was mined in the 1960s. Each cabochon is one half of a natural Fox Turquoise nugget. Navajo American Indian Necklace such as this one can often be found on our Silver Gallery located a DurangoSilver.com.
Quality American Indian Necklaces
Above and to the left is a unique quality Damale Turquoise American Indian Necklace handmade by Verde Jake, Navajo.This is a very unique Navajo Turquoise and Silver Necklace that is of a contemporary style. This is a complete set, Necklace, Earrings and Ring all matching in Damale Turquoise and 925 Silver. Truly a one of Verdi Jake's one of a kind American Indian Necklaces to be proud of.
To the right is an old Navajo Squash Blossom Necklace in a Navajo Cluster Design. There are over 240 blue Turquoise stones. This was a labour intensive piece of American Indian Jewelry to make and most definitely a treasure to the person who owned it. This Navajo Squash Blossom Necklace was purchased from the Shonto Trading Post in the 1970's as Pawn Turquoise Jewelry so it was older at that point. It was most likely made in the 1960's and it has a maker's mark of IH on the back of the Naja. There have been many American Indian Necklaces made but not many like this, Durango Silver Company tries to always have unusual and one of a kind pieces for you to view and or purchase.
| | |
| --- | --- |
| | |
To the left above is a beautiful and artistic pictorial inlaid American Indian Pendant handcrafted by Edison Yazzie, Navajo Artisan. This is an artistically designed and fantastic Silver Inlaid Pendant handmade by an accomplished Navajo Artisan. The design is of a Native Woman wearing a Turquoise Necklace in Canyon Country. This Native American Indian Pendant is inlaid with Turquoise, Jasper, Black Jade, Tiger Eye and Spiny Oyster Shell. This is a great piece of American Indian Jewelry that is truly artisan handcrafted by Edison Yazzie.
To the right is a Navajo made, sunburst design, teardrop Manassa Turquoise Pendant by Native American artist Albert Jack. This Colorado Turquoise Pendant focuses on a rare piece of natural blue Manassa Turquoise from Manassa, Colorado USA. The stone is bezel set and surrounded by a rope (twisted wire) design and a hand stamped sunburst hand stamped Silver design. The Manassa Turquoise Mine has produced very little Turquoise in the last 20 years which makes this Turquoise very scarce.
| | |
| --- | --- |
| | |
To the left above is a inlaid Turquoise American Indian Necklace and Earring set handmade by Native American artist Julius Burbank. This set was inlaid with beautiful old Spiderwebbed Turquoise, the Turquoise Dangle Earrings were made of two parts, a diamond shaped Turquoise Stud Earring top, from which the inlaid Turquoise dangle hangs. Each silver dangle earring features seven inlaid spiderweb Turquoise stones which have inlaid sterling silver spacers. This Turquoise American Indian Necklace is a contemporary style and is made of two separate pieces that are hinged and come together to make one large Turquoise Pendant. Each of the two sections of the inlaid Turquoise Pendant resemble the shape of a foot and are inlaid with nine geometric shaped spiderweb Turquoise stones which are separated with inlaid Sterling Silver spacers. The inlay in these piece is unique as the stones are cut in a cobble stone style, raised at the center and rounded on the edges of each individual stone. Durango Silver Company tries to always have nice American Indian Necklaces such as this on hand, check us out!
To the right is a American Indian Necklace, it is a handmade oval shaped blue spider web Turquoise Pendant by William Johnson. This Navajo made spider web Turquoise Pendant has a large Tibetan Turquoise gemstone that has black spiderweb matrix running through the stone, it is beautiful. The stone is surrounded by beautiful heavy tooled Silver work as you can see in the photo, it is classy and sets the stone off nicely. This is a great Turquoise Pendant that has quality craftsmanship and a classic design. It has substantial Silver weight and is a solid piece of American Indian Jewelry.
| | |
| --- | --- |
| | |
To the left is a Fancy Cluster Seven Stone Bisbee Turquoise Pendant by Vernon Begay. This Large Navajo Artisan Made Pendant features one large Natural Bisbee Turquoise stone surrounded by six Bisbee Turquoise stones in a cluster design. Although this Bisbee Turquoise Pendant is unique to itself, the clustered stone arrangement is a classic style of American Indian Jewelry the Navajo Silversmiths have done for over 100 years. This is a very attractive style of American Indian Jewelry when worn and with the Bisbee Turquoise, it is a rare collectors item - Absolutely stunning! Bisbee Turquoise is known as the best Turquoise that ever came out of the ground in America, it is found in a mineral rich area and the minerals it is found in are known by healers world wide to be metaphysical. Bisbee Turquoise is known by healers to be the most important Turquoise for it healing properties.
Above and to the right is a Zuni Indian Squash Blossom Necklace was made between 1935 – 1950. This American Indian Necklace is an exceptional piece of American Indian Jewelry that is a example of high quality early Zuni craftsmanship. This necklace includes a fantastic Naja that is unique only to this particular Turquoise Necklace. The stones appear to be old Arizona Blue Turquoise from the Mineral Park Mine which is now considered the Kingman Turquoise Mine. All of the stones were individually cut to perfection and the overall design of this piece is superb! The Squash Blossom design was originated from the Palmegranate, this design has been popular for over 100 years and many different types on American Indian Squash Blossom Necklaces have been made since. This Necklace was made in Sterling Silver as commercial Silver sheet and wire had become available by this time. In the years prior to 1930, many of the American Indian Necklaces as well as other types of American Indian Jewelry was made by melting down Silver Coins to create their Jewelry.
Also see - American Indian Bracelets, American Indian Earrings, Navajo Jewelry Origins, American Indian Rings and American Indian Jewelry
---
We hope you have enjoyed our presentation on American Indian Necklaces and have gained some useful knowledge from it. We invite you to learn more about American Indian Bracelets, American Indian Earrings, American Indian Rings and American Indian Jewelry by following the links above. We invite you to check out our Learning Center as it has a wealth of informational pages that we have written on different topics related to American Indian Necklaces. In addition, we would like to invite you to join our E-Mail Newsletter - about once every other month we send out a Newsletter to inform our members of what's happening with Durango Silver Company, new products, specials for our members and more. We also have a monthly drawing from our member base to give away free Turquoise Jewelry from our company. Please take a moment to become one of our friends by signing in below.
We have the largest Trader Direct Information Resource for American Indian Jewelry, Silver Jewelry, Turquoise Jewelry and American Indian Necklaces, we hope you will think of Durango Silver Company the next time you are considering American Indian Necklaces as well as for all of your information needs.