Gold Turquoise Bracelets by Durango Silver Company
Before we go into detail about Gold Turquoise Bracelets, we feel it is important to tell you a little about our company and history as relative to our knowledge about gold jewelry and Turquoise. The Hartman family legacy of cutting and setting the finest Turquoise into silver and gold jewelry began in the 1960s. John and Estell Hartman started their silver smithing careers in the late 1960's and began producing exceptional quality Turquoise Jewelry in 1972, at that time living in Albuquerque, NM. collecting, mining and cutting the finest American Turquoise was their greatest passion, however, they realized shortly that they needed to create their own designs in Sterling Silver and Gold if they were going to make a good living in this business and be able to afford to collect the worlds finest Turquoise as well. John and Estell worked together and turned out some of the finest Turquoise Jewelry New Mexico had to offer, at that time including a fine collection of Gold Turquoise Bracelets.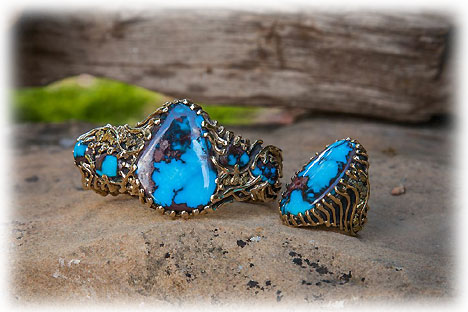 Lost Wax style custom 14k Gold, 24k natural Colorado Gold Nugget, and Bisbee Turquoise bracelet and ring set
Today, John, Dillon (son), Nattarika (Dillon's wife) and Crystal (daughter) are all jewelers who all make high quality Silver and Gold Jewelry and market it at Durango Silver Trading Company located in Durango, Colorado USA and on the Internet at DurangoSilver.com. John built the Durango Silver Company building in 1975, they have been in business at that location since. At this location we are creating all types of jewelry with a specialty in high carat gold jewelry with natural Turquoise. We love all fine gemstones, especially high grade American Turquoise.
One of our specialties is high quality Gold Turquoise Bracelets - We cut spectacular Turquoise gemstones from our own Turquoise collection of over forty years, as well as Turquoise from Dillon's mines in Nevada, and Turquoise we buy from old collections. We put our finest gems in very unusual gold settings that you will find nowhere else in the world, the designs are unique to our family and are sold exclusively by our family. We like to make heavy weight jewelry that will become heirlooms in your family and are built to last. When you buy one of our gold Turquoise bracelets, it will be sure to increase in value as the years go by.
If you are one who appreciates unique Gold Jewelry and are fond of Turquoise, we invite you to check out our Turquoise Bracelets in 14k Yellow Gold.
Gold Turquoise Bracelets from Durango Silver Company
Gold Turquoise Bracelet from Durango Silver Company are exceptional one of a kind works of American Art from the Southwestern region of the United States.
Above to the left is a gorgeous example of our simple contemporary Gold Turquoise Bracelets. This particular 18k yellow gold bracelet features a top gem grade natural Damele Turquoise cabochon from Nevada. This wondreful and rare American Turquoise gemstone is a shocking lime green color and features mahogany brown to black spiderweb matrix. This fine gold and Turquoise bracelet was created by famed Native American jewelry artist Will Dennetdale.
To the right is an example of our classic Navajo Jewelry style high carat Gold Turquoise Bracelets. This fine piece is solid 14k gold and features top gem grade, deep blue, natural Bisbee Turquoise cabochons from Bisbee, Arizona USA. This variety of American Turquoise is very hard to find. The Bisbee mine has been closed for over 30 years now and even when it was in high production this grade of Turquoise was less then 5% of the material from the mine. This demonstrates another reason why gold and Turquoise jewelry is so neat, most jewelers use their very best stones in gold and nothing less. Doesn't the Turquoise look amazing in gold?
| | |
| --- | --- |
| | |
To the left is a wonderful example of our classic inlay style Gold Turquoise Bracelets. This bracelet was made in the 1950s by Marion Packer of Reno, Nevada. This amazing piece is solid 14k and features five top gem grade natural Blue Gem Turquoise stones. The Turquoise in this bracelet is so high grade that you can see deep down into each stone. The stones look like glass marbles! This type of yellow gold cuff bracelet is really nice in the sense that you really have a collectible investment you can wear constantly, yet it maintains a low enough profile to wear with even jeans and a t-shirt.
To the right is a wonderful modern 14k Gold Turquoise Bracelet by Navajo Jewelry artisan Will Dennetdale. This bracelet features a top gem grade, lime green and black spiderweb Damele Turquoise cabochon. This rectangular Nevada Turquoise cabochon is a top level gem that is extremly rare and hard to come by. Will did a wonderful job on the finish of the gold cuff bracelet giving it a really neat texture that makes it extra durable and adds to the modern feel of the piece.
Keep your eyes peeled we will continue to make the finest in Turquoise Jewelry with a focus on the rarest Turquoise from America and around the world as well as high carat Turquoise Gold Jewelry. You can watch for new gold jewelry by clicking here.
For more informative reading and viewing, check out these great pages from Durango Silver Company:
Gold and Turquoise | Gold Bisbee Turquoise Jewelry | Turquoise Gold Rings | Turquoise Gold Jewelry | Gold Turquoise Pendant | Turquoise in Gold Video | Gold Turquoise Necklaces | Gold Turquoise Jewelry | Gold Turquoise Ring
---
We invite you to learn more about Gold Turquoise Bracelet and American Turquoise Jewelry by following the links in our Learning Center, we have written on different topics directly related to Gold Turquoise Bracelet. In addition, we would like to invite you to join our E-Mail Newsletter - about once every other month we send out a Newsletter to inform our members of what's happening with Durango Silver Company, new products, specials for our members and more. We also have a monthly drawing from our member base to give away free Turquoise Jewelry from our company. Please take a moment to become one of our friends by signing in below. We hope you have enjoyed our presentation on Gold Turquoise Bracelet and have gained some useful knowledge from it.