Native Silver Jewelry
Durango Silver Company has been dealing in Native Silver Jewelry for nearly forty years now. We are located in Durango, Colorado USA and all of our Native Silver Jewelry is handmade in the Southwestern regions of the United States. Our Silver Jewelry is significantly different than the bulk of the commercial production Silver Jewelry you see in the marketplace. Our Native Silver Jewelry is quality handmade out of substantial weight Sterling Silver and high quality gemstones, you will see a major difference in the quality of our Jewelry - We deal in High Quality Native Silver Jewelry!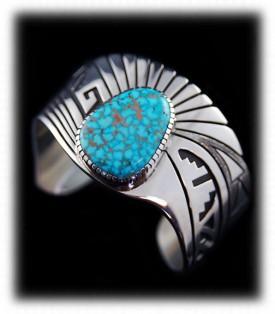 Above is an outstanding piece of Native Silver Jewelry - Navajo Indian Handmade in the USA!
Native Silver Jewelry
Below are several photos of Native Silver Jewelry that is typical of Silver Jewelry that you will find at Durango Silver Company.
Above and to the left is a beautiful piece of handmade Native Silver Jewelry created by Navajo Artisan Edison Yazzie. This Native Silver Bracelet was inlaid with Spiny Oyster Shell, Turquoise and Black Jade. With bold geometric designs and Edison's signature rounded inlays, this is a very special piece of Native Silver Jewelry. These vibrant Spiny Oyster gemstones are accented with natural Black Jade and "Robin's Egg" Blue Sleeping Beauty Turquoise. You can clearly see the expertise and skill that Edison Yazzie posses when you are looking at this flawless inlay and wonderful combinations of color.
Above and to the right is a lime green Turquoise Native Silver Inlay Bracelet by Native American artist Phil Loretto. This lime green Turquoise bracelet is without doubt MUSEUM QUALITY. This Carico Lake Turquoise Bracelet features 18 rectangular, gem grade, lime green, Carico Lake Turquoise inlaid stones. These lime Turquoise stones are set into a one-of-a-kind Silver Cuff Bracelet. You will never see another bracelet like this again as there is only one piece of Native Silver Jewelry like this. This is a mens silver cuff bracelet that features a heavy silver design with a zigzag shadow box down the center of the bracelet. In the center of the design sets the row of inlay Carico Lake Turquoise that goes all around the bracelet. This museum quality Native American Lime Turquoise Bracelet would be a great addition to any Turquoise Jewelry, Native Silver Jewelry, or Native American Silver Jewelry collection.
Native Silver Jewelry by Durango Silver Co
Above and to the left is a beautiful pair of Carico Lake Turquoise Earrings made by Archie Canadonegro, This is a classic style of Navajo Native Silver Jewelry with beautiful lime Turquoise gemstones from the Carico Lake Turquoise Mine. These two rare gemstones are wrapped in serrated bezel, then a rope or cable design and a stampwork designs. Having special Native Silver Jewelry in your collection is having a true piece of American heritage from the great American frontier.
Above and to the right is an outstanding pair of Red Coral Cobble Stone Inlay Dangle Earrings by Native American artist Julius Burbank. This pair of Native Silver Dangle Earrings feature natural red Italian Coral that is inlaid like the bricks in a Cobble Stone street. These gorgeous Mediterranean Coral stones are separated by inlays of Sterling Silver and then set in a nice contemporary bezel type setting. An outstanding set of Native Silver Jewelry that would enhance the best of Native American Indian Jewelry collections.
| | |
| --- | --- |
| | |
To the left is a Navajo Sterling Silver Inlay Ring by Native American artist Edison Yazzie of New Mexico USA. The pattern of the inlaid stones in this Navajo inlay ring is based on a classic Navajo Rug design and uses Black Jade, Colorado Picture Jasper, and Sleeping Beauty Turquoise from Arizona. These gemstones are inlaid into a heavy and simply designed Sterling Silver Mens Ring. The color combination in this Navajo inlay ring is very striking and will definitely fetch many compliments as it has a bold Native Silver Jewelry look that is not often seen.
To the right is a Silver Men's Ring. This Zuni Silver Ring features Colorado Picture Jasper, Tiger's Eye, Black Onyx and "Ox Blood" red Italian coral. All gemstones are 100% natural in this 925 Silver Jewelry and are set in an exquisite Native Silver Jewelry design. The Silver in this Zuni Inlay Ring is solid and thick which is unusual in Zuni Jewelry today. This is a gentleman's Silver Ring that would be a favourite in any mans collection.
| | |
| --- | --- |
| | |
To the left is a Eighteen Stone Navajo Made Turquoise Squash Blossom Necklace by Daryl Cadman. This handmade Navajo Silver and Turquoise Squash Blossom type Necklace features an eight stone Naja, which hangs on a necklace of ten bezel set free form cabochons of Broken Arrow Turquoise pieces and Sterling Silver beads. This very nice Broken Arrow is from outside of Mina, Nevada. Absolutely Stunning! A modern twist on a classic Native Silver Jewelry design of the past, this necklace does not have the squash blossom flowers. This Turquoise Necklace comes with a matching pair of freeform cabochon bezel set dangle earrings.
Above and to the right is a Native American Silver and Turquoise Squash Blossom Necklace There are over 240 blue Turquoise stones. This was a labour intensive piece of Native Silver Jewelry that was most definitely a treasure to the person who owned it as it was made in the 1950's. This Navajo Silver Necklace was purchased from the Shonto Trading Post in the 1970's as Pawn Turquoise Jewelry so it was older at that point. It was most likely made in the 1950's - 60's and it has a maker's mark of IH on the back of the Naja. This is a bold and stunning piece of Native Silver Jewelry that truly makes a statement when worn.
Check out a few of our other Silver Jewelry presentation pages - Native Indian Jewelry - Handmade Silver Jewelry - 925 Silver Jewelry and Silver Jewelry.
---
We hope you have enjoyed our presentation on Native Silver Jewelry and have gained some useful knowledge from it. We invite you to learn more about Silver Jewelry, Native American Jewelry and Turquoise Jewelry by following the links in our Learning Center to other informational pages that we have written on different topics related to Turquoise Jewelry. In addition, we would like to invite you to join our E-Mail Newsletter - about once every other month we send out a Newsletter to inform our members of what's happening with Durango Silver Company, new products, specials for our members and more. We also have a monthly drawing from our member base to give away free Silver Jewelry from our company. Please take a moment to become one of our friends by signing in below. We also hope you will think of Durango Silver Company the next time you are considering Native Silver Jewelry.