Zuni Petit Point Jewelry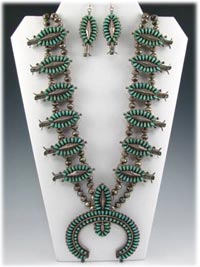 Zuni Petit point Jewelry began around 1920-1930 and was a unique form of Turquoise Jewelry created by the Zuni Indians. A Petit Point stone is a tiny round, oval, rectangle, pear or square shaped stone hand cut by a Zuni Indian Lapidarist. Zuni Petit Point Jewelry is unique to the Zuni Indian Artisans and not made anywhere else in the world. It is special Jewelry that is impressive wearable art. The Zuni's make Petit Point Rings, Earrings, Bracelets, Pendants, Necklace Sets and more.
The tiny stones are hand cut than clustered to form a unique design, a ring or pendant may have 12 to 24 stones, a bracelet 50 -80 stones etc.
The necklace above is a beautiful example of a Zuni Petit Point Turquoise Squash Blossom Necklace. This one was made about 1940 and is a work of art. Zuni Petit Point Squash Blossom Necklaces have been a major part of the Zuni Native American Indian's ceremonial wardrobe for many, many years. This Zuni Petit Point Squash Blossom Necklace represents many, many hours of tedious work and great vision. Try to count how many stones are in this work of art.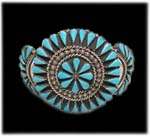 Quality Zuni Petit Point Jewelry
This beautiful Zuni Petit Point Bracelet was made by Arvina Pinto. It is considered to be a cluster bracelet as the Turquoise Stones are set in a clustered arrangement. The center of the bracelet represents a flower. This is a very unique piece that was created by a talented artist, Arvina Pinto. Work of this quality is rare and highly collectible. Zuni Petit Point Bracelets are one of the most popular Jewelry items from the Zuni Indians.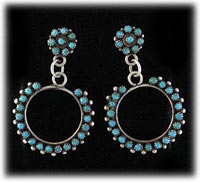 Zuni Petit Point Jewelry - Dangle Earrings
The Turquoise Earrings to the right are a classic style of Zuni Petit Point Turquoise Earrings made by many Zuni Native American Indians on a regular basis. Zuni Petit Point Zuni Earrings are one of the staples in Southwestern Native American Indian Jewelry. Zuni Petit Point Earrings are light weight and easy to wear for women as well as being very attractive to all. The Zuni Petit Point Earrings above have been made for many years and are still in fashion today!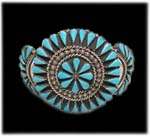 Unique Zuni Petit Point Jewelry - Snowflake Bracelet
This is a unique style of Zuni Petit Point Zuni Bracelet in a Snowflake design. The Zuni Indians are very artistic and have made some of the finest Turquoise Jewelry in the history of Southwestern Native American Indian Jewelry. Along with fantastic design, Zuni Petit Point Jewelry is in vogue, appreciated by many and admired by all Jewelers around the world.
Also, take a look at some other Zuni Jewelry informational pages - Zuni Jewelry, Zuni Inlay Jewelry, Zuni Needle Point Jewelry and Zuni Indian History
Durango Silver Company always has a good amount of Zuni Indian Jewelry as well as Zuni Petit Point Jewelry on hand and we hope you will think of us when you are looking for Zuni Petit point jewelry or Zuni petti point jewelry in the future.