Hopi Jewelry & Silver Information
---
The technique of most Hopi jewelry is called Overlay. Hopi overlay jewelry is very popular and getting harder to find.
Today one might look at Indian craft and recognize a combination or influences of different tribes and styles in the same piece of art, this is where the Hopi silversmith stands out.
A distinct characteristic of Hopi jewelry making is the use of a technique called Overlay. The technique of Hopi Overlay Jewelry began in the late 1930's and 1940's. Hopi Overlay Jewelry consist of two silver layers that are formed into flat pieces of the same shape. Designs are cut into the top piece with a jewelry saw. The bottom piece is textured (the etching that you see) and oxidized with liver of sulfur, thus turning it the black color. The two pieces of silver are then soldered together with the cut out designs on top. The designs are religious and secular, ranging from realistic to symbolic. Many are inspired from ancient sources.
The Hopi tribe organized the Hopi Arts and Crafts Silver craft Cooperative Guild on Second Mesa in 1949. Pieces of jewelry are rarely signed by the artist but instead are stamped with the artist Hallmark. The Hallmark is often a clan, personal, or an animal symbol.
Note: It is difficult to photograph the blackness of the bottom layer, though it may look gray in the pictures, it is solid black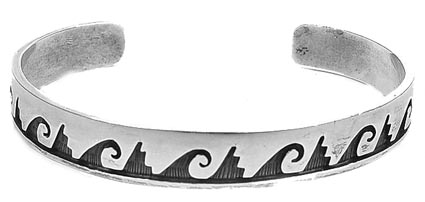 ---