Gold Turquoise Rings by Durango Silver Company
John and Estell Hartman began producing exceptional quality Turquoise Jewelry in 1972, at that time living in Albuquerque, NM. Collecting, Mining and cutting the finest American Turquoise was their greatest passion, however, they realized shortly that they needed to create their own designs in Sterling Silver and Gold if they were going to make a good living in this business and be able to afford to collect the worlds finest Turquoise as well. John and Estell worked together and turned out some of the finest Turquoise Jewelry New Mexico had to offer, at that time.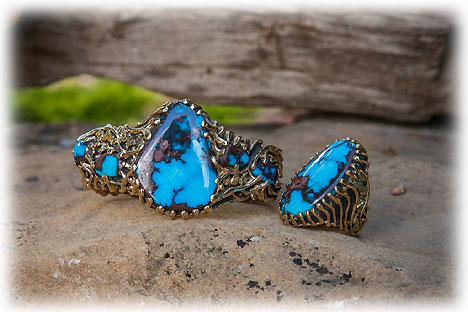 In 1974, John and Estell moved to Durango, Colorado, bought a horse ranch and produced their Jewelry in Gods country. John flew to Albuquerque once a week and delivered their Jewelry to be sold to affluent individual that appreciated the worlds finest Turquoise set in exceptionally hand crafted Gold and Silver Jewelry. One night John and Estell was sitting in the saloon in Madrid, New Mexico watching Waylon Jennings - between songs, Waylon jumped off the stage and came over to John and asked where the hell he got that Turquoise Ring, John replied that he is a Jeweler and he made this gold ring. Waylon said, I just got to have one of your rings and John took theGold Bisbee Turquoise Ring off of his finger and gave it to Waylon - they remained friends for years to come. John made gold rings for many of Waylons friends and their friends as well, John has been making his high grade Turquoise and Gold Rings since and many special individual cherish them!
Today, John, Estell, Dillon (son), Nattarika (Dillons wife) and Crystal (daughter) are all Jewelers - they all make high quality Silver and Gold Jewelry and market it at Durango Silver Trading Company located in Durango, Colorado USA and on the Internet at DurangoSilver.com. John built the Durango Silver Company building in 1975, they have been in business at that location since.
One of our specialties is high quality Gold Turquoise Rings - We cut spectacular Turquoise Gemstones from our own Turquoise collection of over forty years and we put our finest gems in very unusual gold settings that you will find nowhere else in the world, the designs are unique to our family and are sold exclusively by our family.
If you are one who appreciates unique Gold Jewelry and are fond of Turquoise, we invite you to check out our Turquoise Rings in Gold.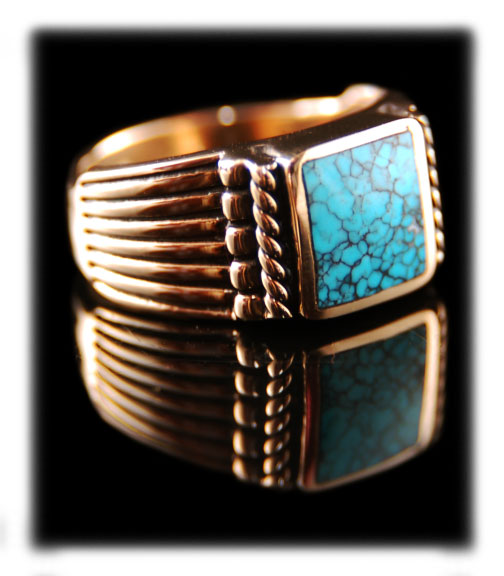 Above is a classic Gold Ring setting created by John Hartman, the spider web Turquoise gemstone was inlaid into the ring setting by Dillon Hartman. This is Lone Mountain Turquoise that John has had in his collection since the early 70's, it is rare, the mine has not produced this quality of Turquoise for over 30 years and the mine has also been close for many years. Turquoise connoisseur's go nuts over this type of Turquoise!
Gold Turquoise Rings from Durango Silver Company
Gold Turquoise Rings from Durango Silver Company are exceptional one of a kind works of American Art from the Southwestern region of the United States.
| | |
| --- | --- |
| | |
Above and to the left is a Bisbee Turquoise Gold Ring created by John Hartman. John carved this setting in wax around this spectacular Bisbee Turquoise Gemstone and then he used the ancient lost wax method to cast his carving in Gold. John also hand cut this Bisbee Turquoise gemstone from his Bisbee Turquoise collection of over 40 years - John has one of the largest Bisbee Turquoise Collections in the world. Bisbee Turquoise is known as some of the finest Turquoise this world has ever produced. It was extracted out of the Bisbee Copper Mine between 1940 - 1980, in the beginning it was taken out of the mine by the miners and given to the Navajo Indians to use in their Silver Jewelry. In 1976, Bob Mathews of Durango, Colorado landed the only permit to mine Turquoise at the Bisbee Mine, he mined until approximately 1976 - that was the end of legally mining Turquoise from the Bisbee Mine.
Above and to the right is another Bisbee Turquoise Ring created in Gold by Nattarika Hartman. Nattarika works with John, she is a great understudy and a wonderful person - she was born and raised in Chiang Mai, Thailand, she got a degree in textiles and she really has the eye. You would absolutely love Nattarika as she is a jewel of a person! She makes beautiful jewelry and this Gold Ring is a classic example of her work.
Above and to the left is a #8 Spider Web Turquoise Ring in 14ky Gold by John Hartman. This is a spectacular Men's Gold Ring that features a one of a kind spiderweb gemstone from the old #8 Turquoise Mine of Nevada USA. This Turquoise Mine has been out of production for over 50 years and the Turquoise is legendary. As you can see in this photo it is absolutely spectacular! The Gold work was done by John Hartman by carving the design in Jewelers wax around the stone and then using the lost wax method to cast the ring in 14ky Gold.
Above and to the right is an outrageous Bisbee Turquoise Men's Ring in 14ky Gold by John Hartman. John uses a lot of Bisbee Turquoise in his Jewelry as he has been known for having the best natural Bisbee Turquoise available and has had for over 40 years. John began collecting Bisbee Turquoise over 40 years ago and has been fortunate in obtaining many of the finest old collections of Bisbee Turquoise from the past - John is one of the very few Southwestern Jewelers with high grade Bisbee Turquoise and he uses his best gemstones in his Gold and Turquoise Jewelry.
| | |
| --- | --- |
| | |
Lander Blue Turquoise is the most famous Turquoise in the world and this Gold Ring above and to the left has a fabulous piece of Lander Blue Turquoise inlaid into the 14ky Gold setting created by John Hartman. There is very little authentic Lander Blue Turquoise available as there was only about 125 lbs taken out of the ground in the early 1970's and there were also very few individuals who were lucky enough to obtain the material at that time. John and Estell Hartman were known Turquoise collectors at that time and frequently went to Nevada buying high grade Turquoise, they still have authentic Lander Blue Turquoise that they purchased in 1973 and this is some of it inlaid into this Gold Ring by Dillon Hartman. We do not often use Lander Blue in Jewelry as it is so rare, we save it for special one of a kind Jewelry.
A great deposit of Turquoise Mountain Spider Web Turquoise was unearthed in 2009 by the Colbaugh's (mine owners) which will go down in history as being some of the finest Turquoise the Kingman Turquoise Mine has ever produced. The Turquoise Ring above and to the left is a classic example of Turquoise Mountain Spider Web Turquoise and it was made in a 14ky Gold setting by John Hartman of Durango, Colorado USA! This handmade, one-of-a-kind, piece is very unique and truly a collectors item today that will increase in value exponentially into the future, it will become an important heirloom for future generations and it will become an important piece of our American heritage from the American Southwest.
Quality Gold Turquoise Rings
Quality Gold Turquoise Rings from the American Southwest are surprisingly hard to find. Turquoise Jewelry has historically been made in Silver and it is fairly rare to find a Native American Silversmith that works in Gold and since Gold has increased dramatically in cost, most Native Americans cannot afford to invest their money in Gold to make Gold Turquoise Rings. Durango Silver Company has been making Gold Rings for over forty years, they have a tremendous high grade Turquoise collection and they make some of the finest quality Gold and Turquoise Rings coming out of the American Southwest today.
| | |
| --- | --- |
| | |
This American spider web Turquoise, combination Silver and Gold Ring was created by John Hartman of Durango Silver Company - made in the USA! The Turquoise gemstone is from the Blue Wind Turquoise mine located in Lander County Nevada. This is very fine spider web Turquoise and it is also very rare / seldom scene available. Durango Silver Company has a small amount of this Turquoise left in their collection and there is a very small about of this Turquoise left, period.
To the right of the Blue Wind Spider Web Turquoise Ring is a Gold Ring with a spider webbed Damele Turquoise gemstone. This lime green Turquoise from the Damele is very hard to come by and very few people or dealer have any to offer. Durango Silver Company has a small collection of this fine grade of Damele and are always in the market looking for more but we rarely come across it. This 14ky Gold Ring was Navajo handmade in the USA! It is a dandy.

We have made this Turquoise Inlaid Gold Ring on the left for years! We can inlay any type of gemstone that we have in one for you, if you would like! We even make these Rings in Silver. This particular Ring is inlaid with Blue Gem Turquoise from the Battle Mountain, Nevada area, it is outstanding. This is a comfortable and heavy Ring Band that you would enjoy for many years to come as it is durable and suitable for everyday use.
To the right is a spectacular Gold Turquoise Ring handmade by John Hartman of Durango Silver Company USA. The Turquoise Gemstone is from the Red Mountain Turquoise Mine, it was named Red Mountain as the matrix is an iron based red and believe me - it is rare and it is scarce, try to find some! John cut this stone many years ago and recently mounted it into this spectacular 14ky Gold Ring, it is a Ring nobody will forget once they have seen it. Red Mountain Turquoise is one of our favorites and we work very hard to find it, if you are real nice and we like you, we may make a Gold Red Mountain Turquoise Ring for you.
For more informative reading and viewing, check out these great pages from Durango Silver Company:
Gold and Turquoise | Gold Bisbee Turquoise Jewelry | Turquoise Gold Rings | Turquoise Gold Jewelry | Gold Turquoise Pendant | Turquoise in Gold Video | Gold Turquoise Necklaces | Gold Turquoise Jewelry | Gold Turquoise Ring
---
We invite you to learn more about Gold Turquoise Rings and American Turquoise Jewelry by following the links in our Learning Center, we have written on different topics directly related to Gold Turquoise Rings. In addition, we would like to invite you to join our E-Mail Newsletter - about once every other month we send out a Newsletter to inform our members of what's happening with Durango Silver Company, new products, specials for our members and more. We also have a monthly drawing from our member base to give away free Turquoise Jewelry from our company. Please take a moment to become one of our friends by signing in below. We hope you have enjoyed our presentation on Gold Turquoise Rings and have gained some useful knowledge from it.