Victorian Turquoise Jewelry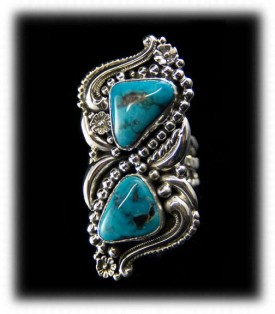 Victorian Turquoise Jewelry created by Durango Silver Company is an exciting new style of Jewelry that is unique to our company, it is artisan made in America and one of the most enchanting styles of Turquoise Jewelry coming out of the American Southwest today! John Hartman began collecting antique memorabilia from the American west early in his life. He has been inspired by specific elements in his antiques as well as others to create his Victorian Turquoise Jewelry style.
---
Victorian Turquoise Jewelry Examples
Above are two pieces of Victorian Turquoise Jewelry - to the left is a multi gemstone Victorian Turquoise Ring with Victorian style Silverwork along with Sleeping Beauty Turquoise, Spiny Oyster, Sugilite and Tortoise Turquoise. The ring shank is a three prong cable design that adds to the mystic of this beautiful Southwestern Silver Ring. To the right is another Victorian Turquoise Ring featuring two Carico Lake Turquoise Gemstones accented with a Sugilite gem. The Silverwork was created by John Hartman in his Victorian style.
Above and to the left is a pair of filigree style Silver Earrings that were created by Estell Hartman. This pair of Victorian Silver Earrings are 3-D with their repose work and overlaid Silverwork. We now have added this pair of Estell's earrings to our Victorian Silver Jewelry collection which is offered exclusively by Durango Silver Company.
Above and to the right is a pair of Victorian Turquoise Earrings created by John Hartman. This style of Victorian Earring is shown with 8mm Sleeping Beauty Turquoise stones, we will be making this style and several others with many other gemstone types shortly.
Above are two unique pieces of Victorian Turquoise Jewelry from our current collection. The Victorian Turquoise Bracelet on the left was created by John Hartman. This Bracelet features a spectacular Blue Turquoise Stone from the Morenci Mine located in Arizona, it is accented by two purple Sugilite gemstones. The Silverwork features repose and scrollwork which are considered Johns Victorian style of design. The Victorian Silver Bracelet to the right features a fabulous Royston Turquoise Gemstone that is accented by heavy 3-dimentional Victorian Silver designs. You can see more information on this Bracelet on our Cowboys and Indian Magazine presentation.
| | |
| --- | --- |
| | |
The Victorian Turquoise Buckle to the left displays Johns Victorian Silverwork in detail, you can see his Victorian design is very dimensional. It includes repose, engraving, file work and saw work. He has many Silver design variations that he has used in his past that makes each piece have its own personality. This is unique Jewelry with unusual character that is seldom scene anywhere.
Above and to the right is a Victorian Silver Pendant featuring a gorgeous purple Sugilite gemstone. This beautiful Victorian Silver Pendant has beautiful Victorian filigree Silverwork on the front side and the back side is equally unique as it is cut out with a different type of Silver overlays. Check it out!
Above on the left is one style of a Victorian Turquoise Pendant the features a large Turquoise gemstone from the Royston Turquoise Mine located near Tonapah, Nevada. This is a beautiful piece of Victorian Turquoise Jewelry. With scrolls, repose, filigree and more, the unique Silverwork enhances the gorgeous Nevada Green Turquoise Gemstone in great style.
Above and to the right is a completely different type of Victorian Turquoise Pendant. This Pendant has a small 8mm Sleeping Beauty Turquoise stone that accents the Silverwork. The Silver has a lot of high relief with carved leafy filigree, the curves and swirls of the Silver creates a completely different look than the Pendant above. This Pendant is considerably less expensive than the Royston Turquoise Pendant but it is equally dynamic and is stunning when worn.
The two pendants above are great examples of modern day Victorian Turquoise Necklaces
Above and to the left is a beautiful Victorian Turquoise Bracelet that has an 8mm round Sleeping Beauty Turquoise stone. This Bracelet has a lot of movement which makes it very dimensional - 3-D. There is repose, engraved high relief filigree, braided roping, floral and feather work. It is unique piece of Victorian Turquoise Jewelry that has a lot of design but it is not a wide piece - its awesome!
Above and to the right is a beautiful Victorian Style Bracelet that is design rich. This Bracelet has a marvelous Royston Turquoise Gemstone but the Silver design work is a site to see. The Victorian Silverwork that John does here is truly unique and very original. If you are one for high relief engraving or intense carved metalwork, you should definitely follow John and his new Victorian Silverwork as he will develop this design in many great ways - Check it out!
We invite you to search our site for Victorian Turquoise Jewelry to see what we presently have available.
---
We hope you have gained some useful knowledge from our Victorian Turquoise Jewelry educational presentation page. We invite you to learn more about Silver Jewelry and Turquoise Jewelry by following the links in our Learning Center. We have written many other informational pages on topics related to Southwestern Silver Jewelry in an effort to educate individuals who care to learn more about American Jewelry from the Southwest. In addition, we invite you to join our E-Mail Newsletter - about once every other month we send out a Newsletter to inform our members of what's happening with Durango Silver Company, new products, specials for members only and more. We also have a monthly drawing from our members to Giveaway free Turquoise Jewelry from our company. Please take a moment to become one of our friends and future winners in our giveaway by signing in below.
Our Victorian Turquoise Jewelry is unique to Durango Silver Company and not sold elsewhere!