Victorian Turquoise Necklaces
The Victorian era was the period of Queen Victoria's reign, which was from 1837 until 1901. Amidst the great industrial revolution, a time of peace and prosperity brought many changes to Great Britain as well as the world. Automobiles replaced Horse-drawn carriages, electricity was born and toilets became standard in homes. This was also a period of time when high fashion was recognized; elaborate clothing, self adornment and jewelry along with lavish lifestyle became the trend.
Victorian period jewelry had elaborate design, precious metals and fine quality gemstones, the fancier the better. John Hartman of Durango Silver Company has been a collector of Victorian era and western American Antiquities for most of his life, he has been inspired by specific elements in his antiques as well as others to create his Victorian Turquoise Necklaces. This is a presentation page on John's new style of Necklaces from the American Southwest.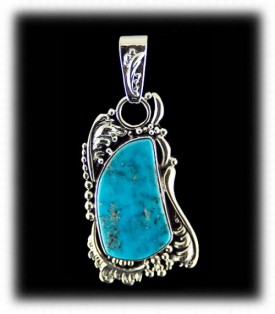 This is a Victorian Turquoise Necklace from the Victorian Jewelry Collection created by John Hartman of Durango, Colorado USA. This piece features a gorgeous Blue Gem Turquoise stone, elaborate filigree Silverwork with high relief repose in Sterling Silver. Much like Victorian period adornments, John's Victorian Silverwork has a lot of detail and unique style.
Victorian Turquoise Necklaces Examples
Above is a unique Victorian Turquoise Necklace with many unusual features. John backed the Morenci Turquoise stone with Lapis and he backed the Sugilite stone with Mawsitsit Jade. He created the design on the front side with scroll chased Silver ornamental designs accented with grape motifs, the bezels that the stones are set in are fancy gallery style, the style of this piece is magnificent. The reverse side of this necklace is equally dynamic in a completely different design, yet, very fitting. Cutouts that display the Lapis and Mawsitsit gemstones engulfed in a filigree scrollwork. You can view additional photos and descriptive text on this Victorian Necklace. All of the gemstones are beautiful, however, the Morenci Turquoise Stone is a barnburner! Rich sky blue with exceptional iron pyrite matrix. The Silver Filigree work John has done on this piece is equally exceptional, it has extreme detail of fine quality Silverwork - truly a piece of art!
| | |
| --- | --- |
| | |
Above and to the left is a Victorian Necklace with a purple Sugilite gemstone that can be seen from both sides of the necklace. Take a look at the reverse side of this necklace on its presentation page as it has a unique design as well. This is a lovely Silver Necklace that has a beautiful coloration, the Sugilite is greatly enhanced by the high relief Victorian silverwork. John's Victorian Silver Jewelry is unique to Durango Silver Company and is an exclusive from our company.
Above and to the right is a multi stone Victorian Silver Pendant / Necklace. It has a beautiful Bisbee Turquoise gemstone accented with purple Sugilite, Spiny Oyster Shell and a lime Turquoise gemstone from the Orvil Jack Turquoise Mine located in Nevada many years ago. The broad color range of the gemstones used in this piece add a festive flair that is attractive when worn.
Above and to the left is a beautiful Navajo handmade Victorian style Necklace created by Vernon Begay. This piece features a rare Stenich lime green Turquoise gemstone with a very nice Victorian type of Silver filigree. This was done with Silver wire and then pieces of Silver were melted into various sizes of grapes.
To the right is a Victorian style Turquoise Necklace with a White Buffalo Turquoise gemstone from Nevada. This is one of John's earlier Victorian Silver pieces when the idea of developing his Victorian Silver Jewelry collection was in its infancy. When you look at one of his newer pieces such as the Morenci Necklace above you can see how his style is developing. This White Buffalo Pendant was made about six months ago and the Morenci Necklace was made about a month ago.
Victorian Turquoise Necklaces by John Hartman
John Hartman has been a prolific Gold and Silversmith in the American Southwest for over forty years now. He has designed Jewelry for many great companies and important individuals. John has collected high grade Turquoise since his childhood and has mined Turquoise since the late 1960's, and with some of the most historic old Turquoise Miners in the history books. John cuts most all of the gemstones he sets in his Jewelry from his rare Turquoise collection. Most of John's Jewelry is museum quality, read more about John here.
| | |
| --- | --- |
| | |
Above are two smaller Victorian Turquoise Necklaces John created as Victorian Turquoise Pendants. The Victorian Pendant on the left is a nice size for everyday use, it is fairly lightweight and comfortable to wear. The beaded S scroll design if attractive to many and accompanied by a sky blue Sleeping Beauty Turquoise stone, it is gorgeous. The double Turquoise stone pendant to the right has the same S style repose pieces together with braided Silver wire and grape designs - both pieces are good examples of the type of Victorian Jewelry John is presently making.
| | |
| --- | --- |
| | |
To the left is a Victorian Style Necklace with a beautiful Gaspeite gemstone as the centrepiece the top pendant has a purple Sugilite gemstone that sets off the lime green color of the Gaspeite stone. The Victorian filigree work on this Silver Pendant is whimsical, look at some other and larger photos by following the link in this sentence. The back side of this Necklace is cut out and outlined in other Victorian scrollwork that make a window affect so you can see the reverse side of the gemstone.
To the right is a beautiful Beaded Necklace created by Nattarika Hartman. It was made with Rhodocrocite and Sugilite gemstone beads, it is beautiful and has a Victorian appeal. You can get a closer look at this Sugilite and Rhodocrocite Necklace on its presentation page - check it out!
Also; take a look at our Victorian Silver Jewelry, Victorian Style Rings and Victorian Turquoise Jewelry presentation pages
We invite you to search our site for Victorian Turquoise Necklaces - see what we presently have available.