Have you ever seen a Victorian Turquoise Ring?
Most people are used to seeing Turquoise in either Southwestern Jewelry or Persian (Iranian) style jewelry. Here at Durango Silver Company we like to make all types of jewelry with the "sky stone". One of our favorite styles of jewelry to make is Victorian or Filigree style. The Victorian style is more fanciful and really lends itself to high-grade gemstones, especially picture stones and spider web matrix Turquoise. This is an informational presentation with photos and descriptions of Victorian style Turquoise Rings. These examples are from the Hartman Family's collection of Durango Silver Company. We hope we can give you some different ideas to help you find a piece you would love to wear and open your eyes to some different designs and styles of jewelry you may like to wear. As one of the most popular pieces of Sterling Silver jewelry world wide it is sure you have seen many of the common designs of bands and cocktail rings with the "Sky Stone" in them. Below should be some pieces which are different from what you have seen before.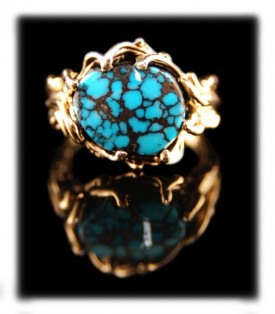 A Quality Victorian Ring from Durango Silver Co Will Be An Heirloom Turquoise Piece
It is easy to find a ring for fun but it is hard to find a good ring with genuine Turquoise that will last generations
A quality Turquoise Ring is a special, beautiful and valuable piece of Jewelry. A Turquoise Ring from Durango Silver Company is an American heritage, hand crafted piece of Jewelry art, it is made in the USA and you, as well as your descendants, will love and cherish it forever. Below are some photo examples of our VictorianTurquoise Rings along with descriptions of each ring.
Above are two examples of modern Victorian Jewelry by John Hartman. Each of these pieces was handmade from Sterling Silver sheet and wire and features natural, top gem grade cabochons.
To the left is a unique Sterling Silver dinner ring by John Hartman which is adorned with three hand cut, AAA grade natural gemstone cabs. This ring features two rare Carico Lake Turquoise gemstones which are a beautiful yellow to lime green color and features beautiful golden yellow to brown spider web matrix which is outlined with lime green Turquoise. These rare gems are accented with a trillion cut gel Sugilite cabochon. The gemstones are accented with repose designs, filigree designs, rope designs and raindrop or bead designs. This makes the ring very fanciful and unique. This is all set atop a rope or cable style shank.
To the right is another example of a multiple stone Sterling Silver cocktail ring by John Hartman. This piece features gem grade natural Morenci Turquoise and top gem grade purple Sugilite. These two natural gemstone cabochons were hand cut by the artist. The stones are surrounded by Victorian style repose and stamped silver work as well as bead designs. This all sits atop a classic Sterling Silver ring band.
Above are two examples of handmade silver cocktail rings by John Hartman featuring a combination of Victorian style and Southwestern Jewelry styling. We call this style Victorian Fusion.
To the left is an outstanding silver ring which features a top gem grade, spider web matrix, natural #8 Turquoise cabochon from Nevada, USA. This gemstone was hand cut by the artist from old stock rough Turquoise from the Shipley collection. The Number Eight Turquoise cab is second to none and features the rare black spider web matrix as well as the finger print gold brown spider web matrix. This ultra-rare gemstone cab is set into the dinner ring with a fancy Victorian filigree style silver bezel and is surrounded with a flat rope design. This sits atop a Southwestern style hand stamped shank. The combinations of Southwest Jewelry styles and Victorian styling make this piece very unique.
To the right is a beautiful Blue Gem Turquoise ring by John Hartman. This piece focuses on a top gem quality natural American Turquoise cabochon from the Blue Gem mine in Battle Mountain, Nevada USA. The cab was cut in a modern pillow shape and is set into the fancy silver ring with a fancy filigree style bezel. This sits atop a Southwestern Turquoise Jewelry style hand stamped shank.
Above are to very different examples of handmade Victorian style jewelry. Each with different types and colors of Turquoise, metal, designs and artists.
To the left is a beautiful handmade Sterling Silver cocktail ring by American Jewelry artisan Dillon Hartman. This statement piece is heavy duty and would make a great family heirloom. The focal point of this piece is a top gem grade King's Manassa Turquoise cabochon . This AAA grade natural American gemstone is a deep forest green with golden brown matrix. The cabochon is set into the Victorian style silver ring with a fancy filigree style bezel and is surrounded by a rope or cable design. The shank is a matching three prong band with a rope or cable design.
To the right is an exceptional piece of Turquoise Jewelry. This is an 18k gold ring for women which features an ultra-grade cabochon of natural Bisbee Turquoise from Arizona, USA. The Turquoise is surrounded by round white diamonds. The diamonds flow down and around the band. You can not see it in the pictures, but the ring is accented on the side with filigree designs. This piece was designed by Bruce Mead.
Here are a few more American handmade rings with the Sky Stone in a Victorian style
Above are a couple examples of a classic style Victorian style piece. Each of these feature fancy filigree bezel and a fancy bead accent all around.
To the left is a handmade silver dinner ring with a top gem grade natural Bisbee Turquoise cabochon from Arizona, USA. This spider web matrix gemstone is set into the piece with a fancy filigree style bezel. To the outside of the bezel is a beautiful bead design. This is a great design for a man or a women.
To the right is a artisan handcrafted cocktail ring by John Hartman. This piece features a top gem grade cabochon of natural lime green Tibetan Turquoise with black spider web matrix. This is accented with a bead design. This is all set atop a unique concave silver band ring which is textured like sandstone. This unique ring band really gives the piece a unique look.
Above are a couple large Sterling Silver dinner rings by John Hartman. Both of these pieces would be great women's statement pieces for a woman. The ring on the left focuses on as large elongated blue to green fade Royston Turquoise gemstone. This piece is top gem grade and some of the most collectible from the mine. The ring feature beautiful Victorian filigree designs and an Art Deco shank. The piece on the right is adorned with a find black spider web natural Kingman Turquoise gemstone from Arizona, USA. This piece features fancy filigree designs all the way around the shank and for the bezel.
Both of these rings have a fancy look and would look great with a evening dress.
As you can see from the examples above, Turquoise looks great in Victorian designs. The fancy filigree designs which look like lace accent find Turquoise gems very well. It is a lot more scarce to see a Victorian Turquoise Ring than any other style of jewelry which features the "sky stone". At Durango Silver Company Victorian Style and Art Deco style jewelry are at the core of our designs. You can find a wide variety of handmade jewelry with these designs in our online gallery.
Learn about our unique Silver and Gold Turquoise Rings!
We invite you to take a look at a few of our other presentations - Rings with Sky Stones, Men's Turquoise Rings Video, Men's Turquoise Ring, American Indian Rings Sky Stone Ring Video, Turquoise Gold Rings Victorian Style Rings, Victorian Sky Stone Jewelry, Victorian Silver Jewelry, Victorian Turquoise Necklace page. Checkout our Turquoise Learning Center
---
We invite you to learn more about a our rings as well as other Turquoise Jewelry from Durango Silver Company by following the links in our Learning Center to other informational pages as we have written many different topics directly related to the Turquoise Ring. In addition, we would like to invite you to join our E-Mail Newsletter - about once every other month we send out a Newsletter to inform our members of what's happening with Durango Silver Company, new products, specials for our members and more. We also have a monthly drawing from our member base to give away free Turquoise Jewelryfrom our company. Please take a moment to become one of our friends by signing in below.
Thank You! for your time and we hope you will consider Durango Silver CO the next time you looking for a Turquoise Ring.