Victorian Style Rings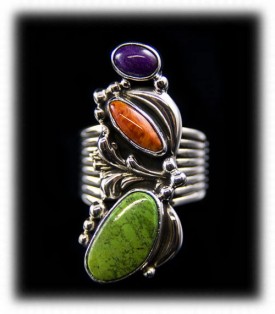 Victorian Style Rings created by John Hartman are part of an exciting new jewelry style that is unique to Durango Silver Company. John has been
one of the premier jewelers in the American Southwest for the past 40 years, once again, he has come up with a new style of jewelry we think you will appreciate. This is a presentation page to introduce you to a new look in Silver and Turquoise Jewelry.
The Silver Ring above has Gaspeite, Spiny Oyster and Sugilite stones set in a Victorian style Sterling Silver setting. The bold repose work along with the high relief floral spray on this ring is much like designs from the Queen Victoria period of 1837 to 1901 and beyond.
Victorian Style Rings and Jewelry Sets
Above are two Victorian Style Rings - to the left is a gorgeous ring with flowers, grapes and sprays of high relief silver and on each end of the ring are repose scroll work outline in graduated beadwork. This is an bold eye catching dinner ring and it is a marvel in design.
Above and to the right is another Victorian style Dinner Ring with multiple colors that ad unusual character - an exciting ring! The silver work has high relief sprays, silver beading and quarter moon designs. The gemstones used in this piece are Lime Turquoise, Gaspeite, Spiny Oyster Shell and purple Sugilite. The ring shank is unique as well.
We have another informational page on Victorian Turquoise Jewelry that you might enjoy if you like this style of Jewelry, follow the link in this sentance.
Above is a matched earring and ring set featuring silver Victorian floral work surrounding beautiful Sleeping Beauty Turquoise gemstones from Arizona USA. The Victorian Ring to the left is a colorful ring band with high releif floral and bead work and to the right is a matching pair of earrings that have matching silver work and then matching blue Turquoise gemstones.
Another page with a nice display of Victorian Silver Jewelry is available to view by following the link in this sentance, you will find additional designs along with descriptive text.
Above is another Victorian Style Ring and Earring set featuring Sleeping Beauty Turquoise. The design is a S shaped scroll with a graduated bead outline, reversing the design on the earrings created a harp appearance which is quite attractive when worn. This beautifully designed Victorian Silver work created by John Hartman is an exclusive to Durango Silver Company and can only be purchased through our company.
We have also created a good Turquoise Rings Video that you will enjoy by following the highlighted link in this sentance.
Additional Victorian Silver Work
Above are two Sterling Silver Victorian style Bracelets. The Turquoise Bracelet on the left is a fancy, fairly narrow Victorian filigree piece with floral sprays, silver grapes and cable design. This is a lovely silver bracelet that one would find themselves wearing more often then not. The above right photo displays a larger Bisbee Turquoise Victorian Bracelet with S shaped repose scroll embellishments on each side of a beautiful Bisbee Turquoise gemstone form the Bisbee Mine in Bisbee Arizona. Bisbee Turquoise is known to be some of the very best Turquoise that has ever came out of the earth, there are many Turquoise deposits in the American Southwest, however, Bisbee Turquoise has unusual character that the Native Americans as well as most other Turquoise connoisseur's cherish. This beautiful blue Turquoise set in this unusual silver work is very pleasing to the eyes when worn. These are some neat variations of our modern Victorian Turquoise Jewelry.
| | |
| --- | --- |
| | |
Above are two Victorian style Silver Rings, both made by John Hartman.
The ring on the left has high relief Victorian floral carved sculpturing along with beading and grape clusters. John starts by carving the wax and then casting it into silver, he then uses chasing tools to carve deeper into the silver which gives great dimension to his pieces. This Sugilite Victorian Ring is an outstanding piece of Victorian style Jewelry that is a conversational object of interest to everyone who sees it. The gemstone in the ring is an ultra rare natural Sugilite cabochon. The Hartman's specialize in Sugilite Jewelry.
The ring on the right is equally unusual, it has a Colorado Highgrade Silver Ore stone and a black Onyx stone that are adorned with carved and deeply engraved silver feathered embellishments. Silver raindrops are scattered throughout to ad unique character. The ring shank of this ring is unique as well and pulls the whole Victorian affect together quite nicely.
Above is one of John's Victorian Ring Bands, we call this a boxwork cutout design and you can easily see why. This ring looks very nice on a finger and you can see the beautiful natural skin tone through all of the rectangular windows in the design, they are large enough that it has a great effect. The raised zigzag border design has another effect when it is worn that makes this a very charming Silver Ring Band.
Above and to the right is a beautiful Silver Ring Band in a Victorian Style by John's daughter Crystal. Crystal was an understudy of John in her younger years and then she went to Colorado University in Boulder, Colorado and earned her degree in art. Crystal came back home and has become quite an artist in many mediums, she sculpts in Silver as well as other materials, she is an exceptional painter or the arts, she is a writer and a critic. Learn more about Crystal Hartman on her website by following the link in this sentence. Also read more about Crystal's Jewelry on our presentation and see the presentation page of this particular Victorian Ring by Crystal Hartman. If you are a person who enjoys high art, you must check out more Jewelry designs by Crystal by typing her name in the search box to the upper left of this web page.
Type Victorian Rings in the search box to the upper left to see what we presently have available, or simply put the word victorian in the search box to see all of our Victorian Silver Jewelry
---
We hope you have gained some useful knowledge from our Victorian Style Rings page. We invite you to learn more about Silver Jewelry and Turquoise Jewelry by following the links in our Learning Center. We have written many other informational pages on topics related to Southwestern Silver Jewelry in an effort to educate individuals who care to learn more about Jewelry from the American Southwest. In addition, we invite you to join our E-Mail Newsletter - about once every other month we send out a Newsletter to inform our members of what's happening here at Durango Silver Company, new products, specials for members only and more. We also have a monthly drawing from our members to Giveaway free Turquoise Jewelry from our company. Please take a moment to become one of our friends and future winners in our giveaway by signing in below.
Our Victorian Style Rings are unique to Durango Silver Company and not sold elsewhere!