Learn about Bisbee Turquoise Bracelets
Bisbee Turquoise is one of the most beautiful types of Turquoise on earth, the red to chocolate brown colored matrix ads fabulous character to this Turquoise that is not seen in any other natural Turquoise in the world. Native American Indians of the American Southwest cherished this marvelous gemstone as soon as it surfaced by minors, they believe Bisbee Turquoise was put on this earth from the great ones above.
Bisbee Turquoise Jewelry and Bisbee Turquoise Bracelets are among the most beautiful Jewelry that has ever been produced in the American Southwest. This is informational page about Bisbee Turquoise and Bisbee Turquoise Bracelets that Durango Silver Company has produced. We are proprietors of one of the finest collections of Bisbee Turquoise known, we exclusively cut and market all of our Bisbee Turquoise in Jewelry through Durango Silver Company. We have created a informational page on Natural Turquoise that may be of interest to you, take a look.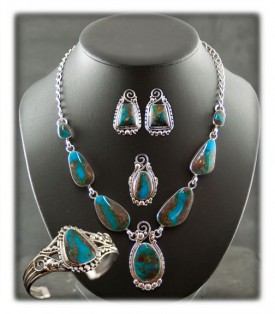 Above is a unique Bisbee Turquoise Necklace, Bracelet, Earrings and Ring set. This set was made from stones that were cut from one Bisbee Turquoise rock. If you would like to see additional photos on this set - click on the photo. You can also find more info by clicking other photos on this page.

Bisbee Turquoise Bracelets in Sterling Silver
Above are two Native American Indian Bisbee Turquoise Bracelets, handmade by Ben Yazzie.
The Bracelet on the left features a Spiderwebbed Bisbee Turquoise Gemstone set in a hand stamped bezel outlined in Silver beading. It is amazing what Navajo Silversmiths can do with Silver, Ben started with a heavy piece of Silver flat wire, he carved the center out and inlaid flattened Silver beads outlined in thin flat sheet that he hand hammered out. He then sawed and filed the edging to make this a unique one-of-a-kind Bisbee Turquoise Bracelet!
The Bisbee Turquoise Bracelet on the right was made by Ben, it features a large Bisbee Turquoise Gemstone that is set a top of a beautiful Silver cut out, reposed and overlaid Bracelet. This is a spectacular Bracelet with a wonderful design, we invite you to view additional photos and description of the great Bisbee Turquoise Bracelet by clicking on the photo.
The upper left Bracelet features a deeper blue Smoky Bisbee Turquoise Gemstone set in a unique Silver Bracelet by Ben Yazzie. This Bracelet frame was made with a heavily stamped and filed Silver half round wire and twisted Silver cable wire. The side fans were made by hand stamping Sheet Silver and then chasing the lines to broaden and deepen them - they were then filed to perfection. See this beautiful Bisbee Turquoise Bracelet on its home page.
The upper right Bisbee Bracelet was made by John Hartman of Durango Silver Company. The Bisbee Stone is quite unique as it has a spiderweb river of matrix in a medium blue colored Turquoise. The Silverwork of the Bracelet is also unique as it is done in a Victorian Style of Silverwork by John. This is a new style of Silverwork John has started doing in 2013.
Above and to the left is a Navajo style, spider web Bisbee and White Turquoise cluster bracelet and ring set by Native American artist Verdy Jake. This is an unusual Bisbee Turquoise Bracelet and Ring set that is a one-of-a-kind. Both pieces were created in the Navajo cluster style. They feature RARE spider web Bisbee Turquoise center stones surrounded by clusters of spider web Colorback White Turquoise.
To the right is a beautiful Native Amerian Bisbee Turquoise Bracelet featuring an unusual Bisbee Turquoise stone with Smoky Spiderwebbing. This Bracelet was made by Ben Yazzie and John Hartman, John made the side repose Victorian styles embelishments and Ben made the rest of this beautiful piece.
Above are three inlaid Bisbee Turquoise Bracelets, Silverwork by John Hartman and inlay work by Bill Anderson.
Also see: Bisbee Turquoise Jewelry | Bisbee Turquoise Rings | Bisbee Turquoise on Wikipedia | Turquoise Facts | BisbeeTurquoise.com | Buy Bisbee Turquoise Cabochons
---
About once every other month we send out a E-Mail Newsletter to inform our members of what's happening at Durango Silver Company, new products, specials for our members only and more. We also have a monthly drawing from our member base to give away Free Turquoise Jewelry. Please take a moment to become one of our friends by signing in below.
We hope you have enjoyed our presentation on Bisbee Turquoise Bracelets and you will think of Durango Silver Company when considering your next Turquoise Jewelry purchase.