Women's Turquoise Bracelets
Durango Silver Company always has a good selection of Southwestern Style Women's Turquoise Bracelets on hand in our online store. We can also make or have made just about any Women's Turquoise Bracelet you would like. We make a lot of our Women's Turquoise Bracelets in-house here in Durango and we also carry Navajo, Zuni and Hopi Native American Indian Silver Bracelets for women as well. Our Women's Bracelets are of Southwestern Style and are made with Sterling Silver.
We use high quality natural Turquoise as well as other Gemstones in our Sterling Silver Women's Turquoise Bracelets. Our craftsmanship on Women's Jewelry is second to none and Women's Turquoise Bracelets are one of the most popular Jewelry items that we make. Durango Silver Co has been making women's Gemstone and Turquoise Bracelets for almost 40 years.
We also carry Navajo, Zuni & Hopi Native American Indian Sterling Silver Women's Turquoise Bracelets.
We hand select all of our womens Turquoise bracelets or have them made specifically for our company.

Navajo Women's Turquoise Bracelets
The Navajo Women's Turquoise Bracelets that we carry are unique and are one-of-a-kind. Our Navajo Turquoise Bracelets have exceptional natural Turquoise stones as they are usually provided to the artisans by Durango Silver Co. Classic Navajo Indian Bracelets often have one center Turquoise Stone, three Turquoise Stones or are Navajo Row Bracelets that have five or seven Turquoise Stones in a Row. Navajo women's Turquoise bracelets are more feminine than Mens Turquoise Bracelets and usually include more filigree type silverwork.Womens Turquoise bracelets by Navajo Native American artists can be narrow or wide and can be made with stampwork or from wire designs. The Navajo Turquoise Jewelry is probably the most well known Vintage Turquoise Jewelry or Old Pawn Jewelry. Navajo Native American jewelry is probably some of the most popular jewelry in the world and its roots are derived from the spanish conquistadors. One of the first things Navajo Artisans made after learning from the Spaniards were womens Turquoise bracelets. Owning a mens or womens Turquoise bracelet is a real honor and pleasure.
Hopi Native American Womens Turquoise Bracelets
Hopi Women's Turquoise Bracelets are usually made of Sterling Silver with no Turquoise of other gemstones. The Hopi Indians are known for their cutout or "Overlay" silverwork. They saw geometrical and pictorial designs in one layer of silver, and then they overlay it onto another sheet of silver which creates the backing for their design. The hopi sterling silver womens Turquoise bracelet will have a wonderful black and white essence as the bottom layer of silver is blackened and the top layer is shined to a chrome or brushed metal finish. A Hopi Indian Women's Bracelet is a great choice and are often found in our online store.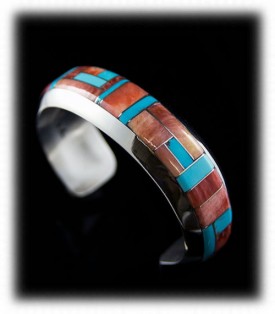 Zuni Women's Turquoise and Zuni Inlaid Bracelets with multicolored Gemstones are another good choice for a Ladies Bracelet. The Zuni Indians make very nice Inlaid Women's Bracelets that are attractive, colorful and feminine. The Zuni Native American Indian's Inlay style of jewelry has become so popular that people around the world have been trying to immitate it for years. Infact, most of the inlay jewelry and so called "Zuni" jewelry you will see online is fake. The Zuni also make other Women's Turquoise Bracelets such as Pettipoint (tiny round, oval or square stones) or Needlepoint (tiny needlepoint shaped stones), they cluster many stones together to make a multi-stone design. You can usually find a nice selection of Women's Turquoise Bracelets in our store as well.
Many women enjoy a Southwestern Native American Bracelet and there are many different styles to choose from. We sell a lot of Women's Bracelets and especially Ladies Turquoise Bracelets, if you need help in finding the perfect Bracelet, please feel free to call or email us.
---
Womens Turquoise Bracelets Examples
To the left is an inlaid Sugilite and Sleeping Beauty Turquoise bracelet for women. This refined sterling silver womens Turquoise bracelet features eight natural Sleeping Beauty Turquoise stones and three royal purple Sugilite stones. To the right is a womens Turquoise bracelet that is inspired by Victorian jewelry and southwestern jewelry. This gorgeous womens Turquoise bracelet features a top gem grade cabochon of natural Kingman Turquoise. Either of these sterling silver womens Turquoise bracelet designs would be great stackable silver bracelets.
To the left is a large sterling silver and
Pilot Mountain Turquoise bracelet for women
by John Hartman. You can see that this
silver and Turquoise bracelet for women
features bold Victorian filigree designs and a top grade natural Turquoise cabochon from the Pilot Mountain Turquoise mine. To the right is a unique
fashion Turquoise bracelet for women
by Nattarika Hartman with Turquoise Mountain Turquoise from Kingman, Arizona USA.
To the left is a womans Turquoise bracelet with spider web mint green Tortoise Turquoise from Nevada, USA.This unique womans Turquoise bracelet features rare mint green spiderweb Tortoise Turquoise. To the right is a wonderful stamp work style wide womans Turquoise bracelet with top grade natural Kingman Turquoise. Both of these womens Turquoise bracelets feature top grade natural American Turquoise.
Thank you for reading our women's Turquoise bracelet presentation, we hope you have learned enough to help you in your next decision to buy a womens Turquoise bracelet.