Turquoise Earring Designs
The Turquoise Earring has been a staple of Southwest American style for thousands of years and Turquoise Earrings have been popular world wide since the times of the Pharoahs in Ancient Egypt. Turquoise earrings have been made in many different styles since the invention of the Turquoise earring by the ancients. In ancient times most of the Turquoise Earrings that were made were tab style (slabs of stone without silver or gold around them). As jewelry became more common among the royalty, Turquoise Earring design changed and stones began to be wrapped in silver or gold. Both styles of Turquoise Earrings have carried over to modern day Turquoise Jewelry. Today Turquoise Earrings are made in many styles such as inlay jewelry, contemporary, Navajo Style, bead jewelry and cluster style are a few different styles.
Browse Different Turquoise Earring Styles & Shop Now
Turquoise Earring Design by Durango Silver Company
Durango Silver Company has been making unique Turquoise Earrings for over 37 years and try to always have a nice selection for you to choose from. Take a look at our Turquoise Earrings. Turquoise Earring design and the development of Turquoise Earrings is an important part of our business. We produce many styles of Turquoise Earrings and in several types of Turquoise from Arizona, Nevada, Colorado and New Mexico. We mine Turquoise in Nevada and use our own Turquoise to make Earrings that you will not find anywhere else, in fact we design most all of our earrings and you will not find many sold anywhere else. You may find that our earrings will help to diversify your Turquoise Earring collection.

We also make Turquoise Beads from our Nevada Turquoise Mines and make greatbeaded Turquoise Earrings with them - they are also unique to Durango Silver Co. Nattarika Hartman spends a lot of time making our Beaded Necklaces, Beaded Earrings and matching sets that are very unique.
Turquoise Earring design and Turquoise Earrings made with natural American Turquoise is our specialty at Durango Silver Co. We are continuously designing new Turquoise Earrings to meet the desires of the ever changing marketplace. It seems, one month the demand is for Arizona Turquoise Earrings which are blue and the next month it is for Nevada Green Turquoise Earrings - funny but true!
Durango Silver Company designs Turquoise Earrings of many styles and shapes. We design each Turquoise Earring attempting to meet the current styles that are popular. We realize Arizona Turquoise and Nevada Turquoise are always in demand, it is the style of the Earring that changes from trends that are generally set by the media. Knowing that our styles of Turquoise Earrings changes constantly is why you should come back often to see the different styles as they become available.
We have been trading in Navajo and Zuni Native American Indian Jewelry and Turquoise Earrings since 1972.
Different Southwest Turquoise Earring Designs
Zuni Earrings are unique as they do a lot of fine stone work. The Zuni Indians do very fine earrings that consist of tiny Turquoise sliver shaped stones called Needlepoint and tiny round stones called Petti-point. They cluster many stones together to make unique designs that make beautiful Turquoise Earrings. These type of earrings are beautiful and the older they get the more beautiful they become. Many people collect Vintage Zuni Turquoise Earrings as they really are very special. Zuni Turquoise Earrings are also made by with the inlay process. They inlay Turquoise as well as other stones along with Turquoise to create beautiful pictorial design that are very desirable and attractive. Zuni Turquoise Inlay Earrings are precious and if you enjoy Southwestern Native American Turquoise Jewelry, a pair of Zuni Inlay Turquoise Earring would be a great choice.

Navajo Native American Indian Turquoise Earring design is much different then Zuni. The Navajo start with a stone/cabochon, put a bezel around the stone and usually additional silver filagree designs around that. Navajo Indians are known for their stamp and filigree work on silver with the use of a Turquoise Stone for the center focal point of the piece of Jewelry. Like Zuni Indian Turquoise Earrings, Navajo Turquoise Earrings are collectible when you buy them and as they age they become more and more desirable by collectors of Native American Indian Turquoise Jewelry. They are a wonderful item to hand down through generations of your family as Turquoise Earrings never go out of style.
What ever your desire is for Turquoise Earrings, Durango Silver Co tries to always have a good selection of Turquoise Earrings for you to choose from.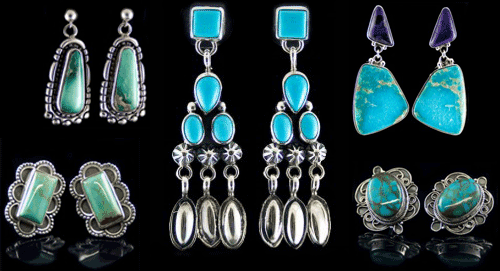 ---
Back to the Jewelry Learning Center | Thank you for learning about Turquoise Earrings and Turquoise Earring designs.