Turquoise Beads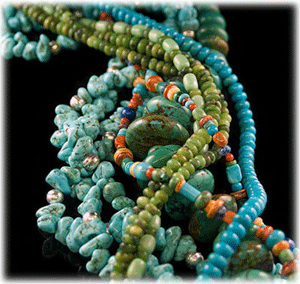 Turquoise Beads have been important have been important to many cultures for over 7,500 years, see below. The Egyptians, Tibetans and the Native American Indians have used Turquoise Beads for Spiritual, Metaphysical and ornamental purposes as well as for it healing powers.
Turquoise Beads are as important as ever in today's society, however, the main purpose now is for fashion. Durango Silver Company specializes
in high quality authentic Turquoise Beads for the marketplace, however, we value the historical importance of Turquoise by using authentic Turquoise Beads only.
Below are some photos with descriptions of some Turquoise Bead Jewelry that we have produced. In addition we have provided some links to other presentation pages we have created on Turquoise Beads. You can also search our site for Turquoise Bead Jewelry we presently have available for purchase.
---
Turquoise Bead Jewelry
Here are two beautiful Turquoise Bead Necklaces made with Sleeping Beauty Turquoise by Nattarika Hartman. The Necklace on the left has rondel and barrel beads and the Turquoise Beaded Necklace was made with Sleeping Beauty Turquoise rondel beads mixed with Sterling Silver and Black Onyx Beads. All of the findings used on the Turquoise Bead Necklaces produced by Durango Silver Co are Sterling Silver or Gold.
We invite you to read more on our Turquoise Beaded Necklaces presentation page.
Here are two different and unique Turquoise Bead Necklaces. The Necklace on the left was made with Green Turquoise Beads from the Tortoise Turquoise Mine with 6mm round beads separated by 3mm beads which gives this necklace a bold look. The rich green color also makes this necklace easy to wear with any dress style. The Necklace on the right was made with chunky Turquoise Nuggets from the Sleeping Beauty Turquoise Mine. It is 20 inches long which is a good length for everyday apparel, they would look great with a semi low neck blouse or sweater.
If you would like to read more about Fashion and Beads styles, see our Fashion Bead Page
Lime Turquoise has become very popular and the Tortoise Turquoise Mine produces beautiful Mint to Lime Green Turquoise. The three strand Necklace on the left was made by Nattarika Hartman with Tortoise Turquoise rondel lime colored Turquoise and mint colored barrel beads. The Necklace on the right is also made with Tortoise Turquoise but it is brown in color. Brown Turquoise has become very popular and we have a Brown Turquoise Presentation Page, if you would like to read more about Brown Turquoise.
| | |
| --- | --- |
| | |
The two sets of Turquoise Beads above are short Necklaces or Choker Turquoise Necklaces. The Turquoise Bead Choker on the left is made with rondel Sleeping Beauty Turquoise mixed with Spiny Oyster rondel beads. It is 18" in length and is a great style for everyday use. The Green Turquoise Choker Bead Necklace on the right was made with graduated large rondel Turquoise Beads that give this Necklace a bold look when worn. The large beads are individualized by the smaller Turquoise Beads which separate them.
You can read additional information on Turquoise Bead Necklaces on this Turquoise Bead presentation page.
The Blue Turquoise Bead Necklace on the left is a classic Navajo Style set of Turquoise Beads. It has six strands of beautiful Blue Turquoise, larger beads separated by smaller round Turquoise heishi beads, typical of a Navajo Turquoise Bead Necklace. The two strand Turquoise Choker Necklace on the right was made with two sizes of Sleeping Beauty Turquoise Beads that are accented by occasional purple Sugilite Beads. Blue Turquoise has always been popular globally and is certainly in fashion today.
You can read more on Turquoise Beads on our Turquoise Bead Info page.
Turquoise Bead Earrings are a specialty at Durango Silver Company. We hand pick special Turquoise Beads for our single bead earrings so each beads is its own picture stone. The pair of Turquoise Nugget Bead Earrings on the left are a nice example of Blue Spider Web Tibetan Turquoise and made with a classic spiritual design in Silver. The Turquoise Bead Earrings on the right were made with sky blue Sleeping Beauty Turquoise linked in a Silver chain style. They also have a Sterling Silver filigree bead which makes this style of Earring very attractive.
Visit our Turquoise Bead Earring presentation page to read more about the different Turquoise Bead Earrings we make.
Here are two more styles of Turquoise Bead Earrings made with Sleeping Beauty Turquoise, Coral and Black Onyx Beads in Sterling Silver. They are nice Turquoise Earrings that are in fashion, handcrafted, yet very affordable.
Above to the left is a seven strand Turquoise Bead Bracelet. It was made by Nattarika Hartman with round Tibetan Turquoise Beads and set with Sterling Silver Findings. This is a fashion Turquoise Bead Bracelet that really makes a statement when worn as seven strands of Turquoise makes this Bracelet wide and bold. The multi-gemstone Bead Bracelet on the right is what we call our Treasure Bead style. The mixed colored gemstone beads make this Beaded Bracelet exciting and fun to wear, kind of sporty! As in all of our Gemstone and Turquoise Beaded Jewelry, we use Sterling Silver findings in conjunction with Gemstone Beads.
Visit our Turquoise Bead Bracelets page to read more about the Turquoise and Gemstone Bracelets made by Durango Silver Co.
________________________________________________________________________________________________________________________
Additional Information on Turquoise Beads
Native American Turquoise Bead History
Turquoise Beads - Prehistoric Indians mined turquoise and turned it into jewelry & primarily drilled Turquoise Beads and other hanging ornaments. Archeological findings also include Turquoise appliqué on shell and other rock. Extensive evidence of prehistoric Turquoise mining operations has been found in several areas: the Conejos area of Colorado, the Cerillos and Burro Mountain regions of New Mexico, the Kingman and Morenci regions of Arizona. Turquoise Bead Jewelry found in southern Mexico and in excavated mounds east of the Mississippi has been identified as originating from the New Mexico's Cerillos mining area.
Throughout Native American Indian history, Turquoise Beads have been use for spiritual and metaphysical purposes. Turquoise Beads have been found in the pouches of Native Medicine Men, in graves and used on ceremonial pieces. Spiritual Turquoise and Metaphysical Turquoise are two important factors when considering Turquoise Beads as they have been important, historically, for over 7,500 years.
Well known finds of Native American Vintage Turquoise Beads have been located at Pueblo Bonito in Chaco Canyon. Archeologists have found large amounts of ancient Anasazi Turquoise Beads, along with pottery, tools and more. The same types of Turquoise bead deposits were found in the Cerrillos Mining District outside of Santa Fe, New Mexico.
The most famous of the Native American Indian Turquoise Bead Jewelry was made by the Santo Domingo Indians of New Mexico. Santo Domingo Beads are some of the best handmade Gemstone and Turquoise Beads ever made. Handcrafted Santo Domingo Beads are very collectible and have hard to find as Turquoise Bead making has been taken over by the Chinese. Today, the majority of the Santo Domingo Jewelry makers purchase Chinese Turquoise Beads and string them into Turquoise Bead Necklaces, Bracelets, Earrings and other.
Read more on Santo Domingo Beads
Egyptian Turquoise Beads History
Did you know that Archaeologists excavated the oldest Turquoise Jewelry known at the cemetery of the Royal Tombs at Abydos, in upper Egypt? Gold and Turquoise bracelets, among other items, found are now in the Cairo Museum. These items are carbon dated from 5500 B.C.
The Egyptians made many kinds of Turquoise beads, most of the beads were mixed with Carnelian, obsidian, glass and Moss agate beads. They wore Turquoise Bead Earrings, Bracelets, and Necklaces for spiritual as well as self ornamentation. Egyptian Beads were also used by healers and medicine men for metaphysical purposes. They have been found in early Tombs, including King Tuts Tomb, which indicates the Egyptians believed Turquoise had spiritual powers for the dead as well.
Tibetan Turquoise Bead History
Mined from the Himalayas, Tibetan Turquoise is sought after among the Tibetan, Nepalese and people worldwide for its beautiful color's, veins as well as its cultural significance . Turquoise is found in nearly all types of Jewelry worn by the the various ethnic groups that live among the Himalayas, and continues to be one of the most spiritual and important Gemstones of that area.
Tibetans have attributed Turquoise to have healing powers, to bring health and prosperity to the people who wear it. It is a known fact that every person in Tibet and Nepal owns at least one piece of Turquoise. Many have vast amounts of Turquoise Beads, Bracelets, Pendants, Earrings, Rings and even Turquoise encrusted headstalls for their horses. Most Tibetans wear Turquoise Beads on a daily basis and have had this practice for thousands of years.
---
We hope you have enjoyed our presentation on Turquoise Bead Jewelry made by our company and have gained some useful knowledge from it. We invite you to learn more about Turquoise and Turquoise Bead Jewelry by following the links on this page as well as many others in our Learning Center that we have written on different topics related to Turquoise Jewelry. In addition, we would like to invite you to join our E-Mail Newsletter - about once every other month we send out a Newsletter to inform our members of what's happening with Durango Silver Company, new products, specials for our members and more. We also have a monthly drawing from our member base to give away Free Turquoise Jewelry from our company. Please take a moment to become one of our friends by following this link or signing in below.