Handmade Silver Rings by Durango Silver Company
Quality Handmade Silver Rings are our specialty at Durango Silver Company. We have been producing Handmade Silver Rings for nearly forty years here in Durango. We produce Handmade Silver Rings as well as other Silver Jewelry on-site and we also handle Native American Handmade Silver Rings that are created in our Southwest region of the United States.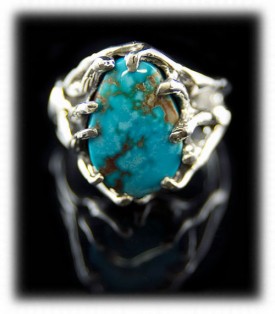 The Handmade Silver Ring above is a one-of-a-kind that was handmade by John Hartman of Durango Silver Company. Below are some additional examples with descriptions of different types of Silver Rings that we produce and handle.
American Handmade Silver Rings
Above and to the left is an example of one of our Handmade Silver Rings. This Sugilite Ring features a beautiful Sugilite Gemstone, which comes for South Africa, set in Sterling Silver with unusual Silver filigree work surrounding the luscious purple gemstone. Sugilite is a rare gemstone and it is in high demand, Durango Silver Company has a large collection of Sugilite and we often make handmade silver rings with this exciting gemstone.
Above and to the right is a Bisbee Turquoise Handmade Silver Ring by Dillon Hartman. This handmade ring has an oval cabochon of American Turquoise from the Bisbee Turquoise mine in Bisbee Arizona USA. This cabochon is bezel set and surrounded by a cable design, which is then surrounded by saw work and raindrop designs, this is all set on a thick silver ring band. Durango Silver Company produces many Vintage style handmade Silver Rings such as this one, we invite you to browse through our online catalog by following the links to the left of this page.
| | |
| --- | --- |
| | |
Above and to the left is a Handmade Silver Ring that is inlaid with multi colored gemstones. This is a Zuni Indian Silver Ring that features Colorado Picture Jasper, Tiger's Eye, Black Onyx and "Ox Blood" Red Italian coral. This Silver Inlay Ring is solid, heavy weight and a classic mens ring that makes a statement. The color scheme of this ring makes it a great ring for most gentlemen, a ring such as this one is easy to wear with almost attire.
To the right above is a Handmade Silver Ring that has been beautifully inlaid with multiple gemstones by Native American artist Edison Yazzie, Navajo. It is inlaid with Black Jade, Colorado Picture Jasper, and Sleeping Beauty Turquoise from Arizona. The pattern is based on a classic Native Rug design and has been executed in stone brilliantly by Edison.
American Indian Handmade Silver Rings
To the above left is a green Pilot Mountain boulder Turquoise Ring by John Hartman. The focal point of this sterling silver ring is a very unusual ribbon Turquoise gemstone, it is enchanting! This rare American Turquoise cabochon is set in a contemporary Silver bezel setting, to each side of the cabochon are different sizes and textures of handmade Silver cable. Unusual handmade Silver Rings with character is one of the things Durango Silver Company is well known for.
Above and to the right is a beautiful Sterling Silver Ring in a lost wax style by Crystal Hartman. It features an Australian Boulder Opal gemstone surrounded by flowing Silver in a grape vine design. You can count on Durango Silver Company for having some of the most unusual handmade Silver Rings coming out of the Southwestern USA.
Handmade Silver Rings Information
We invite you to take a look at a couple of our other presentations, take a look at Handmade Silver Rings Jewelry, Handmade Jewelry and Handcrafted Turquoise Jewelry
---
We hope you have enjoyed our presentation on Handmade Silver Rings and have gained some useful knowledge from it. We invite you to learn more about Handmade Silver Rings and Native American Silver Jewelry by following the links in our Learning Center to other informational pages that we have written on different topics related to Silver Jewelry. In addition, we would like to invite you to join our E-Mail Newsletter - about once every other month we send out a Newsletter to inform our members of what's happening with Durango Silver Company, new products, specials for our members and more. We also have a monthly drawing from our member base to give away Free Silver Jewelry from our company. Please take a moment to become one of our friends by signing in below.
We thank you for your time and hope you will think of Durango Silver Company the next time you are considering Handmade Silver Rings.