Handmade Silver Jewelry Information
Durango Silver Company has been in the business producing Handmade Silver Jewelry for nearly forty years now. We have a Trading Post located in Durango Colorado that we personally built in 1976 and have been buying, selling and producing handmade silver jewelry for the duration of this period. Durango Silver Company is a family owned and run business and all of the members of our family are Jewelers. We make one of a kind handmade Silver Jewelry and most of our Silver Jewelry is made right here in Durango, Colorado USA!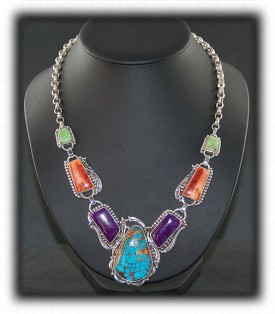 Durango Silver Company produces many types of handmade Silver Necklaces in Sterling Silver. We have been producing Handmade Silver Jewelry in a Southwestern style for nearly 40 years. Our business has been in the same location since 1976 where we have a Trading Post that we open for business daily. We are in the heart of the Southwest here in Durango Colorado and in the heart of one of the largest Turquoise capitols in the world. We own five different Turquoise Mines in Nevada and have been collectors of high quality Turquoise for over 40 years. We cut almost all of the gemstones used in our Handmade Silver Jewelry and each piece is uniquely handmade to be a one of a kind piece of Silver Jewelry. We invite you to read more about Silver Jewelry on a great informational page we have.
---
Handmade Silver Jewelry Examples
Below are some good examples of the Handmade Silver Jewelry produced by Durango Silver Company, handmade silver jewelry made in the USA!
Above are two Handmade Silver Pendants produce by Durango Silver Company. The Silver Pendant on the left was made by John Hartman and the Silver Pendant on the right was handmade by Crystal Hartman. John hand cut all of the gemstones used in these pieces as he does in most of the Jewelry produced by Durango Silver Co. The handmade Silver Pendant on the left features a Sugilite center stone and four Sleeping Beauty Turquoise stones accented by Johns Victorian style silverwork. This is a one of a kind piece of handmade Silver Jewelry made in the USA, which is becoming a rarity! John is a master silversmith that is world renown and his work is highly collected by many.
To the right is a handmade Silver Pendant made by Johns daughter, Crystal Hartman. Crystal has grown up around handmade Silver Jewelry and now is an understudy of John creating outstanding work of her own. Crystal has a degree in art and her work has already been in museums worldwide, her handmade Silver Jewelry has become her way to produce high art that she can make a good living at and that is enjoyable to many. You can see more photo of this piece of handmade Silver Jewelry by Crystal Hartman and you can type Crystal in our search box to find more of her great pieces of Silver Art.
This bracelet was made about 25 years ago by John Hartman for the Fred Harvey Company. This was one of John's contributions to the retro line of old style Indian Jewelry they created for the Grand Canyon Trading Post. It was a big hit then and now we are bringing it back once again. Each bracelet is hand cast in the old school method and made to look like an old Navajo Bracelet from the 20's, you will absolutely love wearing this fantastic piece. It is a heavy weight bracelet yet very comfortable to wear. Handmade Silver Jewelry - made in the USA by John Hartman.
On the right is another handmade Silver Bracelet made by John Hartman. John and Dillon mined this Turquoise at their Tortoise Turquoise Mine in Nevada, cut the gemstone and John created this great piece of American Handmade Silver Jewelry. This Tortoise Turquoise Silver Bracelet was handmade in Johns Victorian style of silverwork that he has become famous for, John make a southwestern-victorian style of handcrafted Silver Jewelry that is much different that anything you will find coming out of the Southwest. You can see more of Johns work by typing in John or John Hartman in the search box to the upper left.
Durango Silver Company has made many great handmade Silver Jewelry items for many years. Originating their Jewelry business in Albuquerque, New Mexico, John and Estell Hartman moved to Durango, Colorado where they built the Durango Silver Company Trading Post. Today, the whole Hartman family is involved in the business of making and marketing their handmade Silver Jewelry and very proud to be among some of the very few Americans left making products in the USA. Quality is at the top of our minds here at Durango Silver Co and we make it our goals to produce some of the finest quality handmade Silver Jewelry coming out of the Southwest.
Classic Sterling Silver and Carico Lake Turquoise stud earrings by Native American artist Archie Ganadonegro. Need some color in your life? These striking handmade Silver Stud Earrings focus on two vivid lime green American Turquoise cabochons from the Carico Lake Turquoise mine in Nevada, USA. These two rare gemstones are wrapped in serrated bezel, then a rope or cable design and a stampwork designs. This pair of silver and Turquoise stud earrings is the absolute best of the best from the Carico Lake Turquoise mine and is 100% natural. There are very few places you can find this high of quality Carico Lake Turquoise handmade Silver Jewelry.
Handmade Silver Jewelry with Gemstones
Above are two different handmade Silver Rings produce by our company. Both of the gemstones, Boulder Opal and Royston Turquoise were hand cut by Dillon Hartman and John Hartman handmade both of these Silver Rings. The Silver Ring on the left has very interesting and attractive Silverwork that enhances the unusual Boulder Opal gemstone. The Silver Turquoise Ring on the right feature a wonderful spiderweb Turquoise gemstone that is truly a one of a kind. Johns silverwork simply enhances the beauty of this spectacular American Turquoise gem.
On the left is a handcrafted Elk Tooth Ring made by John Hartman. John created this Silver Ring in Jewelers wax and then casted it in the lost wax method which has created this beautiful one of a kind piece of Silver Jewelry Art. We produce many unique handmade Silver Jewelry designs using Elk Teeth, visit our site often to see the new items as we make them. You can also join our Newsletter group to get first hand notifications when new Silver Jewelry by our company is produced and you can win free Silver Jewelry from our company by joining our other friends.
To the right - Hand Stamped Extra Large Belt Buckle by J.C. Delgarito Navajo Artist with an outstanding Tibetan Turquoise Gemstone. This show piece belt buckle features a wonderful Spider Web Natural Tibetan Turquoise Oval Cabochon that weighs approximately 25cts. The Tibetan Turquoise Cabochon is surrounded by beautiful hand stamp work, repose and chase work. Heavy - Museum Quality!
Handmade Silver Jewelry by Durango Silver Company
Durango Silver Company is proud to produce handmade Silver Jewelry for our wonderful customers that enjoy handcrafted Silver jewelry made in the USA. We realize not much is made in our country these days and we believe American made products are superior when the Americans take pride in their work. We are proud to be Americans and we care to put our pride in each and every piece of handmade Silver Jewelry that we produce. For all of your American Jewelry needs we hope you remember Durango Silver Company, especially silver jewelry with natural American Turquoise.
To the left - Lost Wax "Reef Coral" Style Broken Arrow Turquoise Ring by Crystal Hartman. This awesome ring has the styling of a coral reef. The coral reef wraps up and around an awesome, deep green fade to light sea foam green, high dome, Natural Broken Arrow Turquoise Cabochon. Really awesome, and super unique! You will never see another ring like this one, that is guaranteed. Artisan handmade in Durango, Colorado USA.
To the right is a spectacular handmade Mans Silver Ring by John Hartman. This unique large Mens Turquoise Ring features a truly unique Natural Royston Turquoise Stone that looks like a picture of a man sky diving through a gorgeous blue sky. This wonderful gem is surrounded by beaded wire on each side and sits atop a nicely heavy signature sunburst graduated silver shank. This ring is truly stunning and a great conversational piece. Artisan handmade in Durango, Colorado USA and stamped "Durango Silver Co." , "J. Hartman", and .925.
Durango Silver produces unique handmade Silver Jewelry such as the Mens Sterling Silver Bracelet to the left and we buy and sell antique handmade Silver Jewelry made from our American historic past as well. To the left is a thick Double Braid and Beaded Wire Sterling Silver Men's Bracelet by John Hartman. This one of a kind heavy silver large men's bracelet features hand twisted and beaded wire, with the beads on top of diamonds of copper at the center. The inside of the bracelet is textured like sandstone and is super smooth as well as the sides of the bracelet. The bracelet is very cleanly and professionally constructed. This bracelet is a very nice piece of handmade jewelry. Artisan Handmade in Durango, Colorado USA. This bracelet looks simple but actually took John about a week to finish!
To the right is an old handmade Navajo Silver Concho Belt from the early 1900's. Handmade Silver Jewelry has been coming out of the Southwestern USA since Atsidi Sani learned the Silversmithing trade from the Spaniards in 1865. Navajo Silversmiths produce quality Silver Jewelry today and Durango Silver Company appreciates their quality silverwork. What a great example of Indian silver jewelry. Think of Durango Silver Company when looking for Navajo handmade Silver Jewelry.
---
We hope you have enjoyed our presentation on handmade silver jewelry and have gained some useful knowledge from it. We invite you to learn more about Turquoise and Turquoise Jewelry by following the links in our Learning Center to other informational pages that we have written on different topics related to Turquoise Jewelry. In addition, we would like to invite you to join our E-Mail Newsletter - about once every other month we send out a Newsletter to inform our members of what's happening with Durango Silver Company, new products, specials for our members and more. We also have a monthly drawing from our member base to give away free Turquoise Jewelryfrom our company. Please take a moment to become one of our friends by signing in below. When you think of handmade Silver Jewelry think of Durango Silver Company.