About the Blue Turquoise Ring
Blue Turquoise Rings have been our most popular type of Turquoise Ring from the inception of our business over forty years ago. Blue Turquoise has always been in high demand, early records show Native Americans as well as other cultures, including the Egyptians named Turquoise the "Skystone", which indicates Blue Turquoise has been the standard color most desirable type of Turquoise for thousands of years. Turquoise is one of the first gemstones found by man over 7,000 years ago in Egypt, it has been highly coveted by important figures from world history and its legend continues today. A quality blue Turquoise Ring from the American Southwest is treasure, a keepsake and will become an important heirloom in the future. We highly recommend that if you like Turquoise and Turquoise Jewelry, consider doing a little homework and buy a quality piece of Turquoise Jewelry, Durango Silver Company produces authentic Blue Turquoise Rings that have real value! See our links to additional information pages below.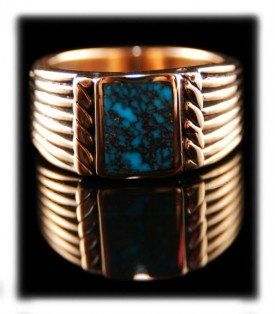 Above is a beautiful Blue Turquoise Ring created in 14ky Gold by John Hartman of Durango Silver Company. This is one of many Lander Blue Turquoise Rings we have produced, Lander Blue Turquoise is very rare as it was discovered in the early 70's and records state that only 120 -180 lbs ever came out of the ground. Lander Blue Turquoise is unique to itself only as the color is almost purple it is so blue with jet black spiderweb matrix. You can see more information on this Blue Turquoise Ring on its presentation page, check it out!
Beautiful Blue Turquoise Rings
Above and to the left is a beautiful Blue Turquoise Ring that was Native American handmade, it was inlaid with Blue Turquoise, Spiny Oyster Shell, Red Coral and Lapis. This is an inlaid Blue Turquoise Ring Band style ring that is popular for its style and beautiful when worn. This particular Native American Ring is a one-of-a-kind, however, Durango Silver Company works hard to provide unique and one-of-a-kind pieces of quality Turquoise Jewelry for our customers.
Above and to the right is another Native American Handmade Blue Turquoise Ring that was inlaid with Rare Turquoise. This is Tibetan Spiderweb Turquoise, notice the beautiful black spiderwebbing, it is a rarity in the formation of Turquoise and it is highly collectible by Turquoise Connoisseur's. This is a beautiful Turquoise Ring Band that can often be found in our online store as well as our Trading Company in Durango, Colorado USA.
Above and to the left is a Mens Blue Turquoise Ring featuring a gorgeous Blue Tibetan Spiderweb Turquoise gemstone. This Turquoise Ring was produced by Durango Silver Company in an antique Southwestern Jewelry design, our company has a historic past of dealing in Vintage Turquoise Jewelry so you will often find unique Jewelry designs from our company that resemble Antique Turquoise Jewelry from the American Southwest Frontier.
Above and to the right is great Mens Turquoise Ring with a beautiful Blue Spiderweb Turquoise Gemstone from Tibet. Durango Silver Company has collected Tibetan Turquoise for many years as we have an appreciation for the spiritual as well as the metaphysical aspects of Turquoise, we invite you to read more about Tibetan Turquoise and their beliefs, also check out our Rare Turquoise presentation from the link above. Durango Silver Company specializes in Mens Blue Turquoise Rings and we always have a great selection on hand - check it out!
The Blue Turquoise Ring to the left is a beautiful showpiece as it has great Silverwork that compliments a marvelous blue spiderweb Turquoise gemstone. This Ring was handmade by Native Artist Ben Yazzie, Ben is a talented artisan that has made Jewelry for many famous musicians, movie stars and celebrities including Elvis Presley. We try to always have a good selection of Bens Silver Jewelry on hand.
The Blue Bisbee Turquoise Ring on the right is a ring produced by Durango Silver Company, it can be ordered in many different gemstones of your choice. This ring was designed by John Hartman to have an old west appearance, if you like old Jewelry from the American Southwest, you will love this ring.
The Blue Wind Spiderweb Turquoise Ring on the left was created in the lost wax method by John Hartman of Durango Silver Company. Blue Wind Turquoise is rare Turquoise of which a very small amount was ever found like Lander Blue, in fact, the Blue Wind Turquoise deposit was located less then a mile as the Crow flies from the Lander Blue Mine. The freeform design of the gold work on this ring really makes this fabulous gemstone pop!
To the right is another Gold Turquoise Ring that was created in the lost wax method, again by John Hartman. This gorgeous ring features a spectacular Bisbee Turquoise Gemstone that is amazing and delightful to the eyes. We have a large collection of Bisbee Turquoise at Durango Silver company and always have a great selection of Bisbee Turquoise Rings on hand. We invite you to type in Bisbee Turquoise Rings in our search box to the left to see the Blue Bisbee Turquoise Rings we presently have on hand.
In its day, Morenci Turquoise was king and every Southwestern Native American Silversmith loved to use this Turquoise. The Morenci Turquoise Ring on the left is a good example of a classic Blue Turquoise Ring from the American Southwest with one of the most famous types of American Turquoise from the past. If you like blue Turquoise, look at Morenci Turquoise as it is true blue and totally enchanting!
The Blue Turquoise Ring on the right is an important Ring to Turquoise Collectors as it features a beautiful gemstone from the famous Cerrillos Turquoise Mine from New Mexico. This Turquoise Mine produced a lot of great Turquoise in the past as the mine is over a thousand years old.
We invite you to take a look at a few of our other presentations - Ancient Turquoise History, Blue Turquoise Jewelry, Learning Center and our Silver Gallery page.
---
We invite you to learn more about Blue Turquoise Rings by following the links in our Learning Center to other informational pages we have written on different topics directly related to Blue Turquoise and Blue Turquoise Jewelry.. In addition, we would like to invite you to join our E-Mail Newsletter - about once every other month we send out a Newsletter to inform our members of what's happening with Durango Silver Company, new products, specials for our members and more. We also have a monthly drawing from our member base to give away free Turquoise Jewelry from our company. Please take a moment to become one of our friends by signing in below. We hope you have enjoyed our presentation on Blue Turquoise Rings and have gained some useful knowledge from it.