Silver Gallery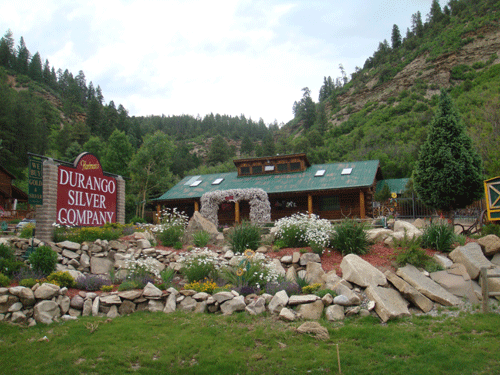 Durango Silver Company has been a Silver Gallery located in Durango, Colorado since 1976. We are dealers and manufacturers of Silver Jewelry and use our Silver Gallery in Durango as well as our online Silver Gallery located at DurangoSilver.com to market our products. We specialize in quality Southwestern style designs such as rings, earrings, bracelets, necklaces and pendants handmade in Sterling Silver. We carry all 925 Silver Jewelry and it is our honour to be able to say that our Silver Jewelry is made in the USA!
---
Silver Gallery
Quality Sterling Silver Jewelry handmade in the USA - Durango, Colorado!
Above are two pieces of Jewelry from the Durango Silver Gallery and are typical of the type of Silver Jewelry that you can find available in our gallery. To the left is a Sterling Silver Bracelet made by John Hartman of Durango Silver Company. This Silver Bracelet features a beautiful authentic natural Turquoise gemstone from the Royston Turquoise Mine located near Tonopah, Nevada. John considers this his Victorian style of Silverwork. To the right is a Antique Native American Silver Bead Necklace with a matching Naja, pendant. This piece was made in approximately 1890 and is a spectacular piece of American History.
| | |
| --- | --- |
| | |
Above are two different unique quality pieces of handmade Sterling Silver Jewelry from the Durango Silver Gallery. The Silver Mens Ring on the left was made by John Hartman, it features five high quality Sugilite gemstones inlaid into a fantastic vintage western Silver design. John is a master Silver and Goldsmith and has created quality Jewelry items for important people and organizations for decades. You will always find a large selection of silver jewlery in all designs in ouf Silver Jewelry Store. We specialize in Sterling Silver Ring Bands, Silver Cuff Bracelets, Silver Necklaces and specialty Sterling Silver items, not just Turquoise Jewelry and Gemstone Silver Jewelry.
To the right is a beautiful and unusual large inlaid gemstone pendant with Coral, Turquoise, Mother of Pearl, Opal, Silver and Jet. It is a one of a kind piece that was recently sold from the Durango Silver Gallery. You can read more on this unique Inlaid Silver Pendant. You can find many more silver band rings in our online southwest silver gallery as well as in our silver gallery in Durango, Colorado USA.
It is common for individuals to find very unique one of a kind handmade Silver Jewelry in the Durango Silver Gallery. We pride ourselves in having unusual Silver Jewelry that cannot be found anywhere else on the Internet or other Galleries. We use only the finest quality gemstones in our Jewelry and our Silver designs are second to none. Durango Silver Company produces some of the finest quality Silver and Gold Jewelry coming out of the Southwest and has for that past 40 years.
Durango Silver Gallery
As our Silver Gallery is located in the heart of Navajo Indian country, we have dealt with the Navajo Silversmiths and local Native American Indian Artisans for the duration that we have been in business. We have mined and collected authentic high quality American Turquoise for over 40 years and are known for having the best Turquoise available in the Southwest. We have Navajo Artisans set our Turquoise gemstones into Silver Jewelry and we also purchase Native American Indian Jewelry to sell in our Gallery. We deal in all kinds of gold and silver jewellery from Native Silver Jewelry to Thai Silver. We specialize in highend American Jewelry that we create and in top end Navajo Silver Jewelry. All of the products we sell, Native American or Contemporary, are of the highest quality and guaranteed to be world class.
| | |
| --- | --- |
| | |
Durango Silver Company produces and handles a Marriott of Silver Earrings with many types of quality authentic gemstones. Our Silver and Gemstone Earrings are all unique and different than you will find in any other store or online website. On the left is a pair of handmade Navajo Inlaid Earrings set with Emerald Valley Turquoise, Jet and Sleeping Beauty Turquoise. On the right is a pair of Navajo Cluster Earrings set with Sleeping Beauty Turquoise, we try to always have a great selection of Sleeping Beauty Turquoise Earrings in our Silver Gallery as this beautiful sky blue Turquoise is popular and very attractive when worn.
Durango Online Silver Gallery
Durango Silver Company began as a Trading Post just west of Durango, Colorado on the Gateway Hwy to Mesa Verde National Park. We produced Silver Jewelry and we traded with the Navajo Indians. We ran one of the most unique Trading Companies in the Southwest as we also dealt heavily in antique firearms, pre 1900 Indian items such as Plains Indian Beadwork and early Cowboy items from the American Frontier. Our Trading Post became famous as we have had the Deer Antler Arch you see in the photo above that includes over 3600 Deer Antlers since 1977 and it was featured in many international travel magazines. We went on to purchase many old Trading Posts as they modernized in the late 70's such as Ft Defiance Trading Post, Chilchimbito, Tsegi and several others, we had the largest accumulation of antique Indian Silver Pawn in the world - This Trading Post was unbelievable in its early years!
Things have changed dramatically since our early years and today we mainly deal in Jewelry and have one of the greatest Southwestern Silver Galleries in the west. We still have, buy and sell antique western Americana on a limited bases as we run across it, however, our specialty is quality handmade Sterling Silver with Western Silver designs handcrafted here in Durango, Colorado USA.
| | |
| --- | --- |
| | |
To the left is a unique Silver Beaded Bracelet featuring a beautiful Australian Boulder Opal gemstone. This is a typical piece of quality Silver Jewelry that you will find in our Silver Gallery. To the right is another piece of Silver Jewelry produced by Durango Silver Company, this piece was made with high grade Silver Ore from Silverton, Colorado accented with Black Onyx and strung on Black Onyx and Silver Ore Beads. We produce many types of quality Silver Necklaces at Durango Silver Company and offer many of them at our online store. We hope you will think of Durango Silver Company and visit our Silver Gallery when you are considering your next piece of Silver Jewelry. You can learn more about our silver jewelry store online and through our silver jewelry videos.
---
We hope you have enjoyed our presentation on our Silver Gallery and have gained some useful knowledge from it. We invite you to learn more about Turquoise and Turquoise Jewelry by following the links in our Learning Center to other informational pages that we have written on different topics related to Turquoise Jewelry. In addition, we would like to invite you to join our E-Mail Newsletter - about once every other month we send out a Newsletter to inform our members of what's happening with Durango Silver Company, new products, specials for our members and more. We also have a monthly drawing from our member base to give away free Turquoise Jewelry from our company. Please take a moment to become one of our friends by signing in below. We hope you will check our our online Silver Gallery and if you are in our area make certain to stop by our Silver Gallery in Durango, Colorado.