Learn About American Turquoise Rings
Turquoise Rings made in America, specifically in the American Southwest are some of the most beautiful ethnic styled Rings in the world. American Turquoise is the most vivid colored Turquoise on earth and paired with Native American as well as contemporary Southwest Jewelry designs - American Turquoise Rings are amazing! Durango Silver Company has been collecting, Mining and cutting America's finest authentic Turquoise for over forty years and we have also been producing some of the most dynamic Turquoise Rings coming out of the American Southwest for that duration. Today, we produce some of the only guaranteed authentic American highgrade Turquoise Rings available.
Authentic American Turquoise and American Turquoise Rings from Durango Silver Company
Our specialty is exceptional American Turquoise Rings with spectacular American Turquoise that is authentic, natural and unaltered in any way. We cut most all of the Turquoise that we set or have set in the Jewelry we have available and we are among the few leading authorities of American Turquoise in the world. American Turquoise has become very scarce in the past few years due to the cost of mining, governmental mining restrictions and the flooding of the market with Chinese Turquoise that began in the mid 1980's.
For the past 25 years, the world has been using Chinese Turquoise that has been plentiful and cheap! As we came into recent years the Chinese began making fake Turquoise by dying Magnisite, Howlite and other materials and most recently there has been rumours they are making their fake Turquoise with cement! Recently, China put a moratorium on mining Turquoise in their country and now (2013) are revoking and denying new export licences to anyone dealing in or exporting real Turquoise. It appears the flooding of the American market with real Chinese Turquoise is over. I do want to point out there was a portion of Chinese highgrade spiderweb Turquoise that was spectacular - it is valuable and always will be! The Chinese did do one good thing for Turquoise - by dumping millions of lbs of one of their most beautiful resources, (Turquoise,) for pennies they made the entire world fall in love with this gemstone - Turquoise is now one of the 10 most popular gemstones on earth! We only hope manufacturers in China do not see this as an opportunity to begin mass producing fake Turquoise and exporting it instead of real Turquoise. Join our mailing list and we will keep you informed!
With that said, Turquoise mining in the United States has nearly come to an end and you can bet your bottom dollar the value of authentic, quality American Turquoise is going to become very valuable in the near future. There is no doubt, there is a lot of wonderful Turquoise somewhere out there waiting to be discovered, it will take a lot of time and a lot of money to find and mine it!!! Until then, Durango Silver Company will continue to produce some of the finest American Turquoise Jewelry from the American Southwest. Follow Us if you like Authentic, Natural, Highgrade American Turquoise.
Authentic quality American Turquoise is scarce, beautiful and valuable -
We hope you have learned to never compare it with cheap Turquoise from China!
Above and to the left - is a spectacular Bisbee Turquoise Ring - its marvelous red spiderweb Bisbee Turquoise Gemstone was hand cut from the Durango Silver Company collection of Bisbee Turquoise by John Hartman and the Beautiful Gold Ring was created by Nattarika Hartman.. This is a magnificent Bisbee Turquoise Investment Ring as this spectacular gemstone is ultra rare! The color is phenomenal and the Gold work is very unique to make this an extremely attractive American Turquoise Ring.
John Hartman began collecting Bisbee Turquoise in 1971 shortly after buying his first piece of Bisbee Turquoise Jewelry for Estell, his wife. John went on to acquire many small Bisbee Turquoise collections, the Cecil Mickelson collection and then went on to buy one of the finest Bisbee Turquoise collections in the world in Bisbee, Arizona. Cecil Mickelson was Bob Mathews brother-in-law and partner in the only mining contract the Phelps Dodge Company ever awarded to mine Bisbee Turquoise at the Bisbee Mine in Bisbee, Arizona. With over 42 years of collecting Bisbee Turquoise, Durango Silver Company now owns one of the largest and finest collections of Bisbee Turquoise in the world. In the last 40 years, John has cut well over 500,000 carats of authentic, natural Bisbee Turquoise Cabochons to become the leading authority of Bisbee Turquoise. John knows all of the unique characteristics of Bisbee Turquoise and it is one of his specialties. You may enjoy viewing our website located at http://www.bisbeeturquoise.com/ as well as out new Bisbee Turquoise Video featuring John cutting Bisbee highgrade at http://www.durangosilver.com/bisbee-turquoise-video.html.
Above and to the Right - This fabulous Lander Blue Turquoise Gold Men's Ring was designed by John Hartman and inlaid by Dillon Hartman from a Lander Blue Nugget purchased by John Hartman in 1973 in Battle Mountain, Nevada through Cutler Edgar at the Battle Mountain Hotel for $2.00 per carat. This is a fantastic Men's Gold Ring with an exceptional Lander Blue Turquoise Gemstone. This is a very rare investment quality Turquoise Ring that cannot be compared with any other!
A Story from John, Estell and I had spent the winter of 1970 making Jewelry by waking at 5:30 am each morning to work by 6:00 am. We worked hard all day until 6:00 pm six days per week and on Sundays we would cut 350 stones for the following week as we would make 50 rings per day, 70 pendant or 15 bracelets. Monday am's we would go down to Rio Grande on Edith in Albuquerque to buy our Silver and supplies for the this week. Week after week for eight months - we did this. In May we left Albuquerque with of over 800 lbs of Jewelry that we had made. Previously, John was working in his fathers machine shop making missile parts for Los Alamos laboratories. We headed for Yellowstone, Jackson's Hole, Cody, Cooke City, Gardener, West Yellowstone and then back to Jackson - and we did this several times as they kept buying and buying and buying. We stayed there the entire summer as business was so good! When we left in late August, we had made $250,000. Wow!!! Money in the Bank! We immediately headed for Nevada to stock up on highgrade rough Turquoise to cut the following winter season. We drove to Battle Mountain and ended up in Cutler Edgars back yard cobbing Turquoise in the middle of September, we went on to pay Cutler 30,000. for 100 lbs of the finest Turquoise we had ever seen. When we were ready to leave Cutler sent us to the Hotel in the middle of town to look at their Lander Blue Turquoise - we did - and we purchased 1000 carats @ $4.00 per carat for cut stones and rough dime sized nuggets. They put them in a brown paper bag and we were so over whelmed, with our Stormy Mountain purchase we just through the 1000 carats in back of the seat and never saw them again. We lived in Albuquerque and Lander Blue was the big hipe so we called Cutler and told him what happened. cutler went down to the Hotel and got us 2000 carats of Lander Blue and Lander Blue dime sized nuggets. This Ring was inlaid from the small amount of remaining material that we originally purchased in 1972!
| | |
| --- | --- |
| | |
Above and to the left is a beautiful American Turquoise Gold Ring created by Nattarika Hartman of Durango Silver Company. The Royston Turquoise Gemstone was cut by John Hartman from Royston Turquoise we were given from the Otteson's (Mine Owners), when we helped them make a movie for the Travel Channel on the Royston Turquoise Mine. You can view the flick and book Mine Tours at http://roystonturquoise.com/minetours.htm
Above and to the right is a beautiful Dameli Turquoise Ring in Gold. Dameli Turquoise is from Northern Nevada, it runs with Variscite and is most often found in beautiful shades of green and also with black spiderwebbing. The most valuable form of Dameli is show here in this photo - it is a chartreuse green with black and brown spiderweb matrix.
We invite you to also look at our presentation page on Green Turquoise Rings, we think you will really appreciate this page.
Above and to the left is a gorgeous Royston Turquoise Ring is Sterling Silver created by John Hartman of Durango Silver Company. Royston is known for having this beautiful golden brown colored matrix, it comes in blues, greens and two tone blue to green. The Royston Mine is located just North East of Tonopah, Nevada. The Royston Turquoise Mine is still in production, but, it produces limited amounts of Turquoise.
Above and to the right is another beautiful American Turquoise Ring from Durango Silver Company. This Ring was handmade in America! by John Hartman of Durango Silver Company, it features a beautiful Kingman Turquoise gemstone that is over 20 carats in weight. The gemstone is set in a fancy gallery wire bezel and the ring shank is unusual as well having Southwestern Rock Art designs all the way around your finger. You can see additional photos and information on this Ring on its presentation page by clicking on the photo.
Check out our presentation page on Kingman Turquoise.
Morenci Turquoise Ring on the upper left - Above and to the left is an American Turquoise Ring with an unforgettable gem of a stone from the Morenci Mine located in Morenci, Arizona. This beautiful Morenci Turquoise Ring was created by John Hartman. Click on the photo to see additional views and description.
The hay day for Morenci Turquoise was about the same as Bisbee Turquoise from Arizona - late 1960's through the end of the 1970's. John and Estell purchased beer flats from the Brown's in Gallup in the early 1970's. The Brown's had the rights to the Turquoise in the Morenci Mine at that time and they sold it at their Turquoise Shop on a side street down town Gallup. They had stacks of beer flats full of Morenci slabs of Turquoise and you would tell them what you wanted and they would start pulling down flats full. John and Estell purchased many Morenci beer flats from the Brown's equating to several hundred pounds over a few years. The stone in the Morenci Turquoise Ring above came from the Turquoise John and Estell purchased from the Brown's in the 1970's.
The American Indian Blue Turquoise Ring above and to the left has a beautiful Tibetan Blue Turquoise Gemstone that weighs 26 carats and that is large! This Native American Indian Turquoise Ring is quite unusual as it has a heavy hand stamped bezel that hold the stone and a heavy hand cut pronged ring shank that is also unusual. We realize this is not American Turquoise, but, we want to show you a comparison of highgrade foreign Turquoise that is worthy of American Turquoise Jewelry. This quality of Tibetan Turquoise is not common, however, Tibetan Turquoise is celebrated as the most spiritual and metaphysical Turquoise on earth and we appreciate that!
Quality American Turquoise Rings
Above and to the left is a beautiful Turquoise Inlaid Ring Band designed by John Hartman. It was inlaid with Sleeping Beauty Turquoise and a great example of a Inlaid Turquoise Ring Band. We have and have produced many different types of American Turquoise Ring Bands and always try to have a good supply on hand. The Sleeping Beauty Turquoise Mine has now closed and is no longer producing Turquoise, this type of Turquoise will become very scarce and soon rare!
Above and to the right is an American Turquoise Ring Band designed by John Hartman and produced by Durango Silver Company. This classy Turquoise Men's Ring Band is considered a Saddle Ring, it is very comfortable to wear and works well as an every day American Turquoise Ring for a gentleman. Again, it is important to known that the Sleeping Beauty Turquoise Mine has now closed and is no longer producing Turquoise, Sleeping Beauty Turquoise will become very scarce and soon rare! It has doubled in value in the past six months.
Above and to the left is a very nice White Buffalo Turquoise Ring, handmade by native american artisan Ramon. This Ring was well constructed with heavy weight Silver, great Silverwork and a marvelous white Turquoise gemstone. White Turquoise American Turquoise Rings have been very popular in recent years and White Buffalo Turquoise is in the highest demand. The Otteson's of Tonapah, Nevada own the White Buffalo Turquoise Mine as well as the Royston Turquoise Mine.
Above and to the right is a great example of an American Turquoise Inlaid Ring handmade by Navajo Artisan Edison Yazzie. Edison's work is outstanding and unusual from most other inlaid Native American Jewelry available in today's market, notice the rounded curves in the gemstones, this is very hard to do. You can check out additional photos on this ring by following the photo link.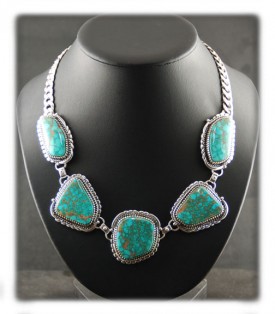 We have created another American Turquoise Jewelry presentation page that we think you will appreciate if you enjoyed this page, you can go to this page by clicking on the Necklace photo above. This page has many photos and good literature on American Turquoise Necklaces.
We invite you to take a look at a few of our other informational presentations - American Turquoise, American Turquoise Bracelets, American Turquoise Earrings, American Turquoise Necklaces, American Indian Rings, Authentic Turquoise Jewelry and our Navajo Turquoise Rings page.
---
We invite you to learn more about American Turquoise Rings and American Silver Jewelry by following the links in our Learning Center to other informational pages we have written on different topics directly related to American Turquoise Rings. In addition, we would like to invite you to join our E-Mail Newsletter - about once every other month we send out a Newsletter to inform our members of what's happening with Durango Silver Company, new products, specials for our members and more. We also have a monthly drawing from our member base to give away free Turquoise Jewelry from our company. Please take a moment to become one of our friends by signing in below. We hope you have enjoyed our presentation on American Turquoise Rings and have gained some useful knowledge from it.