American Turquoise Jewelry
---
Durango Silver Company has been producing American Turquoise Jewelry for nearly forty years. Our specialty is high quality natural American Turquoise set in unique uncommon Silver and Gold Jewelry design. Below is a presentation to help you understand one of our great American heritages - American Turquoise Jewelry from the American Southwest! Below you will find several photos along with brief descriptions, you can click on any photo which will take you to its presentation page.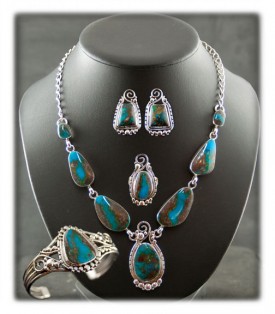 The photo above is of an uncommon American Turquoise Jewelry ensemble. Why? These rare matching Bisbee Turquoise gemstones were cut from one large Bisbee Turquoise Rock. This Bisbee formation is so rarely seen - it is rich deep blue in the Turquoise pools with Emerald to lime green crustacean next to the chocolate brown host rock. This is very rare Bisbee Turquoise! The is unusual Navajo Silverwork as it has a Victorian appearance, this Bisbee Turquoise Necklace was created by Verde Jake.
American Turquoise Jewelry Specialties from Durango Silver Company
Below are four types of American Turquoise Jewelry that we specialize in - American Turquoise Rings, American Turquoise Bracelets, American Turquoise Earrings and American Turquoise Necklaces. We have created an informational page for each of the Turquoise Jewelry types, we invite you to visit the page of your interest by clicking on the photos or the links above.
By viewing our American Turquoise Rings page you will view many unique and uncommon Turquoise Rings, both Silver and Gold. Each ring has its own informative description as well as a link to its own presentation page, which includes additional photos as well as descriptions. There is also a story on John and Estell Hartman as well as one on the most recent Turquoise revolution.
By viewing our American Turquoise Bracelets page, you will find several great Turquoise Bracelets from the American Southwest. Each Bracelet has an informative description that points out many factors of each piece, there is also a link that leads to each Turquoise Rings own presentation page.
If you choose to view our American Turquoise Earrings page, you will find eleven completely different pairs of Turquoise Earrings. Each photo has a informative description and is linked to its own presentation page.
Take a look at our American Turquoise Necklace page where you will find several beautiful, as well as uncommon, Turquoise Necklaces. Below each photo is an informative description of the piece as well as a link to its own presentation page, which includes several additional photos of that Necklace.
Authentic American Turquoise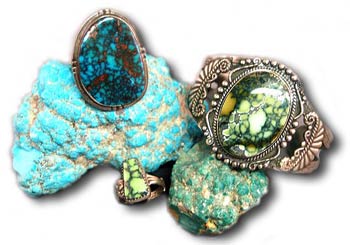 American Turquoise
American Turquoise has had an amazing past, it was discovered over 2000 years ago by the Anasazi Indians. We have a great informational page on Anasazi Turquoise - check it out! There have been many more amazing tales on the Turquoise Trail since which leads us to this modern age. American Turquoise has become known to be, respectfully, the best Turquoise on earth!
When you look at the vast variations of Turquoise that has come out of the ground in America, it is truly astonishing! The blue color range that that is found from southern Arizona all the way up through northern Nevada is memorizing. The luscious green hues from lime green, emerald green and Turquoise greens that come out of Nevada, Colorado and New Mexico are breath taking. American Turquoise Mines have it all - every variation of Turquoise anyone in the world could desire.
The relentless thirst for American Turquoise Jewelry in the United States since the opening of Grand Canyon National Park, through the Roaring 20's and throughout the Hollywood Movie era pushed for perfection in both Jewelry design as well as quality Turquoise. By 1965, there were over 180 active Turquoise Mines in the United States working hard to produce the finest Turquoise the world had seen to date. The Native American Turquoise Jewelry market was so brisk that a major Jewelry producing industry has developed throughout the American Southwest in this period of time as well.
In 1985, Chinese Turquoise made is debut at the Tucson Gem and Mineral Show. The initial Turquoise that came to the U.S. was from an accumulation of what the Chinese considered inferior in the past due to it's having matrix, host rock. After hundreds of years out of the mine the Turquoise became hardened and of very high grade, plus the bulk of the material was rich blue spiderweb Turquoise. American Turquoise and Turquoise Jewelry collectors went nuts over this Turquoise which began a whole new era in the Turquoise Jewelry industry in the United States and then the world.
Shortly, the good stuff ran out and when they began pulling more Turquoise out of the mines they found that the quality was now where near as good. By the mid 90's, the Chinese had flooded the world with their inferior Turquoise and the price of Chinese Turquoise dropped so low that it put most all American Turquoise Miners out of business. The Chinese continued flooding the market and then began to make fake Turquoise by using magnisite and howlite, dying it and treating it with acrylic and plastic resins. Today, the Chinese government put a halt on all mining of Turquoise and we have heard they are revoking export licences of those involved in exporting Turquoise. We can only imagine they will allow the exporting of fake Turquoise!
Today, many years later, the public, American Turquoise Collectors and Jewelry Connoisseur's are waking up to the fact - Authentic Natural American Highgrade Turquoise has become very scarce. The reason? Turquoise Mining, for the most part, came to an end over 20 years ago and it will take some doing to get mining going again. Between government restrictions and the cost to mine, Turquoise will have to increase in value substancially or is simply will not happen.
So, how do you obtain high grade American Turquoise Jewelry? There are a few collectors and dealers that had stocked up on highgrade Turquoise when it was available in the past. These individuals realize what they have and it is not easy to buy it from them. If you look for highgrade American Turquoise Jewelry, you will find, exceptional Turquoise is hard to find.
The Hartman family began mining and collecting highgrade Turquoise over forty years ago and we have specialized in authentic, quality American Turquoise Jewelry for the duration of their business. Durango Silver Company produces exceptional quality American Turquoise Rings, American Turquoise Bracelets, American Turquoise Earrings, American Turquoise Necklaces and other quality Jewelry from the American Southwest with exceptional Turquoise Gemstones.
We invite you to view our American Turquoise presentation - you will find a lot of great photos, information and links to our Turquoise Map
Above and to the left is a beautiful American Silver and Turquoise Ring created by John Hartman of Durango Silver Company. John cut the Morenci Turquoise gemstone and he also created this attractive Sterling Silver setting. You can read more about this ring on our American Turquoise Rings page.
Above and to the right is a beautiful Gold Turquoise Ring with a Royston Turquoise gemstone, created by John Hartman. This ring was hand carved in Jewelers wax and then the wax was casted in the lost wax method. Take a look at more photos of this Gold Ring on its presentation page.
Above and to the left is a beautiful American Blue Turquoise Bracelet that features a Turquoise gemstone from the Kingman Turquoise Mine located near Kingman, Arizona USA. This bracelet was created by John Hartman of Durango Silver Company.
To the right is a gorgeous Bracelet with a two tone Royston Turquoise gemstone. The Silverwork on this bracelet features Johns new Victorian style of Silverwork. We invite you to check this bracelet as well as many others on our American Turquoise Bracelets page.
Above and to the left is a Victorian style American Turquoise Necklace / Pendant. It features a beautiful Turquoise gemstone from the Royston Turquoise Mine located near Tonopah, Nevada USA
To the right is a Royston Turquoise Necklace that has Sugilite, Gaspeite and Spiny Oyster Shell stones which make this a colorful American Turquoise Necklace. We invite you to view our American Turquoise Necklaces page where you will find additional information about this Necklace as well as many others.
Above and to the right is a classic pair of American Blue Turquoise Earrings in a classic style from the American Southwest. Each one of these earrings has 18 individual Sleeping Beauty Turquoise gemstone inlays - a beautiful pair of Turquoise Earrings.
To the right is a pair of very large Green Royston Ribbon Turquoise Earrings produced by Durango Silver Company. These Turquoise gemstones are cross cut from the Turquoise rock featuring the Turquoise vein running through the host rock that the Turquoise grew in.
We invite you to take a look at a few of our many other presentations in our Learning Center - take a look at the information pages we have to offer.
---
We invite you to learn more about American Turquoise Jewelry by following the links in our Learning Center to other informational pages we have written on different topics directly related to American Turquoise Jewelry. In addition, we would like to invite you to join our E-Mail Newsletter - about once every other month we send out a Newsletter to inform our members of what's happening with Durango Silver Company, new products, specials for our members only and more. We also have a monthly drawing from our member base to give away free Turquoise Jewelry from our company. Please take a moment to become one of our friends by signing in below. We hope you have enjoyed our presentation on American Turquoise Jewelry and have gained some useful knowledge from it.