Learn about the Turquoise Ring
This is an informational presentation with photos and descriptions of the Turquoise Ring. These examples are from the Hartman collection of
Durango Silver Company - Durango, Colorado USA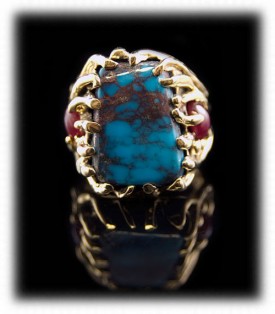 Shop for one of our American handmade Sterling Silver or yellow gold Turquoise Ring now!
A Bisbee Turquoise Ring in Gold hand crafted by John Hartman of Durango, Colorado. This 14k Gold Turquoise Ring features contemporary lost wax design work that has a very earth feel with visions of tree roots. This is a men's gold Turquoise Ring focuses on a rare red webbed Bisbee Turquoise cabochon from Bisbee, Arizona. On each vertical side of the ring lies a "Pigeon Blood" Burmese Ruby oval cabochon. Each gemstone in this men's gold ring is top gem grade. This 14k gold mens Turquoise Ring is heavy, almost one ounce of Gold! This is a unique Contemporary historical Turquoise Ring that was artisan handcrafted in Durango, Colorado USA. Bisbee Turquoise is one of the most famous Turquoise mines to ever be, and the Turquoise from this mine makes the best Men's Turquoise Rings.
A Quality Turquoise Ring from Durango Silver Co Will Be An Heirloom
A quality Turquoise Ring is a special, beautiful and valuable piece of Jewelry. A Turquoise Ring from Durango Silver Company is an American heritage, hand crafted piece of Jewelry art, it is made in the USA and you, as well as your descendants, will love and cherish it forever. Below are some photo examples of our Turquoise Rings along with descriptions of each Ring.
| | |
| --- | --- |
| | |
Above and to the left is an outstanding Native American Indian hand crafted Royston Turquoise Ring created by Navajo Artisan, Ben Yazzie. This is a 925 Silver Ring that is substantial in weight, it has a heavy hand stamped bezel that holds the gemstone and the ring shank that goes around the finger is very well proportioned also. The Turquoise stone in this Ring is exceptional as it has a beautiful range of green color's and the golden brown matrix configuration is awesome. This Native American Indian Turquoise Ring is a one-of-a-kind as is most of the Rings you will find at Durango Silver Company. We can make Rings that look similar, but we cannot duplicate our Turquoise Rings as each piece begins with a one of a kind gemstone as its foundation and it built from there. You can see additional views of this particular Ring on its presentation page.
To the right is another beautiful Royston Turquoise Ring that has a unique elongated rectangular Turquoise gemstone from the Royston Turquoise Mine located near Tonopah, Nevada USA. As you can see in this photo, each Turquoise stone is uniquely different from others, they all have their own properties and appearance just like humans! This Royston Turquoise gemstone is also spectacular with it blue to green color range with gorgeous golden brown matrix in a enchanting configuration. The Silver work in this Ring is also unique and very attractive, you can see additional views by following the link to its presentation page at the beginning of this description. We invite you to check out our sister website on Royston Turquoise - here you can find a lot of information on Royston Turquoise and you can also find out how you can personally mine Turquoise at the Royston Turquoise Mine. Durango Silver Company has a great relationship with the Royston Turquoise Mine owners and has some of the finest Royston Turquoise available today, you can count on us for an exceptional quality Royston Turquoise Ring.
| | |
| --- | --- |
| | |
Above and to the right is an outstanding Morenci Turquoise Ring handcrafted by John Hartman of Durango Silver Company. This Electric blue American Turquoise Ring focuses on a hand cut Morenci Turquoise gemstone with silver colored matrix. This rare American Turquoise cabochon is bezel set and surrounded by a flattened rope or cable design, this is topped with a small braided Silver design. The ring table sets atop a stamped, heavy silver, three prong sterling silver band. Morenci Turquoise is very scarce as the Mining of Turquoise at the Morenci Mine ended in the mid-1970's and even at that time there was little highgrade. Durango Silver Company has highgrade Morenci Turquoise and often has great Morenci Turquoise Rings. You can see additional photos as well as more information on this Morenci Turquoise Ring on its presentation page, check it out!
Above and to the left is a beautiful green Turquoise Ring hand crafted in Sterling Silver. This Ring was made in Sterling Silver in a simplistic design yet it has beautiful Silver work that is attractive and appreciated by all. The beautiful Broken Arrow Turquoise Gemstone has a clean bezel setting and sits on top of a fantastic solid stamped Silver ring shank that has gorgeous design. You can see more photos of this Broken Arrow Turquoise Ring on its presentation page.
| | |
| --- | --- |
| | |
Above and to the right is a sterling silver Turquoise Ring that is inlaid with Turquoise, Coral, Opal and Black Onyx by Native American Indian artisan Julius Burbank. Heavy Duty Mans Ring best describes this men's Silver band ring. This inlay Turquoise Ring focuses on spiderweb Turquoise from the Lone Mountain Turquoise mine in Nevada, USA. This fine American Turquoise is accented by Mediterranean Coral, Black Onyx and Fire Opal. This Ring is so intricately inlaid that you could look at it under magnification and not be able to see any space in between the different stones. Most men will prefer a low profile inlaid Turquoise Ring as they are sleek and easy to wear. You can see additional views of this Inlaid Turquoise Ring on its presentation page.
Above and to the left is a Bisbee Blue Turquoise Ring hand crafted and inlaid by Dillon Hartman of Durango Silver Company. This is a wide band ring that features a unique style of inlays of Turquoise gemstones. They are separated by thicker bars of silver versus having the gemstones directly next to each other. Dillon makes this style of Turquoise Ring that can be special ordered in all men and women sizes as well as different types of Turquoise or other gemstones. You can see additional photos and information on this Inlaid Turquoise Ring by Dillon Hartman on its presentation page.
| | |
| --- | --- |
| | |
Above and to the left is a Red Mountain Turquoise Ring hand crafted by Navajo Artisan Leo Yazzi. This is a classic style Navajo Turquoise Ring style that has been made for decades. This Turquoise Ring features a spiderweb Red Mountain Turquoise cabochon from Nevada. This cabochon is bezel set and surrounded by rope and saw work designs. Red Mountain Turquoise is very rare and collectible as very little Turquoise comes out of this mine and high grade spiderweb Turquoise is extremely rare.
Above and to the right is a Bisbee Blue Turquoise Ring in 925 silver handmade by John Hartman of Durango, Colorado USA. This is a rare and a spectacular example of Bisbee Blue Turquoise that is oh so scarce! Check out the article that Wikipedia wrote on Bisbee Blue Turquoise. John and Dillon Hartman are well known worldwide for being one of the leading authorities on Bisbee Blue Turquoise and he has the worlds foremost collections of Bisbee Turquoise as well. This Bisbee Turquoise gemstone features rich blue Turquoise with red smoky webbed matrix, the edges of the stone is darker blue Turquoise with tight smoky spiderweb matrix. This Bisbee Turquoise cabochon is set in a Victorian filigree style sterling silver bezel, surrounded by a rope design.
A Mens Turquoise Ring Is APiece A Man Will Wear Daily
Men enjoy wearing a Turquoise Ring as Turquoise is natural looking and blends very will with men and their lifestyles.
Most mens Sterling Silver Turquoise Rings from our company have the gentleman in mind and are made to be worn in a mans environment.
| | |
| --- | --- |
| | |
To the right above is a fabulous Mens Turquoise Ring in 14ky Gold created by Dillon Hartman of Durango Silver Company. This is what we consider a Saddle Ring for men as it is completely round made to fit a mans finger comfortably and the top has extensive tooling with a low profile gemstone inlaid into the setting. This design mens gold ring is simplistic and classy which makes it perfect for everyday wear. This particular Ring features a Bisbee Turquoise gemstone from the Bisbee Mine which is located at Bisbee, Arizona USA. Bisbee Turquoise is rare as it has not been actively mined since the 1970's. This beautiful Turquoise cabochon is rectangular cut and is deep blue with reddish brown spiderweb matrix, often called "Red Web Bisbee". You can see additional photos and information on this Bisbee Turquoise Ring on its presentation page.
To the above left is a Mens Turquoise Ring in 925 Silver with a Dry Creek Turquoise Gemstone. Another mens saddle ring made by Dillon Hartman. This Turquoise Ring was created in 925 Silver for men and is classic and comfortable to wear. This Silver Mans Ring focuses on a natural blue Dry Creek gemstone with red spider webbed matrix - it is very attractive. This stone is accented on both sides by a braided cable design and flattened raindrops. The ring has an attractive fan design stamp work down each side, you can see more angles of this very nice Mens Turquoise Ring on its presentation page, check it out!
Learn about our unique Silver and Gold Turquoise Rings!
We invite you to take a look at a few of our other presentations - Mens Turquoise Rings Video, Mens Turquoise Ring, American Indian Rings and our Turquoise Gold Rings page. Checkout our Turquoise Learning Center
---
We invite you to learn more about a Turquoise Ring as well as other Turquoise Jewelry from Durango Silver Company by following the links in our Learning Center to other informational pages as we have written many different topics directly related to the Turquoise Ring. In addition, we would like to invite you to join our E-Mail Newsletter - about once every other month we send out a Newsletter to inform our members of what's happening with Durango Silver Company, new products, specials for our members and more. We also have a monthly drawing from our member base to give away free Turquoise Jewelry from our company. Please take a moment to become one of our friends by signing in below.
Thank You! for your time and we hope you will consider Durango Silver Co the next time you looking for a Turquoise Ring.