Turquoise Ring Bands

This is an informational page on Turquoise Ring Bands made in America and available at Durango Silver Company. Our company produces and handles a variety of Silver Ring Bands, Native American, handmade in the American Southwest. Below you will see several different types of Ring Bands, many with Turquoise and several with multi colored gemstones that accent the Turquoise in the bands. You will also read informative descriptions on each band that will give you a good idea of what you are looking at - this will help you make an intelligent decision when you consider a Turquoise Ring Band for in the future. We also invite you to browse our site to see what we currently have available by using our search or by following the buttons to the left of this page.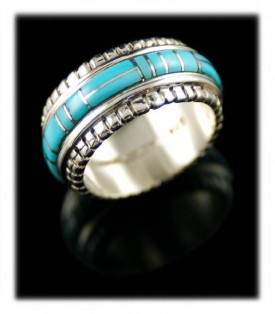 Turquoise Ring Bands have been a standard in the American Southwest for well over a hundred years now. Durango Silver Company produces a variety of Ring Bands and many have authentic Turquoise, both Blue Turquoise and Green Turquoise. The example in the photo above is a Sterling Silver Ring Band that was created with a center channel, Turquoise was inlaid into the channel and then the Ring was finished to make a very attractive Wedding Ring Band or an everyday Silver and Turquoise Band.
---
Turquoise Ring Bands Examples
Above are two Turquoise Ring Bands, one is solid Turquoise and the other is a multi colored band. This is actually the same Silver channel band but they are inlaid differently. These bands are made by creating a band of Silver in a U shape, it is actually squared and then formed into a ring shape, the gemstones are hand cut one by one and set into the Ring Band with high tech epoxy. The Turquoise Band has Silver separating the stones and the multi colored band has Red Coral, Turquoise, Black Jet, Spiny Oyster Shell, Yellow Shell and Opal.
We also invite you to check out our Silver Ring Bands presentation page. This page has many Ring Bands that we produce here in Durango, Colorado USA. There are Ring Band photos along with descriptive text describing each Silver Ring Band.
Above are two Mens Ring Bands that were designed by John Hartman and made right here in Durango, Colorado - in our Silver Shop.
The Mens Turquoise Ring Band on the left is called a Saddle Ring as John made this band completely round and then made the setting rounded where it meets the band. Saddle Rings are very comfortable and easy to were on an every day basis. This particular band has a 10mm Sleeping Beauty Turquoise Gemstone sky blue in color.
The Silver Mens Ring Band on the left features a 8 x 10 rectangular Turquoise Gemstone. It is also a Saddle Ring Band that was designed by John, the stone is bezel set and outlined on two sides by a Silver cable design. We make this Ring in many different gemstones of your choice.
We have also made a presentation page specifically on Mens Turquoise Bands that we think you will enjoy if you are interested in Rings for men, you can check out this page by following the link in this sentence.
Above and to the left is an Inlaid Turquoise Ring Band designed by Dillon Hartman of Durango, Colorado USA. It is a unique inlaid Turquoise Ring Band being extra wide with rectangular inlays of Turquoise. It is an easy band to where, even though it is wide it is still comfortable. These bands are made to order and take a couple weeks to make.
Above and to the right is a Native Band Ring that is quite unusual. The Ring shank has a heavy overlay of geometric cutouts that attach to a bezel set multi colored gemstone setting. It is inlaid with Turquoise, Lapis, Red Coral, Gaspeite and Silver - it is beautiful and it is a complex work of art. This is an American Indian Ring that is definitely unusual from any other.
We have made two great presentation pages we think you will appreciate as they have a lot of great information and photos. The first page is Native Bands and the second is American Indian Rings - Check them out, you will be glad you did.
Here are two unusual handcrafted Silver Rings that you do not see often, if ever. They are both made by using different techniques in Silversmithing that are not often scene, both of these rings were created by John Hartman.
The handcrafted Turquoise Ring Band on the left was originally made in Jewelers wax by using a hot wax sculpting tool to hand carve and apply wax to build the design. This ring has a design of flowing vines and grapes with flowers and leafs, it is a very unique design that captures everyone's eyes when they see it. John has been making lost wax band rings for over 30 years and now Crystal Hartman, John daughter, has taken up this style of Jewelry design.
The Ring in the upper right photo is another type of Silver work that is a little more common, but still highly unusual. This Turquoise Ring Band was made by make taking a heavy sheet of Fine Silver, (soft,) and pounding it into a rock that came from the Mesa Verde region. This is a form of hard sandstone that has a lot of figure in the formation of the stone. It is then cut to width, formed into a ring band and welded together. Next, rock art, (Petroglyth,) figures are sawed out of Sterling Silver, (hard,) and designs are formed from balls of Silver and round wire. A collage of design is then placed on the band and hard Silver soldered into place. This is a earthy and unusual Turquoise Band Ring with a natural appearance with good reason, it was totally hand forged.
| | |
| --- | --- |
| | |
Above on the left is an Inlaid Silver and Turquoise Ring Band, a Native American Indian design from the past. This Band Ring was made by making a Silver ring and then applying rectangular and triangular bezel settings to the band with Silver raindrops between each bezel setting. We have these unique five Turquoise stone ring bands made for us and they are an exclusive to Durango Silver Company. We can and do make these bands with other types of gemstones upon request.
Above and to the right is one of our newest design types created by John Hartman. We call this a Victorian style Ring Band as it is created in a much different way than any of our other Jewelry has been to date. John, was an avid collector of Victorian period and Western Frontier memorabilia, he did a study of Victorian design and Victorian Jewelry design from the Victorian period of 1837 to 1901 to come up with a unique style of his own. John carves high relief floral sculpted pieces out of wax as well as Silver to created these exciting designs that are unique only to himself. They are not made elsewhere and they are not sold elsewhere as they are an exclusive to Durango Silver Company. This is one example of a Victorian Turquoise Ring Band, we invite you to view our presentation on Victorian Style Rings - we think you will like this new style John is doing.
---
We invite you to search our site for Turquoise Ring Bands to see what we presently have available.