The Orvil Jack Turquoise Facts & Story
Example Pictures are not necessarily the highest of grade, rather a good example of a common look from a particular
Have you ever seen Orvil Jack turquoise? It's not something that you'll forget, especially the vivid green stones that have become its trademark color. Turquoise Jewelry collectors who are fortunate enough to have pieces made from Orvil Jack turquoise usually won't part with them. I've been in love with this turquoise for awhile now, and tried to learn about the man it is named for, and his turquoise mine, but with little success. Luckily, a jewelry artisan who uses the turquoise in their designs, caught my error when I called it "Orville" Jack on a photo caption. They put me in touch with Grace Wintle, Mr. Jack's daughter, who patiently answered my questions about her father and their Turquoise mine.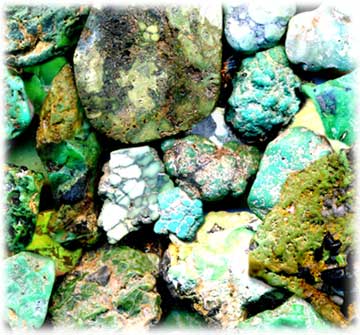 Orvil Jack Turquoise Rough
Back to 1956... Orvil Jack and his wife, Bessie, moved their family to Nevada in 1956. Orvil chose a turquoise mining site and they staked a few Turquoise claims in Lander County, naming their turquoise mine Blue Ridge. Grace shares this early childhood memory of summertime turquoise mining, "Mining was such an adventure... after my father would make a pass with the dozer, I would run over the newly exposed dirt and look for pieces of turquoise. I was probably more trouble than help, but what fun I had!" It's more difficult for smaller mining operations to continue today, due to the expenses associated with strict environmental regulations, mining laws and bonding requirements. Grace feels they are very fortunate to be able to continue to work their family's American Turquoise mine and produce this wonderful lime green Nevada turquoise. Today the Blue Ridge mine is called Orvil Jack Turquoise mine.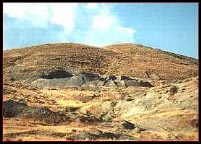 How It's Accomplished... Turquoise miners begin the mining process by using a large bulldozer to remove the top dirt, called overburden. The miner watches very closely for the first sign of turquoise, and once a turquoise vein or pocket is located, switches to smaller equipment that provides more precise dirt removal. After the turquoise vein is exposed, air hammers are used to drill around the sides of it, bringing the vein more into the open. Finally, the miners use hand picks and shovels to carefully extract the turquoise - and as Grace says, the rest is "good old fashioned hard work." The miner takes the turquoise to another spot to clean, refine, and sort it. During the cleaning process, a saw can be used to cut the turquoise away from its host rock.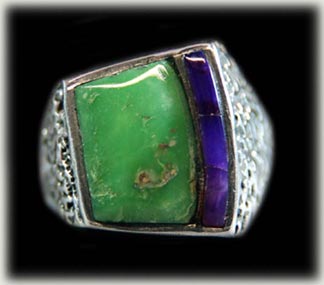 Orvil's Favorites... Vivid lime green turquoise comes to mind when we hear the term Orvil Jack Turquoise, but Grace says her father's favorite turquoise was always the beautiful blue spider-web variety, like the stone used in a bolo tie owned by her father. In fact, she says that "Growing up, I remember we rarely came across a lime green turquoise piece, and when we did, we were told to throw it down ... it just wasn't good enough to keep." He had a change of heart about green turquoise later in life. In about 1983, in one of the last places he dug for turquoise, Orvil discovered the beautiful lime green turquoise stones. Something about them must have impressed him, because he continued to mine the area. He sold only a small amount of this "new" color, keeping the majority of the lime green turquoise himself. Sadly, Orvil Jack passed away in 1986. A few years later, the family heard from Bob Hall and Lee Louden, talented bead-makers who were looking for the "fantastic green turquoise" from the Blue Ridge Mine. They bought the high grade, rough stones that were available from the Orvil Jack Turquoise mine, then returned the following year to help the family mine. Grace credits both men for much of the mine's success in the early 1990's with lime green turquoise.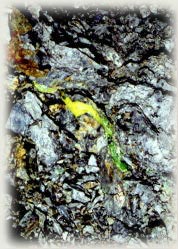 It's All Natural... The Blue Ridge Mine produces blue turquoise, too, and occasionally the Wintle's find rare, lemon yellow stones which are called Orvil Jack Turquoise. Grace says that Orvil Jack was a staunch believer in selling only natural, untreated turquoise. He would never have considered treating any of his turquoise, and they maintain that belief, guaranteeing artisans a totally natural product. Grace, her husband Jay, and their sons work the mine and sell rough turquoise to a group of jewelry artists, people they know personally and whose work they respect. They have a close relationship with their clientele, and try to accommodate their needs before accepting orders from others. Orvil Jack Turquoise is a name that will be known forever to everyone who appreciates turquoise. The man and the mine have made an impact on the turquoise world, playing a huge role in the increased appreciation of green turquoise variations. What a wonderful legacy. Look at the awesome neon colored Vein of Lime Green Turquoise in the picture to the right side this is from the Orvil Jack Turquoise mine. Since this page was created Grace has passed away.
Parts of this story written by and credited to Carly Wickell.
Orvil Jack Turquoise Jewelry
Above are two Orvil Jack Turquoise custom pocket knives or custom folder knifes by Dave Kopek of Littleton, Colorado USA. The first knife displays different colors of natural Orvil Jack Turquoise, while the second knife has stones that have been carefully matched to be a matching color. Both are super highgrade examples of natural Orvil Jack Turquoise. Each knife displays the famous lime green Turquoise from the Orvil Jack Turquoise mine in Nevada in its full glory.
| | |
| --- | --- |
| | |
Above is an example of a Orvil Jack Turquoise bracelet by John Hartman and a a 14k gold Orvil Jack Turquoise ring by Dillon Hartman. Each of these gorgeous pieces of Orvil Jack Turquoise Jewelry were made in totally different style and also express different colors of Turquoise the mine produces. You can see both pieces are different shades of lime green turquoise. This is the color of Orvil Jack Turquoise the mine is most famous for. These are just some examples of the gorgeous jewelry being made with natural Orvil Jack Turquoise. This lime Turquoise from Nevada also looks good in inlay jewelry mixed with black and purple stones. Keep an eye on Durango Silver Company, we have a large collection of Orvil Jack Turquoise and we will be cutting it and making new jewelry with it all the time.
---
Back to the Jewelry Learning Center
Thank you for reading about Orvil Jack Turquoise.