Navajo Turquoise Rings
The Navajo Indians began making Turquoise Rings in 1865 when Atsidi Sani, Blacksmith, learned the trade from the Spaniards who were in this area in search for Silver and Gold. Navajo Turquoise Rings have become highly valued by Jewelry collectors worldwide and since the introduction of the Internet the demand for Navajo Turquoise Rings has escalated dramatically. Durango Silver Company specializes in high quality Turquoise Jewelry made in America and Navajo Turquoise Rings are our pleasure!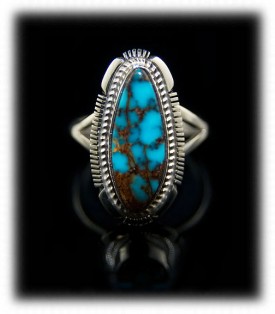 Above is a beautiful Navajo Turquoise Ring handmade by Navajo Artisan Leo Yazzie. This Native American Turquoise Ring features a beautiful Red Mountain Turquoise Gemstone, this Turquoise Mine has been out of production for over 20 years. The Silverwork is of a bezel set stone outlined with twisted Silver wire and then outlined with tooled square Silver wire that has sawed and filed line art.
Navajo Turquoise Rings from Durango Silver Co
We invite you to check out the Navajo Turquoise Rings we have available by following the links to the left side of this page.
Above and to the left is a large Mens Navajo Turquoise Ring featuring a luscious green Turquoise Gemstone from the Royston Turquoise Mine located near Tonopah, Nevada USA The Royston Turquoise Mine produces exceptional Green Turquoise as well as Blue Turquoise and often green running into blue and wow is it beautiful. This Navajo Handmade Turquoise Ring puts the main focus on this spectacular Turquoise gem.
To the right is a Navajo Silver Ring made with Manassa Turquoise by Navajo artist Derrick Gordon. This Navajo Turquoise Ring features beautiful Silver Stampwork, a very nice green Turquoise stone and can be worn by a gentleman or a lady. The natural green Manassa Turquoise cabochon is bezel set and surrounded by a classic cable design. This Native Silver Ring is styled after old Navajo Turquoise Jewelry made in the 1920's, Indian Jewelry collectors like this retro style and it is very popular.
To the above left is a handmade Native American handmade Turquoise Mens Ring highlighting a marvelous Spiderwebbed Turquoise Gemstone from Nevada. Spiderweb Turquoise is a rarity in nature and highly sought after by Turquoise collectors. This Navajo Mens Turquoise Ring is a classy Mens ring that can be worn on an every day basis, it was made by Navajo Artisan Ben Yazzie.
Above and to the right is another Navajo handmade Turquoise Ring, this ring features a Tibetan Turquoise Gemstone that has unique webbing throughout the stone. The shank that goes around the finger has a great hand stamped sunburst design. Wide Silver ring bands are comfortable to wear and men enjoy this style of ring. Navajo mens rings often have wide bands and this style has be customary.
Quality Navajo Turquoise Rings
To the above left is a quality Navajo Silver Ring that was created in Sterling Silver and then inlaid with high grade spiderweb Turquoise and Mediterranean Coral. Navajo Silver Rings of this caliber are Museum quality, hard to come by and have great future value as important pieces of Native American Jewelry made in the U.S.A. Durango Silver Company is on a constant quest to find unique Navajo Turquoise Jewelry of this quality at affordable prices for our customers. Make certain you check back often as we do add items to our collection frequently.
Above and to the right is a handmade Navajo Turquoise Ring that was inlaid with Turquoise, Lapis and Spiny Oyster Shell. It was created by making the Silver Band Ring with a channel or void where the gemstones will be inlaid into. The artisan/stonecutter then individually cuts these tiny slivers and places then in the voids to make the design, once this is completed he will glue the stones in permanently. This is tedious work that takes a skilled artisan. Navajo inlaid Turquoise bands are a great Native American Ring that you will enjoy for years to come.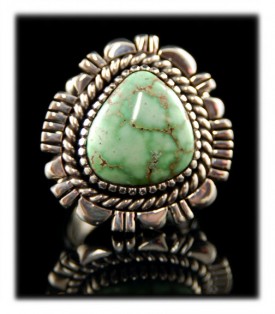 Above is a Native American handmade Turquoise Ring that features a Carico Lake Turquoise gemstone. This is a Navajo Turquoise Ring made by Ben Yazzie. It has a hand stamped bezel outlined with Silver cable and then outlined with hand sawed and filed design.
We hope you will take a look at the Navajo Turquoise Rings that we presently have to offer and hope you will come back often as we ad new pieces to our collection often.
We invite you to take a look at a few of our other presentations - Navajo Silver Jewelry, Silver Rings, Turquoise Rings Video, Learning Center and our Silver Gallery page.
---
Learn more about Navajo Turquoise Rings and American Silver Jewelry by following the links in our Learning Center. In addition, we would like to invite you to join our E-Mail Newsletter - about once every other month we send out a Newsletter to inform our members of what's happening with Durango Silver Company, new products, specials for our members and more. We also have a monthly drawing from our member base to give away free Turquoise Jewelry from our company. Please take a moment to become one of our friends by signing in below.
We hope you have enjoyed our presentation on Navajo Turquoise Rings and have gained some useful knowledge from it.