Navajo Silver Jewelry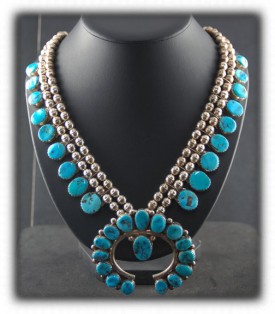 Authentic Navajo Silver Jewelry - Durango Silver Company
Navajo Silver Jewelry began around 1865 when a Navajo Indian named Atsidi Sani learned how to silversmith from the Spaniards as they were in the area scouting for Silver and Gold. It was Atsidi Sani who made the first Navajo Silver Jewelry and then went on to teach other Navajos how to make Silver Jewelry as well. Atsidi Sani's Navajo Silver Jewelry was in immediate demand by the Navajo People and soon after by the Indian Traders who quickly began marketing it.
By the turn of the century Navajo Silver Jewelry had incorporated Turquoise and had made it to Southern California where it was accepted and adopted into the California lifestyle. As tourism came to the Southwest, largely due to the Grand Canyon, Navajo Silver Jewelry was one of the main tourist items that the tourists brought home with them. Hollywood adopted Navajo Silver Jewelry as well as other forms of Native Silver Jewelry and to this day, Navajo Silver Jewelry is scene in the movies and worn by movie stars.
Navajo Jewelry is an American heritage that is unique to the United States. Many Americans realize the importance of this historic keepsake from our great American Western Frontier and individuals from around the world recognize the beauty and importance of this fine art form made by the indigenous peoples of Southwestern United States.
Authentic Navajo Silver Jewelry - An American Heritage!
---
Navajo Silver Jewelry Examples
Silver Bracelets and Turquoise and Silver Bracelets have had a major roll in Navajo Silver Jewelry since the days of Atsidi Sani. Navajo Silversmiths wear and like to make Silver Bracelets and you will find a lot of Navajo Silver Bracelets when looking for Navajo Silver Jewelry. To the left is an awesome Navajo Row Bracelet made in Sterling Silver with Sleeping Beauty Turquoise. To the right is a classic Navajo Row Bracelet made with green Nevada Turquoise and created in Silver. A Navajo Jewelry collection should always include a Navajo Silver Bracelet as they have been cherished by the Navajo people for many generations. Both of these outstanding Sterling Silver bracelets are fine and noteworthy examples of Navajo Turquoise Bracelets.
| | |
| --- | --- |
| | |
Above are two handcrafted pieces of Navajo Silver Jewelry made to be worn on the neck. To the left is a classic Navajo Cluster Pendant made with many Turquoise cabochons which is why they call this Navajo Cluster work. To the right is another classic piece of Navajo Jewelry, this is a Squash Blossom Necklace, but this particular one does not have the squash blossoms on the necklace. This beautiful Navajo Silver Necklace was created in Silver with Carico Lake Turquoise.
| | |
| --- | --- |
| | |
Navajo Turquoise Rings are what many people think of when they think of Navajo Silver Jewelry. The Navajo Turquoise Men's Ring on the left has classic Navajo Silver Stampwork that they are very famous for. Navajo Silversmiths have done a lot of tooling of the Silver since the days of Atsidi Sani, Atsidi Sani made stamped Silver Jewelry with no stones at first and the design focus was his beautiful stampings that he did on the Navajo Silver Jewelry items he made. The Navajo Silver and Turquoise Ring on the right is another classic Navajo Silver Men's Ring with Turquoise. This Silver Mens Ring has a large piece of Kingman Turquoise, the Kingman Turquoise Mine was discovered by the Native American Indians over 2000 years ago and is still in operation today, in fact, it is the largest Turquoise producing mine in America. Both of these pieces are wonderful examples of classic Navajo Turquoise Rings.
Navajo Silver Jewelry Yesterday and Today
The Navajo Indians have been well known for their Silver Jewelry for over 150 years. Navajo Silver Jewelry has a great history in the American Western Frontier and has become one of the most unique and remarkable piece of our American heritage. Navajo Jewelry includes Silver Rings, Silver Bracelets, Silver Earrings, Silver Pendants, Silver Necklaces and more. Navajo Jewelry is also known for Silver Jewelry with American Turquoise incorporated in the Silver Jewelry items. To the left is a matched set of Navajo Silver Jewelry with multi colored gemstones inlaid into a fabulous design. To the right is a vintage piece of Navajo Silver Jewelry with great Turquoise stonework. This Navajo Turquoise Pin was made approximately 1930.
| | |
| --- | --- |
| | |
Turquoise Earrings and Silver Earrings are a big part of Navajo Jewelry, above are two examples of Navajo Silver Earrings set with gemstones. Navajo Silver Jewelry designs are very unusual from any other Silver Jewelry that is made anywhere else in the world. The Navajo Indians are known worldwide for their wonderful Silverwork and it has become very collectible and investment worthy. Durango Silver Company always has a great selection of Navajo Silver Jewelry on hand and invite you to visit us online or at our Trading Post located in Durango, Colorado USA.
Also see; Navajo Jewelry - Navajo Silversmith History - Navajo Turquoise Earrings - Pawn Indian Jewelry
---
We hope you have enjoyed our presentation on Navajo Silver Jewelry and have gained some useful knowledge from it. We invite you to learn more about Turquoise and Turquoise Jewelry by following the links in our Learning Center to other informational pages that we have written on different topics related to Turquoise Jewelry. In addition, we would like to invite you to join our E-Mail Newsletter - about once every other month we send out a Newsletter to inform our members of what's happening with Durango Silver Company, new products, specials for our members and more. We also have a monthly drawing from our member base to give away free Turquoise Jewelry from our company. Please take a moment to become one of our friends by signing in below. Think of Durango Silver Company for Navajo Silver Jewelry.