Mens Ring Bands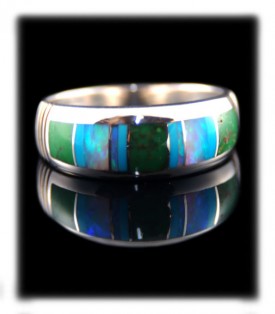 Durango Silver Company has been producing a wide variety of Southwestern style Mens Ring Bands for several decades and generations. Our Mens Ring Bands are handcrafted in the USA, they are only available in our Online Silver Gallery or at our Jewelry Store located in Durango, Colorado.. If you are considering a Mens Silver Band, check out our ever growing selection of high quality pieces.
---
Mens Ring Bands from Durango Silver Company
Below are several examples of Mens Ring Bands that are available or others similar are available at Durango Silver Company.
To the left is a American Indian handcrafted Silver Mens Ring Band that has been inlaid with green Turquoise and Opal. This is a sleek Mens Ring Band that can be worn by men or women. The inlaid gemstones are set into channels of the ring and then ground, sanded, polished and contoured to the shape of the band. Durango Silver Company usually has a good selection of American Indian Silver Mens Ring Bands on hand.
To the right is a Mens Ring Band created in Silver with a beautiful Turquoise inlaid stone by Dillon Hartman. This is a easy to wear Mens Ring Band and will not get caught up on obstacles when a gentleman is working with his hands. This Mens Band Ring is inlaid with a Turquoise gemstone, however, we can make this ring with many other types of gemstones as well. Take a look at some other photos of this Silver Mens Ring Band by visiting its presentation page.
Silver Saddle Mens Ring Bands
John Hartman of Durango Silver Company has been creating saddle Mens Ring Bands since the 1970's, at that time John dealt in American Frontier Cowboy items and Silver Saddles. These unique saddle type Mens Ring Bands shown below are like no others you will find as John designed this type of ring from his Silver Saddles and they are designed it to fit a gentleman's finger like a saddle fits a horse - and they do!
To the left is a Gold Mens Ring Band that was handmade in 14kt Gold, it is inlaid with Lander Blue Turquoise by Dillon Hartman of Durango Silver Company . This Lander Blue Turquoise Mens Band Ring has a fantastic Lander Blue Turquoise Gemstone from the most famous Turquoise mine in the world, the Lander Blue Turquoise Mine of Nevada USA.
To the right is a Mens Ring Band in our Saddle style with a Tibetan Turquoise stone. This is unique mens ring, it is a classic from our company and is easy to wear every day due to the way is was designed. This Mens Saddle Ring has a lot more detail that can be seen on its presentation page, we invite you to check out this Mens Band Ring now by following this link.
To the left is a Mens White Buffalo Turquoise Ring made by Dillon and John Hartman. This Silver Silver Mens Ring Band has a White Buffalo Turquoise Gemstone that fits well with its sleek design. This is one of the most comfortable sterling silver Mens Ring Bands you will ever wear as it is one of Johns saddle rings. The band has a stamped design going down each side. This ring was fabricated by John Hartman and inlaid with White Buffalo Turquoise by Dillon Hartman.
To the right is a Silver Mens Ring Band that was created in the saddle ring design by John Hartman and inlaid by Dillon Hartman. This Men's Silver Ring Band has a square Sleeping Beauty Turquoise cabochon. This beautiful blue Turquoise stone is set in a sterling silver bezel atop of a modern Silver saddle mens band ring. You can view additional photos of this Silver Saddle Ring on its presentation page.
To the left is a Silver Mens Ring Band by Dillon Hartman. This mens ring band has beautiful Bisbee Blue Turquoise stones inlaid all around the Silver band. This Mens Ring Band was handcrafted in Durango, Colorado USA by Dillon Hartman, it is hallmarked "Durango Silver .925" and "Dillon". You can see more photos of this Mens Ring Band on its presentation page by following this link.
To the right is a Sterling Silver mens ring band that was Native American handcrafted by Julius Burbank. This is a best seller Native American inlaid Silver Ring Band. This mens ring has bright blue spider web inlays of Turquoise from the Lone Mountain Turquoise mine of Nevada, USA. The Turquoise in this ring is accented by Mediterranean Red Coral, Black Onyx and Opal. This men's ring band is so intricately inlaid, if you look at the inlay through a magnifying glass, you will not be able to see any spaces between the individual gemstones. Take a better look at this Mens Silver inlaid ring band on its presentation page.
Also, check out these presentation pages - Silver Jewelry - Silver Bands - Silver Ring Bands - Native American Silver Rings
---
We hope you liked this informational presentation on Mens Ring Bands and have gained some useful knowledge from it. We invite you to learn more about Native American Jewelry and Sterling Silver Jewelry by following the links in our Learning Center to other informational pages that we have written on different topics related to Silver Mens Ring Bands. In addition, we would like to invite you to join our E-Mail Newsletter - about once every other month we send out a Newsletter to inform our members of what's happening with Durango Silver Company, new products, specials for our members and more. We also have a monthly drawing from our member base to give away free Silver Jewelry from our company. Please take a moment to become one of our friends by signing in below.
We hope you have enjoyed our presentation on Mens Ring Bands and we also hope you will think of Durango Silver Company the next time you are considering Mens Ring Bands.