Dry Creek Turquoise comes from a small Turquoise mine outside of Austin, Nevada in Lander County. This mine was previously known for its sky blue to medium blue webbed turquoise. Dry Creek Turquoise has gained much popularity over the years with its creamy pale blue coloring and golden to cocoa brown matrix. This color of Turquoise was rarely used in Turquoise Jewelry before the late 1990s. The color is a pastel blue much like the color of Larimar, only high grade Dry Creek Turquoise has beautiful light brown, golden yellow or orange webbed matrix. Dry Creek Turquoise is also reffered to as "Sacred Buffalo" Turquoise which is wrong and never called "White Buffalo" which has a completely different look and comes ONLY from Tonopah, Nevada USA.
The Dry Creek Turquoise mine in Nevada was first discovered during the early 1990's by Nevada's Shoshone Native American tribe. The Shoshone are not typically jewelry makers and had privately leased the mining rights on a limited basis or used the stone as trade. Dry Creek had been mined for a number of years producing a creamy blue stone often with a golden or cocoa brown matrix but can have extreme variations depending on the areas mined. The hardness of the Turquoise also varied. The best Dry Creek Turquoise is hard and takes a great shine.
The miner has recently died and the mine is currently closed due to family disputes. When new rough started coming from the region it lacked the quality we all fell in love with, the miners were producing a pale almost chaulky Turquoise with very little matrix, and for a few years we had rejected most Dry Creek we were offered. We recently purchased a large collection of rough Dry Creek from the early operations of the 1990s. This natural Dry Creek is the good stuff. Nice and hard.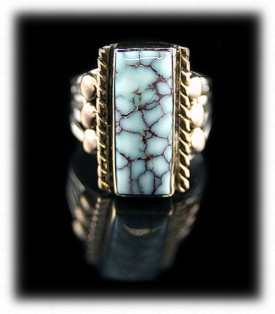 The pale blue Dry Creek Turquoise was first re-discovered (with interest) in the Dry Creek Turquoise Mine mine near Austin, Nevada in 1993. When the material was first found there was a white material and a pale blue material, they weren't actually sure what it was. It was further explored in 1999 by the current owners. They had both materials lab tested and after they were assayed and their suspicions were confirmed: the pale blue material was, in fact, Turquoise and this Dry Creek Turquoise was harder than they expected.. This is not to be confused with the White material they found that turned out to be Aluminite. It took a while to get the now famous Dry Creek Turquoisemade into jewelry as the traditional jewelers did not favor its pale color, however once it took off it became popular fast.
Dry Creek Turquoise is not treated or color enhanced and is revered for its light whitish - blue Turquoise color. Most Turquoise this light of a blue is chaulk and is too soft to cut. That is one of the main reasons that Dry Creek Turquoise is soo valuable. It seems these days that wilder the color of Turquoise the more popular it is. Most high grade Dry Creek Turquoise is a 6-7 on the hardness scale... average Turquoise is a 4-5 on the mohs scale.
Turquoise gets its color from the heavy metals in the ground where it forms. The Blue Turquoise forms when there is a higher concentration of copper than Aluminum present, which is the case with most Arizona turquoises. Green turquoise forms where there is a higher concentration of Aluminum and in some cases Iron present, this is the case with most Nevada Turquoise. Dry Creek Turquoise forms where there are few heavy metals present, which is a rare occurance and the reason for the light whitish blue color. To date, no other vein of this turquoise has been discovered anywhere else and when this current vein runs out, that will be the last of it. Because this Dry Creek Tuquoise is as rare as the sacred buffalo, and has been commonly confused with the Turquoise from theSacred Buffalo Turquoise Deposit and therefor the Indians, jewelers and gallery owners often call it "Sacred Buffalo" Turquoise. Dry Creek Turquoise is not Sacred Buffalo Turquoise and has not ever been marketed by the mine owners as Sacred Buffalo Turquoise.
Turquoise is the rare and improbable product of an incalculable number of chemical and physical processes that must take place in the right combination and proper environment over a time span of hundreds of thousands if not millions of years. The extreme rareity of Turquoise makes rare colors such as Dry Creek Turquoise that much more rare.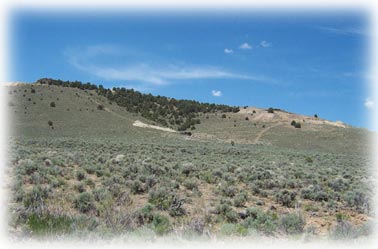 Examples of Dry Creek Turquoise not Sacred Buffalo Turquoise
More Dry Creek Turquoise or Sacred Buffalo Turquoise Info
More History available at the official website of the mine.
Sacred Buffalo Turquoise and White Buffalo
Dry Creek Turquoise and Sacred Buffalo Turquoise is often misrepresented by retailers and jewelers. It is common for people that do not know much about Turquoise to call Dry Creek Turquoise by the nick name of "Sacred Buffalo" or "White Buffalo". Dry Creek is the name of the deposit that produces this pale blue to white look of Turquoise in the Godber or Burnham mine. White Buffalo and Dry Creek are seperate mines in different parts of Nevada. Sacred Buffalo is the nick name for the pale blue material from the Mastrada Turquoise mine. Remember, someone may have bought some Sacred Buffalo Turquoise years ago and then call it Dry Creek Turquoise, White Turquoise, or White Buffalo when re-selling it. As far as the Dry Creek Turquoise mine owners know, the Sacred Buffalo Turquoise came from the Valley Blue Turquoise Mine and from the Mastrada mine owned by Stan Maestretti. The Sacred Buffalo Turquoise was tested and proven to be actual Turquoise. The Dry Creek Turquoise was also tested to be actual Turquoise. The Burnham Turquoise or Godber Turquoise mine is on the opposite side of the mountain from the Dry Creek Turquoise mine. The Godber or Burnham Turquoise Mine is towards Eureka and the Sacred Buffalo or Mastrada Mine is towards Battle Mountain, Nevada. There has been some very light Turquoise found, but it has a tint of blue or aqua blue color to it. The White Buffalo mine is located in Tonopah Nevada. Hopefully this clears up some of the missunderstandingss about Sacred Buffalo Turquoise.
---
Thank you for reading about Dry Creek Turquoise and Sacred Buffalo Turquoise and we hope that you have learned something about Dry Creek Turquoise.