925 Silver Jewelry
Our business has been producing 925 Silver Jewelry for nearly forty years now at Durango Silver Co, all of our hand crafted Silver Jewelry is made in the USA. We produce quality 925 Silver Jewelry here in Durango, Co USA and we handle Native American Silver Jewelry which is made in the immediate area. We have collected and mined the highest quality American Turquoise for over forty years and we have some of the finest quality Turquoise 925 Silver Jewelry coming out of the Southwest regions of the United States today!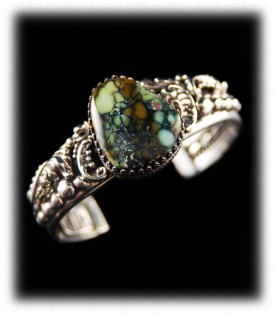 This is a beautiful piece of 925 Silver Jewelry, a Victorian style of Silver work hand crafted by John Hartman of Durango Silver Co. This Tortoise Turquoise Bracelet features a spectacular gemstone and exquisite Silver work in an all American design by John. Dillon Hartman mined this beautiful Tortoise Turquoise from his mine just out of Mina, Nevada. This Tortoise Turquoise stone is outstanding with shades of mint green to deep green with caramel brown running through the center of the stone. Durango Silver Co handles many different designs of 925 Silver Jewelry with Tortoise Turquoise. You can see some different pieces of Tortoise Turquoise Jewelry by following this link and you can read more by viewing the Tortoise Turquoise Website.
925 Silver Jewelry from Durango Silver Co
We invite you to check out the 925 Silver Jewelry we have available by following the links to the left side of this page.
Above and to the left is a Sugilite Ring in 925 Silver by John Hartman. This Sugilite Ring has a filigree and raindrop design surrounding an oval Sugilite cabochon to make a beautiful sun design. This women's 925 Silver Ring is one of many great pieces of Sugilite 925 Silver Jewelry we have available, you can see more by typing in Sugilite Jewelry in the search box to the upper left hand side of this page.
To the right Victorian filigree style Blue Topaz Pin, designed by John Hartman of Durango, Colorado USA. . This pin/pendant focuses on beautiful 925 Silver filigree designs that are whimsical. These fancy filigree designs wrap around a natural London Blue Topaz. Durango Silver Co tries to always have unusual pieces of 925 Silver Jewelry such as all of these pieces on this page available. Our Silver Jewelry is non-typical as we are Jewelers and stone cutters, we produce fabulous Silver Jewelry in house and we are very seasoned in picking exceptional Native American Jewelry for our customers.
| | |
| --- | --- |
| | |
Above and to the left is a bright blue women's Morenci Turquoise Ring hand crafted in 925 Silver by John Hartman. This fabulous fascinating Turquoise Ring features a freeform, natural Morenci Turquoise cabochon. The cabochon is simply bezel set and sits on a beautiful hand stamped 925 Silver Ring Shank. Our Rings are very comfortable with no sharp edges and plenty of Silver - we make and handle high quality 925 Silver Jewelry.
To the right is a Sterling Silver men's Zuni Inlay Ring. This quality Silver Ring features Colorado Picture Jasper, Tiger's Eye, Black Onyx and "Ox Blood" Red Italian Coral - all of the gemstones are 100% natural. This Sterling Silver Zuni Inlay Ring is heavy weight and solid - built to last. The color scheme of this Inlaid Ring makes it a great ring for a man and makes it easy to wear with almost anything. Durango Silver Co tries to always have a good selection of Zuni 925 Silver Jewelry on hand - check it out!
Quality 925 Silver Jewelry
Above and to the left is a wonderful piece of quality 925 Silver Jewelry. This outstanding Blue Gem Turquoise Bracelet was hand crafted in Sterling Silver with a lime green Blue Gem Turquoise gemstone for a lucky Durango Silver Company customer. This 925 Silver Cuff Bracelet focuses on a top gem grade, lime green Blue Gem Turquoise cabochon, bezel set and accented on each side by fancy 925 Silver Victorian filigree designs. Durango Silver Co is one of very few Turquoise Jewelry producers that has natural high grade American Turquoise in their 925 Silver Jewelry.
To the right is a cable design 925 Silver Bracelet artisan handmade in Chiang Mai, Thailand. This mens Silver Cuff Bracelet is very handsome and masculine, the design of the bracelet mimics a steal cable braid. This Thai Silver Bracelet is a good example of Thai Silver Jewelry. Thailand has been known for centuries as a hub of 925 Silver Jewelry and exceptional Gemstones. Durango Silver Company often gets unique pieces of Silver Jewelry that is hand crafted by Native Peoples from other areas of the world as we often travel abroad.
We invite you to take a look at a few of our other presentations - Hand Crafted Silver Jewelry, 925 Silver Jewelry Learning Center and our Silver Gallery page.
---
We invite you to learn more about 925 Silver Jewelry and American Silver Jewelry by following the links in our Learning Center to other informational pages we have written on different topics directly related to 925 Silver Jewelry. In addition, we would like to invite you to join our E-Mail Newsletter - about once every other month we send out a Newsletter to inform our members of what's happening with Durango Silver Company, new products, specials for our members and more. We also have a monthly drawing from our member base to give away free Turquoise Jewelry from our company. Please take a moment to become one of our friends by signing in below. We hope you have enjoyed our presentation on 925 Silver Jewelry and have gained some useful knowledge from it.
Thank You! for your time and we hope you will remember Durango Silver Co the next time you are thinking of 925 Silver Jewelry.
- See more at: http://www.durangosilver.com/925-silver-jewelry.html#sthash.XB2eKUDR.dpuf