Wedding Ring Silver Bands
Durango Silver Company has been producing custom Wedding Ring Silver Bands for decades and is now creating a great new line of Silver Bands as well as Wedding Ring Silver Bands that we will stock so we can have them available, in many sizes, for our online customers to purchase immediately. Our research shows that there is a big trend that has already begun, people in many regions of the world are buying Silver Jewelry instead of Gold Jewelry and they are buying Wedding Ring Silver Bands too. We are working as fast as we can to produce a high quality line of unique Wedding Ring Silver Bands that will set Durango Silver Company Silver Bands apart from all others.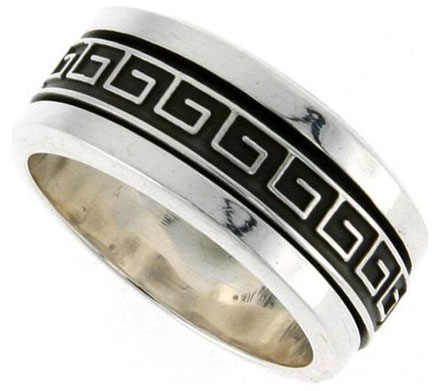 ---
Above is a Wedding Ring Silver Band with a Greek Key design, we have been making this style by special order for years. We will soon be stocking
all sizes of this Silver Band so our customers can order and receive them immediately.
Wedding Ring Silver Bands from Durango Silver Co
We invite you to view our Online Gallery to see the Silver Bands we have available presently.
Above are two Silver Bands that can be used as every day Silver Ring Bands or they would also make great Wedding Ring Silver Bands or Promise Rings. The Silver Ring Band on the left is a very nice classic design from Durango Silver Company that is attractive and built to last. This Silver Band is about 10mm wide and is made of heavy weight Silver. The Silver Ring to the right is beautiful in this picture and even more attractive in person, this is another Greek Key design that we have been making for years. This Silver Ring Band is about 8mm wide and is also a substantially heavy Ring that you would appreciate.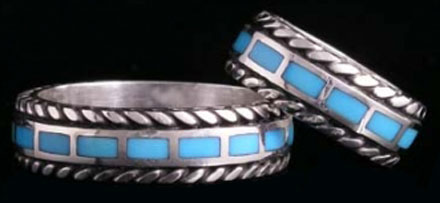 The Zuni Indian style inlaid Turquoise Ring Bands above have been made by our company of over 30 years and they are as popular as they had ever been - they are timeless. John Hartman designed this Silver Band Ring for the Fred Harvey Company of the Grand Canyon in the mid 1970's and they have been a hit since. We will re-introduce this inlaid Turquoise Ring Band in our line shortly.
We will also be creating as well as handling many other types of inlaid gemstone Wedding Ring Silver Bands in our online Silver Gallery. We have handled Native American Wedding Ring Silver Bands since we began in the Silver Jewelry business and you can count on us having a great collection of them in the future. Native American Wedding Ring Silver Bands are beautiful and many individuals love them as their Wedding Rings.
Quality Wedding Ring Silver Bands
There is a big difference between Wedding Ring Silver Bands from Durango Silver Company and those you will find on the open market. There are hundreds of companies that produce cheap Silver Ring Bands for the costume Jewelry market and they are made as cheaply as possible to be competitive. Do yourself a big favour and do not consider one of these for your Wedding Ring Bands as they will not last very long. Durango Silver Company produces high quality Wedding Ring Silver Bands that you will really appreciate - check out what we currently have in stock and do not hesitate to see if we can make a set for you.
| | |
| --- | --- |
| | |
Above are two Sterling Silver Ring Bands which could easily be used as Wedding Ring Silver Bands. The Silver Ring on the left has a beaded design outlined with bands of plain Silver. The Silver Ring on the right has a braided rope design that is outlined by two Silver bands. Both of these Silver Rings are unique to Durango Silver Company and are not easily found elsewhere. Durango Silver Company produces unique Silver Jewelry with a Southwestern accent, this Southwestern accent is what makes our Silver Jewelry so different from most other Silver Jewelry manufacturers. We invite you to check out all of our Southwestern Silver Jewelry and we hope you will come back often to see our new Wedding Ring Silver Bands as they become available.
We invite you to take a look at a few of our other presentations - Wedding Ring Silver, Wedding Ring Bands, Silver Bands and our Silver Gallery page.
We invite you to learn more about Wedding Ring Silver Bands and American Silver Jewelry by following the links in our Learning Center to other informational pages we have written on different topics directly related to Wedding Ring Silver Bands. In addition, we would like to invite you to join our E-Mail Newsletter - about once every other month we send out a Newsletter to inform our members of what's happening with Durango Silver Company, new products, specials for our members and more. We also have a monthly drawing from our member base to give away free Silver Jewelry from our company. Please take a moment to become one of our friends by signing in below. We hope you have enjoyed our presentation on Wedding Ring Silver Bands and have gained some useful knowledge from it.