Native Bands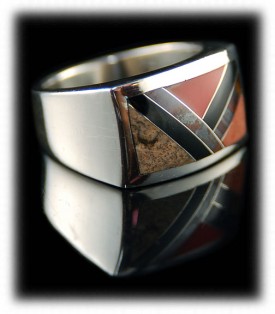 Durango Silver Company has been producing and handling Native Bands for decades, our precious metal of choice is Sterling Silver, however, we do produce Native Bands in Gold as well. Our company is located in the heart of the Southwest and our designs reflect the spirit and flavour of this region of the USA. We specialize in Silver Jewelry and try to always have a good selection of Native Bands on hand.
| | |
| --- | --- |
| | |
To the left is a Native American Indian Handmade Band that has been inlaid with beautiful Tibetan Turquoise. This is a classic Native Band style that has been made here in the Southwest for many years, it is a popular today as it was ten years ago. You can see additional photos and information on this Native Band on its presentation page. To the right is another Native Band in Silver that was inlaid with Green Turquoise and Opal, we often have Native American Inlaid Silver Bands in many different types of gemstones. You can see additional photos and information on this Inlaid Band Ring on its presentation page.
Native Bands of the Southwest
Native Bands have been admired and worn by many in the Southwestern USA since a Blacksmith named Atsidi Sani learned how to work Silver from the Spaniards in 1865. Atsidi Sani learned how to design and create Silver Jewelry by the spaniards in 1865, so his roots in making Silver Jewelry actually derived from the Spanish. Many Native American designs, as well as our own resemble historic Jewelry designs from the Spaniards.
| | |
| --- | --- |
| | |
To the right is a tapestry or mosaic design with a pattern from hundreds of years ago. The design you see to the bottom and top is called a Greek Key pattern and in the center is a zigzag outline design, the black zigzags are outlined with white, then black and so on. This historic piece was made in the 1600's, an impact has been made on native peoples worldwide and has also had an impact on Southwest Artisans as well. Indian Traders brought this design to the Navajo's in approximately 1850, you will see versions of this design in early Navajo weaving's. Navajo Silversmiths have also made Silver Jewelry with elements of this design. To the left you see a Native Band with the Greek Key pattern incorporated into its design. These are just a few of our famous Native Bands.
Native Bands with Gemstones
Above are two Silver Bands with Gemstones. The Mens Band Ring on the left was handmade by John Hartman of Durango Silver Company. John calls this his Saddle Ring style as it was made like a Saddle. He hand stamped heavy sheet Silver with a sunburst design and formed it into a round ring, he soldered the band together. Next John contoured and mounted the bezel along with side ornaments on top of the band. Saddle Bands are very comfortable to wear and men love this type of Ring.
To the right is a Navajo Native Band - this Ring was handmade by stamping sheet Silver with steel stamping tools, then forming it round and mounting the stone on top. This Mens Band was made much like our Mens Saddle Band Rings!
Native Bands from Durango Silver Company
Here are two Native Bands from the American Southwest produced by Durango Silver Company. Silver Jewelry as well as Native Bands from the American Southwest are different from other Jewelry made most areas the world. There are elements of our designs that have been handed down from earlier craftsmen for hundreds of years, we are Artisans of Southwestern United States and Jewelry made by our company is unique and proudly made in the USA!
The Mens Silver Band to the left was made with round Sterling Silver wire that was twisted and then hammering flat, it is overlaid onto the inner Silver band. Next we took round wire and flattened it on two sides then applied it next to the flattened twisted wire. Next we cut strips of sheet silver, stamped lines in them and applied them next to the round wire. We then soldered the piece together, filed, sanded and finished it into an unusually handsome Mens Band.
To the right is an Artisan created Mens Band by Durango Silver that was hand fabricated by cutting sheet Silver then stamping ribs equally spaced, filed and fitted over an inner Silver Ring Band - next to the ribbed band are two solid Rings of Silver. This is a classics Mens Band Ring that is easy to wear for most men and it is very good looking on a gentleman's finger.
Durango Silver Company has a great selection of information pages on Silver Jewelry, Turquoise Jewelry and Turquoise from the American Southwest.
We invite you to check out our Learning Center and then follow the links to our ever growing collection of educational pages. We also have some pages on other URL's such as SilverRingBands.com and Wedding-Ring-Bands.com - check them out!
---
We hope you have found this to be good information and we hope you will think of Durango Silver Company the next time you are considering Native Bands as well.