Handcrafted Silver Information
Handcrafted Silver is our specialty at Durango Silver Company, we have been producers of quality Handcrafted Silver Jewelry for nearly 40 years here in Durango Colorado USA. We produce quality Silver Jewelry on-site and we handle Native American Handcrafted Silver produce in our region of Southwestern United States. Durango Silver Co is known and trusted worldwide for Handcrafted Silver Rings, Handcrafted Silver Bracelets and silver cuff bracelets, Hand Crafted Silver Necklaces, Handcrafted Silver Earrings and many other types of Silver Jewelry and findings.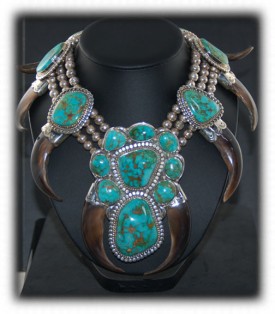 This mens Handcrafted Silver Necklace is a one-of-a-kind work of Southwestern art, created by John Hartman, this piece has been 100% handcrafted in Silver. This necklace has high quality Stormy Mountain Turquoise gemstones with a combined weight of over 400 carats. It has eight Kodiak Bear Claws that are natural, and extremely large. The handcrafted silver in this necklace is extensive and complex. The gemstones in this Silver Necklace were hand cut from a Turquoise Nugget that was mined from the Stormy Mountain Mine near Battle Mountain, Nevada. John and Estell Hartman mined this Turquoise with Cutler Edgar in 1969. The Hartman's cut the nugget in 1970, it has been in their private collection since. This is one of the largest, bear claw necklaces you will ever see and it is a fantastic example of Handcrafted Silver.
American Handcrafted Silver
We invite you to check out the Handcrafted Silver we have available today.
Above and to the left is a Handcrafted Silver Pendant with Gaspeite and Sugilite Gemstones that was made by John Hartman of Durango Silver Company in his unique Victorian Handcrafted Silver Style. It features a fabulous Gaspeite stone and an equally fantastic Sugilite stone, both of gem quality. The stones are set in a fancy filigree bezel and then surrounded with a Victorian Silver motif that is unique to Handcrafted Silver made only by John.
To the right Victorian style Women's Bisbee Turquoise Ring by John Hartman. This Turquoise ring features a small oval of deep blue Bisbee Turquoise Gemstone set in an elaborate Sterling Silver setting. This natural American Turquoise cabochon is surrounded by Victorian filigree designs. Durango Silver Company produces unusual pieces of Handcrafted Silver with exceptional Gemstones as well as outstanding Silverwork.
| | |
| --- | --- |
| | |
Above and to the left is a fantastic pictorial inlaid Native American Handcrafted Silver Pendant by Edison Yazzie, Navajo Artisan. This is a wonderfully executed and artistically designed piece of Handcrafted Silver that is superbly inlaid with colorful gemstones by an accomplished Navajo Artisan. The design is of a Native woman at Navajo Mountain and by the water. This marvelous Native American Silver Pendant is inlaid with Turquoise, Sugilite, Jasper, Black Jade, Spiny Oyster Shell and Malachite. Edison's Handcrafted Silver Jewelry exquisitely inlaid with gemstones is fantastic, we highly recommend it and we try to have as much as possible on hand at all times.
To the right is a free form, Victorian Turquoise Mountain Pendant by Dillon Hartman. This Sterling Silver Pendant is unique and focuses on an beautiful Turquoise Mountain cabochon that has electric golden matrix. The stone is surrounded by filigree and repose designs that tastefully combine Southwestern and Victorian handcrafted Silver styles in new age Silver Jewelry.
American Indian Handcrafted Silver
Above and to the left is a Sugilite and Damale Turquoise Ring handcrafted by Nattarika Hartman. This is a very special handcrafted Silver Ring that features two gorgeous gemstones, a Sugilite cabochon and a Damale Turquoise Cabochon. It was created by hand in wax and then the lost wax method was used make the Ring Silver. Each piece of Nattarika Hartman's sculpted Jewelry is Handcrafted Silver.
To the right is an American Indian Handcrafted Silver Ring with a beautiful purple Sugilite gemstone. This Ring has beautiful stampwork with Silver drops and twisted wire design. This Sugilite Ring was handcrafted featuring a gorgeous African Sugilite gemstone, Sugilite is a healing gemstone that is collected by holistic healers around the globe. We have a great selection of Sugilite Jewelry available at all times.
We invite you to take a look at a couple of our other presentations on Handcrafted Silver Jewelry, Handmade Jewelry and Handcrafted Turquoise Jewelry,
Checkout our other informational pages about Handcrafted Silver Jewelry:
Handcrafted Silver Bracelets | Handcrafted Silver Rings | Handcrafted Turquoise Jewelry
---
We hope you have enjoyed our presentation on Handcrafted Silver and have gained some useful knowledge from it. We invite you to learn more about Handcrafted Silver and American Silver Jewelry by following the links in our Learning Center to other informational pages that we have written on different topics related to Silver Jewelry. In addition, we would like to invite you to join our E-Mail Newsletter - about once every other month we send out a Newsletter to inform our members of what's happening with Durango Silver Company, new products, specials for our members and more. We also have a monthly drawing from our member base to give away Free Silver Jewelry from our company. Please take a moment to become one of our friends by signing in below.
We thank you for your time and hope you will think of Durango Silver Company the next time you are considering Handcrafted Silver.