Featured in Cowboys and Indians Magazine
Durango Silver Company has been endorsed and featured in many popular magazines. We have had our American handmade silver jewelry used in non-paid photo shoots with models for Vogue, Glamour, and InStyle magazines. We have had our Turquoise Jewelry featured in Arizona Highways, The Wall Street Journal, Lapidary Journal, Featured Cowboys & Indians Magazine and many more.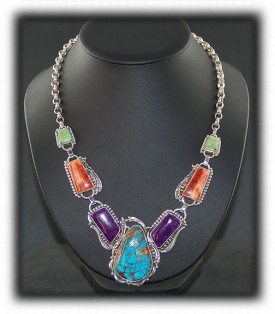 Click the text link to see more silver necklaces like this.
The Sterling Silver necklace above and the items below are some of the jewelry featured in Cowboys and Indians Magazine. Many of the items that have been featured in our magazine adds as well as American Jewelry that we have loaned to photographers to use in fashion magazines has been one-of-a-kind silver jewelry and gold jewelry. A lot of the jewelry featured in Cowboys and Indians Magazine and other fashion magazines in the past has already sold, so we could not photo it for this page.
The Hartman family has had a long history in the Silver Jewelry business and is known for their unique designs. We have traveled to many countries in the world and have been influenced by many different styles of handmade jewelry, from Mexican Turquoise jewelry to Thai Silver jewelry. The Hartman's have been collecting vintage silver jewelry and gold jewelry for generations and have also been heavily influenced by Vintage Turquoise Jewelry and Victorian style jewelry.
The Hartman family is well known for their unique "lost wax" style jewelry that mimics nature. This style of jewelry is very unique and very organic feeling. The way that the Hartman's make this jewelry it mimics vines, roots and branches in nature. Most of our silver jewelry and Turquoise jewelry designs are unique to us, however we are also known for our classic Southwest Jewelry designs.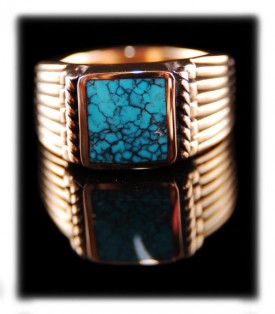 Click here to see other similar rings.
Once you take a look at our handmade American Jewelry collection you will know why we have loaned our jewelry to many of the top fashion magazines for free to use in their magazine features and photo shoots.
---
We invite you to learn more about 925 Silver Jewelry and American Silver Jewelry by following the links in our Learning Center to other informational pages we have written on different topics directly related to Turquoise and Sterling Silver Jewelry. In addition, we would like to invite you to join our E-Mail Newsletter - about once every other month we send out a Newsletter to inform our members of what's happening with Durango Silver Company, new products, specials for our members and more. We also have a monthly drawing from our member base to give away free Turquoise Jewelry from our company. Please take a moment to become one of our friends by signing in below. We hope you have enjoyed our presentation on our Jewelry featured in Cowboys and Indians Magazine and have gained some useful knowledge from it.
Thank You! for your time and we hope you will remember Durango Silver Co the next time you are thinking of 925 Silver Jewelry. Look for our jewelry featured in Cowboys and Indians Magazine and other top shelf Magazines.