Bead Necklace Turquoise by Durango Silver Company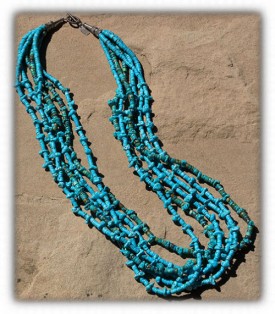 Bead Necklace Turquoise is how Turquoise Bead Necklace is pronounced by many Native American Indians. Durango Silver Company promotes Bead Necklaces of Turquoise made by Nattarika Hartman. Nattarika is Dillon Hartman's wife and is from Chiang Mai, Thailand, she is a great artist with a college degree in art. Since Nattarika joined our family, she feel in love with Turquoise and has learned many things about our business including making beautiful Turquoise Bead Necklaces.
Necklace Beads
Necklace Beads by Nattarika are made from the highest quality gemstone beads available. Our suppliers of Turquoise Necklace Beads as well as all of the other Gemstone Necklace Beads deal in first quality handcrafted gemstone beads made from authentic gem grade materials. Our Turquoise Necklace Beads are hand selected from the best of the bead suppliers in the Southwest. We also mine Turquoise in Nevada and have part of the material we take from the Turquoise Mines made into Turquoise Necklace Beads for our own Bead Necklace Turquoise Jewelry.
| | |
| --- | --- |
| | |
Turquoise Beaded Necklaces like the two above are made from authentic Blue Turquoise Beads, Green Turquoise Beads and other Gemstone Necklace Beads that we have hand selected. Nattarika matches and carefully assembles each Bead Necklace for a specific Fashion Turquoise Style she is trying to achieve. Fashion Turquoise Beaded Necklaces is one of our specialties from Durango Silver Company that we are proud of and pay a lot of attention to. The Fashion Turquoise Bead market is strong for us as we have Turquoise Necklace Beads that cannot be found on other websites. We make "One of a Kind" bead necklace Turquoise Jewelry at Durango Silver Company.
| | |
| --- | --- |
| | |
Fashion Sterling Silver paired with Necklace Beads, Blue Turquoise Beads, Green Turquoise Beads and multiple colored Gemstone Beads makes exquisite Fashion Turquoise Jewelry. John and Nattarika Hartman of Durango Silver Company work together to produce some of the most unique Fashion Sterling Silver Necklace Bead ensembles coming out of the Southwest today. John will make the Sterling Silver Necklace, Custom Clasps and findings, then, Nattarika will hand select specific Gemstone Beads to make the perfect ensemble to match the Fashion Sterling Silver work John had created. These Fashion Turquoise Necklaces can only be purchased from Durango Silver Company as we do not wholesale our Fashion Sterling Silver Necklace Beads to any other companies.
| | |
| --- | --- |
| | |
Blue Turquoise Beads - Fashion Turquoise Necklace Beads are very much in vogue, they are worn by celebrities as well as people in all walks of life in their daily attire. Blue Turquoise Beads are popular worldwide and come in various sizes, shapes and color ranges of blue. We hand select authentic Turquoise Beads to make the Fashion Turquoise Necklaces we produce here at Durango Silver Company. We also mix Blue Turquoise Beads with Green Turquoise Beads and other colored Gemstones to make what we call Turquoise Beaded Treasure Necklaces like the two shown above. Nattarika can make Blue Turquoise Beaded Necklaces by special order to fit most any type of Fashion Style you desire, we invite you to look at our Turquoise Bead selection on this site for more ideas and pricing.
| | |
| --- | --- |
| | |
Green Turquoise Beads - Green Bead Necklace Turquoise Jewelry is warm and in fashion. Our Green Turquoise Beads are hand selected for the color range and quality our customer request. We specialize in Green Turquoise Beads as we mine Turquoise in Nevada and most of the Turquoise we get from our Nevada Turquoise Mines is green. Turquoise Beaded Necklaces with Green Turquoise Beads mixed with multiple colored Gemstone Beads are beautiful and considered high fashion Turquoise Jewelry today. We make many styles of Necklace Bead ensembles with Green Turquoise Beads and invite you to look at what we have to offer.
| | |
| --- | --- |
| | |
Bead Necklace Turquoise Jewelry - is in fashion and has stood the test of time. Native peoples have been making Turquoise Beads for thousands of years and they have been prized and worn for both self adornment as well as for spiritual and metaphysical purposes by all types of people, worldwide since the beginning of modern man. In fact, historic records have examples of Turquoise Jewelry dating prior to 5,500 BC (Cairo Egypt Museum).
We have accumulated much information on Turquoise and Turquoise Jewelry and we have created a Learning Center dedicated to this subject on the Durango Silver Company Website. If you are interested in learning more about Turquoise and Turquoise Jewelry, we invite you to visit our Learning Center.
We also put out an occasional Newsletter on Turquoise, Turquoise Jewelry and what's going on at Durango Silver Company and around the Southwest. We invite you to join our other friends and members in receiving our publication. We also have a monthly drawing from our members to give away Free Turquoise Jewelry from our company. You can join our Newsletter and become our friend below, sigh up now!