Silver Jewelry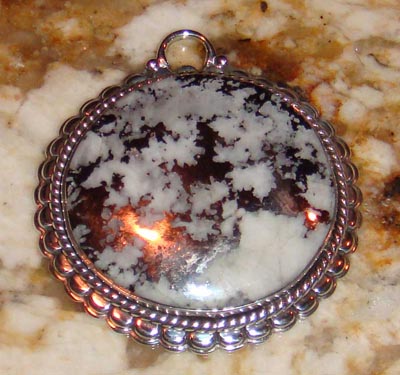 Above is a piece of natural Silver in Quartz made into a piece of Silver Jewelry.
---
Sterling Silver Jewelry | American Jewelry | Indian Silver Jewelry | Silver Jewelry Video Directory | Silver Jewelry Directory
---
Durango Silver Company has been producing Silver Jewelry for Nearly forty years now. We are located in Durango, Colorado USA and are a family owned and run business that specialize in many types of Silver Jewelry. We take great pride in our business as will as the Silver Jewelry that we produce and handle, quality Silver Jewelry is our priority and what we sell.
The following is an educational presentation on Silver Jewelry for your information and education. We believe it is important for people interested in Silver Jewelry to be knowledgeable prior to investing in Sterling Silver Jewelry. We are certain Silver Jewelry is a wonderful investment for your future as well as being a beautiful form of Jewelry made in a precious metal, Sterling Silver.
Did you know that Silver is one of the best investments on earth? In 1477, the global value of Silver was $806.00 per ounce, In 2003, Silver sold for $4.07 per
ounce and on 1-14-2011 Silver is $28.52 per ounce which has more then doubled in the past year! Indications are the the value of Silver will increase dramatically in the next couple of years and the U.S. Government predictions are to around $135.00 per ounce by 2015.
Jewelry has been the standard method of investment in precious metals by the general public for thousands of years worldwide and there has probably never been as good of time to invest in Silver Jewelry then today. There are many types of Silver Jewelry to invest in and Southwestern handcrafted Silver Jewelry is definitely one that is unique as well as highly collectible today and into to future.
Silver Jewelry is a fun and exciting to collect as it is a wearable art form that is timeless, as it ages it becomes more and more collectible to the point when it becomes antique Silver Jewelry. So, you purchase your Silver Jewelry, get to enjoy it by wearing it and it appreciates in value as time passes. It is reasonable to believe that Silver Jewellery is one of the top items to collect on earth today as governments worldwide are professing that Silver is well under valued and worldwide industry is currently using over 15% more Silver then is coming out of the ground. The cost of mining Silver has also increased dramatically and mining restrictions in many parts of the world have also put a damper on future production of Silver.
The following presentation on Silver Jewelry is from our company standpoint, what we have to offer and information to educate yourself if interested in doing business with our company. We have been in the Sterling Silver Jewelry business for over forty years, we are authorities on Silver Jewelry and we are a very refutable company that specializes in authentic Sterling Silver Jewelry.
Silver and Gold Jewelry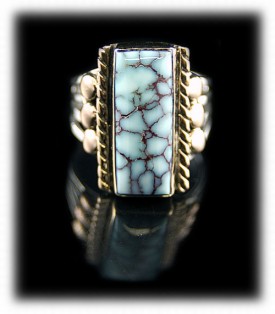 Silver and Gold Jewelry in Southwestern designs is unique to this world. The combination of Silver, Gold and Turquoise is colorful and when you ad the Southwest design dimension it is outstandingly different. Silver and Gold Jewelry is also new age as many say that Silver is the new Gold in the Jewelry industry. The contrast of Silver and Gold Jewelry is fantastic and considerably less expensive than solid gold Jewelry. The above ring was made with Silver and Gold with a Spiderweb Turquoise Stone from the Dry Creek Turquoise Mine in Nevada. Visit our Silver and Gold Jewelry educational presentation.
Southwestern Silver and Gold Jewelry is awesome!
Antique Silver Jewelry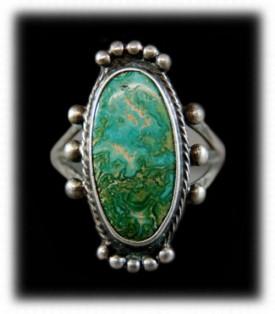 Antique Silver Jewelry from the American Southwest is one of the greatest antiquities from our American heritage. Southwestern Antique Silver Jewelry has a vintage look and feel of the Western American Frontier and when you hold a piece of Native American Indian Antique Silver Jewelry there is also a spiritual feeling one often gets. Antique Silver Jewelry from the American Southwest is highly collected and there is a good reason for that, its beauty runs deep!
One of the most highly collected forms of Antique Jewelry is Antique Indian Silver Jewelry. Many people collect this gorgeous form of art. Different people collect vintage Native American silver jewelry for different reasons. Many people collect this silver jewelry for its historic value, while others collect it for it's rare American Turquoise.
Read more about this Antique Silver Ring and also visit our Antique Turquoise Jewelry educational page.
Vintage Silver Jewelry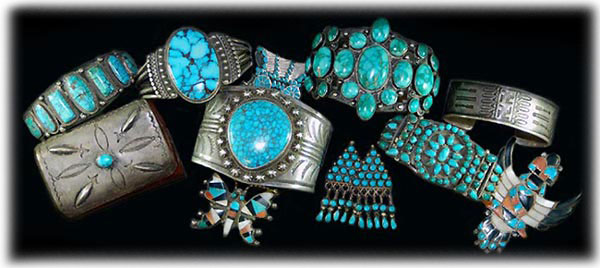 Vintage Silver Jewelry from the Zuni and Navajo Indians of the American Southwest has a look and feel of quality Antique Jewelry. This Zuni Petit Point Bracelet is a great example of Vintage Silver Jewelry from the 1930's made by the Zuni Indians. The Antique Ring in the Antique Silver Jewelry photo is a Navajo Silver and Turquoise Ring from the 1930's as well. You can see that the Zuni Indians had refined their work to a higher degree by that time, much of their work today is magnificent and will be treasured for ever. Vintage Silver Jewelry from the American Southwest is historic memorabilia from the famed American West Frontier. There are many types of Antique Western Silver.
Visit our Vintage Silver Jewelry Page and our Vintage Turquoise Jewelry presentation.
Silver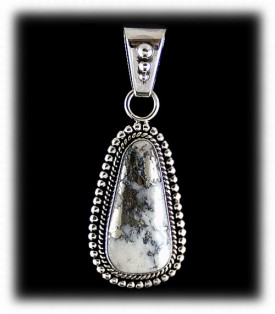 Silver is a beautiful precious metal that was discovered over six thousand years ago. By the year 1477, Silver hit its all time high of $807.00 per troy ounce. Silver has played an important part of the history of the world for the last several thousand years and it has been responsible for the stability global trade throughout the developing years of world trade. We have created an interesting presentation page on Silver, check it out!
The Silver Ring above has a natural Silver in Quartz stone which shows you what silver looks like in it natural state. This is a good example of the diversity a sterling silver ring can have. Durango Silver Company makes Silver Jewelry with natural high grade Silver Ore from Colorado as well as many other areas in North America. Check out our website to see more silver rings.
Silver Ore Jewelry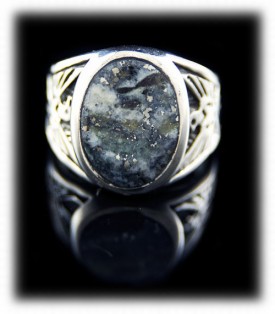 Silver Ore Jewelry is quite unique and actually historic and maybe even spiritual, at any rate it is truly mystic and enchanting. Many of our Silver Ore Jewelry items have beautiful pictures in the stones created by the Silver and Iron matrix. Owning a piece of Silver Ore Jewelry is a novelty in that it has such a history in this world. You can learn more about Silver Ore which will give you a appreciation for this material in Jewelry on our presentation page we made for it.
The Silver Ore Ring above was made with Silver in Quartz from Northern Colorado. High Grade Silver Ore is located in several areas in the United States, Canada, Mexico and many other parts of the world. Durango Silver Company has made Silver Ore Jewelry for nearly forty years and would be happy to create unique pieces upon request.
Silver Jewelry Necklaces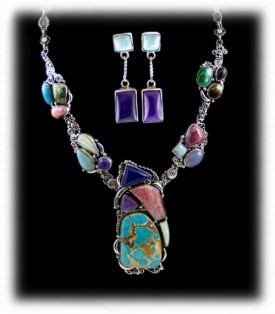 Silver Jewelry Necklaces of many styles are made by many Artisans throughout the American Southwest. This particular Silver Jewelry Necklace was made with many different gemstones including Turquoise, Lapis, Rhodocrocite by John Hartman of Durango Silver Company. John makes many Silver Necklaces on a regular basis. John is also making Silver jewelry and Gold Necklaces upon request in his beautiful Victorian designs.
You can read more on Silver Necklaces Jewelry on our educational presentation page.
Turquoise Inlay Jewelry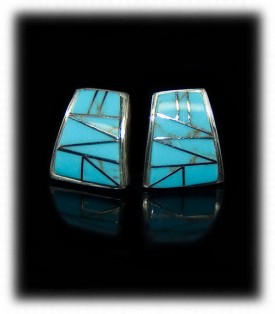 Turquoise Inlay Jewelry - Southwestern Silver Turquoise Inlay Jewelry is created by making a piece of Silver Jewelry with recessed channels in a pattern to begin with. Turquoise is then cut into slabs on a diamond lapidary saw, then cut down further into tiny pieces in the approximate shape of the channels that were created in the Silver Jewelry item. The tiny Turquoise pieces are then put on a dopping stick with sealing wax and sanded to the exact shape so it fits perfectly into the channel.
Multi color Turquoise Inlay Jewelry is made by slabbing the Turquoise and other colored gemstones and then laminating them together in the color scheme of your choice. The pieces are glued and clamped together to create a multi-stone slab. The slab is now cut with a lapidary saw into pieces and the pieces are sanded and glued into the channels of the jewelry item noted above.
Once the Turquoise has been glued and set into the channels in the Jewelry item the excess stone is ground off, sanded and polished.
Their is a lot to know about Turquoise Inlay Jewelry and we have created a Turquoise Inlay Jewelry educational presentation page for your information. We invite you to visit this page if you are interested in Turquoise Inlay Jewelry.
The above pair of Zuni Turquoise Earrings are a good example of Zuni Turquoise Inlay Jewelry made by the Zuni Indians of Zuni, NM.
---
Sterling Silver Jewelry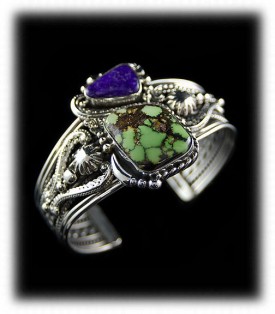 Sterling Silver is 92.5% fine (pure) Silver combined with 7.5% copper. Sterling Silver Jewelry is also considered .925 Sterling Silver Jewelry, .925 Silver Jewelry or Silver Jewelry .925. Tarnish resistant Argentium Sterling Silver is 1.2% germanium, 6.3% copper and 92.5% silver, the 1.2% germanium is the alloy that restricts the copper in the Sterling from Tarnishing. The reason for creating Sterling Silver was to harden fine Silver to enable to be made into Jewelry that would be durable and hard, fine Silver is simply not hard enough to be made into durable Silver Jewelry
Silver Jewelry made throughout the world today is made with Sterling Silver as a rule. American Sterling Silver Jewelry is generally marked "Sterling" and Internationally made Silver Jewelry is generally marked ".925". It is not a law in the United States or any other country to mark Silver Jewelry as being Silver, however, Jewelers and Jewelry manufacturers have unified to mark precious qualities, (Sterling or .925), on their Silver Jewelry to assure their customers the quality of their Jewelry.
Durango Silver Company marks all of the Silver Jewelry that we produce with the Sterling and/or .925. We demand that the Jewelry made by Native Americans or other producers to mark the metal quality on all Silver Jewelry made for our company. Check out our information page about Sterling Silver Jewelry.
Coin Silver Jewelry
Coin Silver is 90% fine Silver and 10% Copper. Coin Silver Jewelry is made in many remote parts of the world where Sterling Silver is not available. Silver Jewelry made with Coin Silver is harder and tarnishes easier due to the amount of Copper alloy in the metal. Western Silver Jewelry made by the Native American Indians of the Southwest was originally made with Coin Silver until Sterling Silver became available around 1900. American Indian Silver Jewelry collectors can date certain Jewelry items by the Silver content of the metal in the Silver Jewelry.
Others consider Coin Silver Jewelry to be Jewelry that is made by using Silver Coins as the focal piece of the particular Jewelry item made. Silver Coin Jewelry is actually the proper pronunciation for Jewelry made with Silver Coins.
Making Silver Jewelry
Silver was first mined in the beginning of 4000 B.C. in Anatolia which is modern Turkey. It is assumed that the art of making Silver Jewelry began
prior to 3000 B.C. and most likely in Anatolia, Asia Minor and the Greek Islands. The history of Silver Jewelry making goes back to ancient times and was also made thousands of years ago worldwide as Silver was known to be precious by civilizations around the world as it was discovered. Silver was found on all continents throughout the world and Artisan Silver Jewelry making ran hand in hand with the discoveries of Silver.
Silver is a reasonably soft and attractive metal which artisans worldwide recognized its Jewelry values. Fine Silver can be worked with a minimal amount of tools and for this reason it was used to make Jewelry. As time pasted copper was added to Silver to make it harder and artisans created tools to work alloyed Silver.
Handcrafted Silver Jewelry making - Handcrafted Silver Jewelry is made by working the metal by hand with hammers, stamping and forming tools. A Silversmith is much like a Blacksmith that can take a piece of Silver, hammer it into sheet and formed wire then sculpts and combined the Silver formations together with Silver solder which is made by combining Silver and Lead together. The Silver Solder melts at a slightly lower temperature enabling the artisan to bond multiple parts and pieces he has constructed together with a torch to create a piece of handmade Silver Jewelry.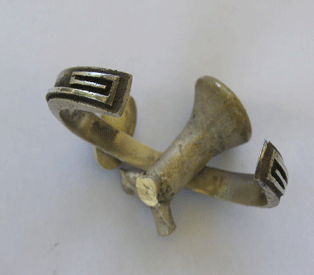 Above is a photo of a Silver Jewelry Bracelet that was clipped from its casted tree.
Casted Silver Jewelry making - As Silver is a fairly soft metal it melts at a low temperature range of about 1700 degrees. The Silver Jewelry Artisans learned early on that Silver would become molten easily and could be casted into voids of clay, sandstone and other materials. Today Silver Jewelry casting has become a standard in Silver Jewelry manufacturing, casted Silver Jewelry making is the method used to mass produce Jewelry. To do this, a master model of a piece of Jewelry such as a ring is created by hand or machine, a mold is taken of the master and then the mold is injected with wax or plastic to create a copy of the original. The Jewelry patterns are then assembled into a tree, Jewelers investment is poured around the tree in a flask and then the wax is melted out. Silver is heated to a molten state and poured into the voids where the wax patterns were and the Jewelers investment is removed from the Silver tree that has been casted - this is called lost wax casting.
Many types of unique Silver Jewelry can be made by hand fabricating the Silver or by casting the Silver into unique Silver Jewelry designs. There are hundreds of unique methods that deferent Silversmiths, Jewelers and Artisans from around the world have developed to make Silver Jewelry designs that are unique and unusual to themselves - this is the art of working with Silver to create unique pieces of art.
We have a unique story on Navajo Silver Jewelry making you may enjoy, we invite you to read our presentation on Navajo Silversmithing. We also have written many other documents related to Silver Jewelry in our Learning Center as well, please enjoy!
---
American Jewelry
American Jewelry making began thousands of years ago by the American Indians who originally lived on this continent. American Silver Jewelry began in
South America when Silver was first discovered there. Native American Silver Jewelry in the Southwestern regions of North America began around 1865 and Plains Indian Tribes made Silver Jewelry prior to 1800 A.D. Check out our American Jewelry and American Silver Jewelry educational page. Native Silver Jewelry is some of the most popular jewelry in fashion today.
| | |
| --- | --- |
| | |
This men's silver ring is a classic example of American Jewelry, the gemstone is natural American Silver Ore from Silverton, Colorado and the Ring was made in Sterling Silver in Durango by John Hartman. The multicolor gemstone necklace on the right was also made by John Hartman from Durango, Colorado. John is a master Gold and Silver designer that has been in the trade for over forty years. This Sterling Silver Necklace features Turquoise, Rhodocrosite, Sugilite, Lapis, Ruby and Ivory. This is handcrafted Silver Jewelry - made in America! Read more about American Jewelry in our American Jewelry information presentation.
American Silver Jewelry
American Silver Jewelry made by our company is considerably different than Silver Jewelry made by other companies, we have been known for producing high quality Silver Jewelry for nearly forty years. We have written a great page that covers American Jewelry, American Silver Jewelry, Southwestern American Jewelry and much more. There is a segment specifically on American Silver Jewelry, we invite you to this presentation page.
| | |
| --- | --- |
| | |
American Silver Jewelry is world class. American Silver Jewelry Artisans are some of the most creative Jewelers in the world and their Silver Jewelry is sought after by individuals worldwide. There are many types of American Jewelry design such as Navajo Indian, Zuni Indian and Hopi Indian from the Southwest as well as Western Silver, Early California Silver and Victorian Silver that is made in other areas of America. There is a lot of American Jewelry and American Silver Jewelry that is uniquely unusual and uncommon that stands out from any other Jewelry made on this earth.
The Silver Ring above was made by Crystal Hartman of Durango, Colorado USA. It was intended as Womens Silver Jewelry and made by layering molten Jewelers wax with a hot wax pen layer by layer to create the Jewelry design. The wax pattern is encapsulated in what is call investment which is like plaster of Paris and then the wax is removed by heat or steam. Molten Silver is then poured back into the cavity to create the Silver Ring. This is called the Lost Wax process that has been done for thousands of years. You can read more about this ring by following the link above.
The Sterling Silver Mans Bracelet is a classic piece of American Silver Jewelry in a Southwestern Jewelry design by John Hartman. This piece of Mens Silver Jewelry was created by putting different shapes of Silver wire together on a back sheet of Silver. They are then Silver soldered together and then sanded and finished. There is a bit more to making this piece than how it sounds but that is the just of it. Handmade Silver Jewelry from the American West by Jewelers like John Hartman is unique, most certainly collectible and a good, solid investment.
American Silversmiths
An American Silver Jewelry maker is an American Silversmith - American silversmithing began shortly after 1492 when the United States began colonizing. Fine examples of early American Silver jewelry work included daily living utensils, furniture hardware and Silver Jewelry adornments for people to wear. Sterling Silver dinnerware was a standard in American living by the more affluent people, from Sterling Silver flatware to serving trays, cups, bowls and even Silver Jewelry items such as napkin rings were made as dinnerware Silver Jewelry for men has always been popular as men have been responsible for harder labor and Silver Jewelry was considered more appropriate for people that worked with their hands.
Silver Jewelry makers, Silversmiths, could be found in most every town or village on the east coast of North America as it became settled. Many Silver Shops would make all types of items from Sterling Silver based upon the demand of the public. As the American society move West Silver craftsmen did as well - some of the largest Silver deposits in the world were discovered in the Western United States which made the making of Silver items including Silver Jewelry very popular in society. Many American jewelers make wonderful Designer Silver Jewelry that sells world wide.
Western society was substantially different than that of the east, it was a whole new lifestyle out West. The Western U.S. was the new frontier and people originally flocked to the West for the great American Gold Rush of 1849. Gold and Silver was discovered in California and Nevada and the race was on to make your fortune in California. Just west of San Francisco in the Sierra Nevada mountains was one of the biggest Silver and Gold stikes the world had ever known, many people became rich overnight and wealth was abundant. Vast amounts of Silver was taken out of the ground and talk of Silver was in the air and standard conversation.
American Silver Makers and Silversmiths sprung up everywhere in the West and there were lots of people that had the cash to buy it. Silversmiths made elaborate Silver and Gold Jewelry by the hords, from Silver and Gold walking sticks inlayed with gold nuggets and gold quartz to fancy regalia for the Horsemen. Silver Spurs, Silver Horse bits, Silver studded chaps, belts and Saddles, Silver and Gold pocket watches with fancy Silver chains and on and on. California was the Silver Jewelry capitol of the world, without a doubt!
As time passed, Silver became even more prevalent and when the Southern California, Los Angeles area began developing in the 1870's, Silver was once again a very popular metal for the wealthy. Spanish and Mexican influence was prevalent in Southern California and those cultures had been using Silver for a long time prior to the boom. It would be typical to see the horse gear embellished with Silver Jewelry such as Silver Conchos, Silver Headstalls and Bits and Saddles decorated with Silver. The California Cowboys loved Silver and wore lots of it, Silver and Gold Jewelry to Silver embellished gun belts and holsters for their fancy Silver gripped Colt pistols were often seen. Parades would be held and the shiny silver adornments were abundant, California's streets were paved in Silver and Gold was one of the famous old tales.
Silver Jewelry and adornments from the Southwestern regions of Arizona and New Mexico Native American Indians fit right in California's life style and Turquoise Jewelry was a hit. Indian Traders would bring Sterling Silver Indian Jewelry west to California and the public went nuts over it. It is a fact, California was greatly responsible, and a major player for bringing the publics attention to Silver and Silver Jewelry.
Today Silver Jewelry is more popular than ever and Silversmithing is common place in America. They say Silver Jewelry is the new Gold Jewelry and the public of America loves the metal. As Gold continues to rise in value, Silver will become the choice of many and it is certain it will become more and more prevalent in the American lifestyle.
Native American Indian Silversmiths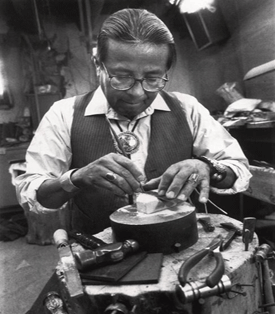 Native American Silversmiths - The Native American Indians of Southwestern North America loved to adorn themselves with Jewelry of many types for thousands of years. Turquoise was the first and most important gemstone to the Natives and they were wearing Turquoise Beads as early as 200 B.C. The Spaniards began coming up from Mexico in search of Gold and Silver and by 1865, taught the Silversmithing trade to an American Indian named Atsidi Sani. Atsidi was overwhelmed with the response of the Navajo people wanting Silver Jewelry so he taught his brother and then other Navajo Indians how to work with Silver to make Silver Jewelry.
Silversmithing spread across the Navajo Reservation like fire and it was not long before the American Indian Trader with his Trading Posts showed up. The Indian Traders took the Silver Jewelry made by the Navajo's to Southern California and it was excepted by the California public immediately. As California had recently gone through the Gold and Silver Rush, they were very accustomed to Silver Jewelry and welcomed American Indian Silver Jewelry into their lifestyle. Silver Jewelry and Silver Turquoise Jewelry has been in style in California since the beginning of the 20th century and is more popular today as it ever was and Indian Silver Jewelry is definitely a major part of the Silver Jewelry phenomenon.
Read more about Native American Silversmiths here.
Mexican Silver Jewelry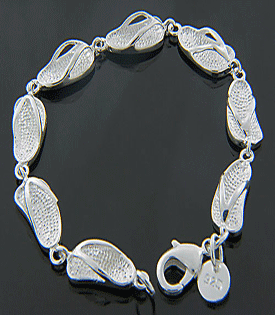 While the craft of making Silver Jewelry is a relatively recent development among Indians of the American Southwest, this is far from the case in Mexico. There, the Spanish taught the Indians to work Silver and make Mexican Silver Jewelry centuries ago. The result over time has been the emergence of a unique Mexican style of silver jewelry combing the Spanish love for bold, dramatic effects with the native talent for colorful, expressive decoration. Silver was discovered several hundred years earlier the it was in Northern America by the Spaniards. Mexican Silver Jewelry began on the Yucatan Penninsula prior to 1492 and was also made around Mexico City.
The contemporary silver jewelry industry in Mexico began in the mid-1920s and coincided with a great revival of interest in archaeological research. Museums were adding examples of pre-Hispanic art and publishers were bringing out important new books on archaeological subjects. Mexican Silversmiths were taken by the beauty of ancient Indian designs which made traditional styles pale by comparison, the better jewelry designers began to incorporate them in their work.

Read more about Mexican Silver Jewelry on our presentation page.

Western Silver Jewelry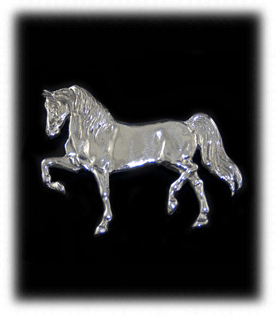 Western Silver Jewelry or Cowboy Jewelry to many is another form of American Silver Jewelry that has been made throughout the West for many years. This type of Silver Jewelry was originally introduced to North America, (United States regions), of California and Texas in the mid 1800's. Western Silver Jewelry is typically engraved which is a type of carving designs in the Silver with a sharp steel engravers tool. You will see swirls much like you do on a dollar bill. Many people call this scroll engraving and it is very attractive as the engraved indentations of the Silver takes on a different look being shiny and dimensional.
Western Silver Jewelry from California as well as Texas includes Silver Rings, Bracelets, Earrings, Belt Buckles, Silver Spurs, Bits and other Horse Regalia. Gemstones of all types are set in Western Silver Jewelry items and Gold is often overlayed onto the Silver and then engraved as well. Silver and Gold Western Jewelry has become popular in recent years and makes a nice addition to the Western Silver Jewelry styles.
Read more about Western Silver Jewelry on our presentation page.
Turquoise Silver Jewelry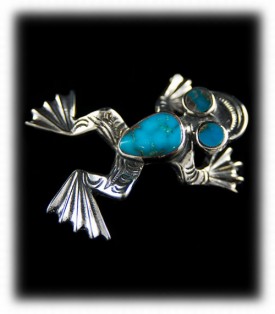 Silver Turquoise Jewelry - Silver Turquoise Jewelry is made around the world these days by Silversmiths in all walks of life due to its popularity. Prior to the Internet the public did not realize that Silver Turquoise Jewelry was more popular in other countries than the U.S. It is a fact and Silver Turquoise Jewelry also has a lot more spiritual and healing values in other parts of the world as well. With just a little study on our site, you will understand how important it is to our company to maintain the authenticity of the Turquoise Silver Jewelry that we produce and sell.
Durango Silver Company produces quality Silver Turquoise Jewelry with authentic Turquoise gemstones, most of which are natural unaltered Turquoise. This is becoming very rare as Turquoise mining in the U.S. has nearly came to a halt, China is treating all of their Turquoise coming out of the ground as well as making fake Turquoise, Turquoise from Iran, (formerly Persia), is off the market due to turmoil and the balance of Turquoise being produced worldwide is slowing due to lack of quality material. Durango Silver Company has been collecting authentic natural Turquoise for over forty years and we have a backstock of wonderful Turquoise that will hold us over for many years to come. We will not lower our standards and you can count on that.
If you are looking for quality Silver Turquoise Jewelry, check us out.
Handcrafted Turquoise Silver Jewelry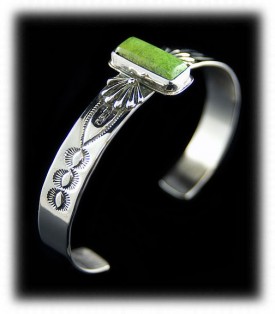 Handcrafted Turquoise Jewelry by Durango Silver Company is our specialty and we are very serious about what we produce. We use the highest quality authentic Turquoise available to us in our handcrafted Turquoise Jewelry. We have collected high-grade American Turquoise for over forty years and we have personally mined Turquoise for nearly that long as well. It is very important to us that we use authentic Turquoise in our handcrafted Turquoise Jewelry and that is why many of our customers buy their handcrafted Turquoise from us.
A major share of our Turquoise Jewelry goes to important people around the world that buy handcrafted Turquoise Jewelry for spiritual reasons. It is mandatory to our customers that they have real Turquoise in their Jewelry as they use and wear our Jewelry for spiritual and metaphysical purposes. We also believe that Turquoise is an important gemstone that should be respected and for that reason you can always count on us for your authentic and natural Turquoise in high quality handcrafted Silver Jewelry.
Above is a classic handcrafted Turquoise Bracelet made by our company, for more information on handcrafted Turquoise Jewelry visit our presentation page.
Durango Silver Company makes all kinds of Handmade Silver Jewelry other than Turquoise Jewelry. We love to use all kinds of gemstones in our handmade silver jewelry. Some of our favorite gemstones to use in our handmade silver jewelry are obviously Turquoise, but also Sugilite, Spiny Oyster Shell, Opal, Black Onyx, Chrysophrase, Coral and more!
Check out our Handmade Silver Jewelry page.
Southwestern Silver Jewelry
Silver Jewelry making began in the Southwest around 1865 when a Navajo Blacksmith named Atsidi Sani learned how to work with Silver from the Spaniards that were coming up from Mexico in Search of Silver and Gold. Atsidi began Silver Jewelry making and there was an immediate demand for his Jewelry by the Navajo people. Atsidi Sani taught his brother how to make Southwestern Jewelry and they both taught other Navajos the Silversmithing trade. Demand for, then called, Indian Jewelry grew quickly and by the 1880's Indian Traders and Trading Posts came to the Southwest to trade with the Indians. Silver Jewelry made by the Navajo Indians was one of the original trade items of value that the Indian Traders used to develop trade between the Southwestern Native Americans and American consumers to the west. Indian Traders took Silver Jewelry made by the Navajo Silversmiths to Southern California by the early 1890's and the public eagerly accepted and appreciated the Artistic Silverwork of the Native Americans from the Southwest.
One of the most important and notable features of Southwestern Silver Jewelry is Turquoise, it has always been the gemstone of choice by the American Indians as well as the individuals who purchased their Jewelry. Turquoise is a native gemstone that is found in Arizona, Nevada, Colorado and New Mexico, which is in the heart of the Southwest, it had been found and used by the Anazazi Indians as early as 200 B.C. Turquoise was also one of the first gemstones known to man, historical records located at the Cairo Museum in Egypt show that Turquoise in Silver Jewelry was found by Archeologists dating to 5,500 B.C.
Today, Southwestern Silver Jewelry has developed into a major Jewelry industry in the Southwestern regions of North America. Silver Jewelry with Turquoise from Native Americans as well as contemporary Artisans and Silver Jewelry manufacturers have created a major market for Southwestern Silver Jewelry which is admired worldwide. Below are some examples of Southwestern Silver Jewelry:
Above are two pieces of Silver Jewelry produced by Durango Silver Company. The Sterling Silver Bracelet on the left was made by John Hartman, master Silversmith, by applying layer on layer of molten Jewelers wax and then using the lost wax method to create this one of a kind piece. The Sterling Silver Pendant with Spider webbed Turquoise from Tibet was Navajo Indian handcrafted and is a exquisite piece of American Indian Silver Jewelry.
The Turquoise Ring on the left is a great example of a piece of quality Southwestern Silver Jewelry. It has unique silver work surrounding a spectacular Morenci Turquoise gemstone that has flecks of pyrite that catches your eyes attention. The Navajo Handcrafted Bracelet on the right is a fine example of Navajo Silver stamp work. This Silver was stamped over and over until the design was deeply embedded - this type of Silver work makes great Silver Jewelry for men.
To the left is an outstanding Victorian Style Sterling Silver diner ring by John Hartman of Durango Silver Company. This is a very unusual one of a kind piece of Silver Jewelry in exquisite taste in a gorgeous choice of colored gems - Sugilite, Gaspeite and Spiny Oyster.
To the right is a pair of Sterling Silver and Ribbon Turquoise Earrings that over the top when it comes to Southwestern Silver Jewelry with Turquoise. This Nevada Turquoise from the Royston Turquoise Mine is shockingly beautiful with the vein of Turquoise running through it hose rock, this is how it looks when it is still in the ground.
Southwestern Silver Jewelry is truly remarkable and a most unusual form of art from the American Southwest. Artisans from this region are influenced by a spiritual atmosphere and enchanting landscapes of mesas, valleys, rivers and abundance of brilliant color's - it is no wonder why such great creations of art come from this area of the world.
---
Indian Silver Jewelry
The Native American Indians of Southwestern North America are directly responsible for the Silver Jewelry industry that has become an American heritage. Indian Silver Jewelry began about 1865 which is a short time ago on global standards, however, their artistic nature in Silver Jewelry creation has been nothing less than amazing. They developed a style of Silver work that is completely different from any other Silver Jewelry found elsewhere on earth.
Durango Silver Company is proud to have represented many outstanding Native American Indian Artists throughout the last forty years. We have made many great friends with the American Indian people and have enjoyed every moment of their friendship as they have been an inspiration to us. We continue to work with American Indian Silver Jewelry Artisans to produce unusual Turquoise and Silver Jewelry of creditable distinction.
Navajo Indian Silversmiths are known for their extensive stamp work and exquisite metalwork. The Navajo people love Turquoise so you see a lot of Turquoise and Silver Jewelry made by the Navajo, generally they use Turquoise cabochons set with Silver bezels with unique Silver designs to accent the Turquoise stone. Navajo Silver Jewelry is some of the most famous southwestern jewelry world wide.
Zuni Indian Jewelers are known for their lapidary work that is housed by the Silver Jewelry. They make a simplistic piece of Silver Jewelry to set the gemstones in, the main focus in on their Needlepoint, Petit point and Inlay of multiple types of gemstones including Turquoise, Coral and other.
Hopi Indian Silversmiths are known for their Silver overlay designs. The Hopi cut out geometrical and pictorial designs in a heavy top sheet of Silver and then sweat solder it onto a back Silver sheet to create a unique three dimensional style of Silver Jewelry. The Hopi generally do not use gemstones in their Silver Jewelry.
You may also enjoy viewing our Indian Turquoise Jewelry presentation page if you like this subject.
Navajo Indian Silver Jewelry - Navajo Silversmiths are noted for their Silver work, they have always been very creative in Silver design. They do plain Silver work with no stones as well as using gemstones, mostly Turquoise, and embellishing them with their unique designs. The Navajo Squash Blossom Necklace on the left is a classic Navajo Jewelry design that has been made for over a hundred years and is still in demand. The Boulder Opal Pendant on the right is a unique piece of Navajo Silver Jewelry with unusual wire and raindrop designs made by Verdy Jake, a great Navajo Artisan.
You might enjoy our Navajo Silversmith presentation page.
Zuni Indian Silver Jewelry - The Zuni Indians have long been known for their wonderful stonework. They have mastered the art of lapidary work and have created a unique style of Silver Jewelry that is festinating and exceptionally beautiful. Zuni Indian Jewelry is admired by Silver Jewelry collectors and connoisseurs worldwide and is a historical treasure in the history of the American West.
The Zuni Squash Blossom Necklace to the left is a classic example of Zuni petit point stone work and a beautiful piece of Silver Jewelry. The Zuni Indian who made this piece hand cut each one of these tiny Turquoise stones and then created the piece of Silver Jewelry to set the stones in. To the right is a Zuni Needlepoint Bracelet - It is called a Needlepoint Bracelet due to the needlepoint Turquoise stones cut in the shape of the eye of a needle. The round cut stones are called petit point stones and all of the other tiny cut stones other then needlepoint are considered petit point. The Zuni cut round, oval, square, rectangle and pear shaped petit point stones.
You might also enjoy reading our presentation on Zuni Jewelry if you like this subject.
The Hopi Indians are well known for their Silver Jewelry as it is one of the most unusual Silver Jewelry styles in the world. The Hopi Indian Silversmith cuts out his design with a Jewelers saw in the top sheet of Silver and then Silver solders it onto a back plate to create a two dimensional piece of Jewelry. The Hopi use geometric and pictorial designs to create their most unusual Jewelry.
To the left is a Hopi Bolo Tie made in Sterling Silver that depicts a Man in the Maze. To the right is a Hopi Silver Bracelet with a Bear Paw design. Both of these beautiful pieces of Silver Jewelry are classic Hopi Indian design. See our Hopi history and Jewelry article.
---
Silver Jewelry Trader
Silver Jewelry Trader - During the 1970's, the Navajo Indian Reservation was undergoing a modernization and the old Indian Trading Posts were converting into convenience stores to service the Native American Indians in their areas. I had been collecting and dealing in Navajo Silver Jewelry for some time and realized the Indian Traders were eliminating old Indian items that were not selling to make room for the new products they would be retailing.
I went from Trading Post to Trading Post asking the Indian Traders if they knew of Trading Posts that were converting. I would get leads and then follow up on them. It was great times for me as to my surprise the Indian Traders were anxious to discard the vintage Silver Jewelry as well as other antiques and historical items from the past that the Trading Posts had accumulated. It was a gold mine for me and old Indian and Silver Jewelry Traders began finding me to sell their goods to, then I would share them with the public in my Southwest Silver Gallery.
One day, an old Indian Trader walked in the door of my Trading Post and asked if I was interested in purchasing the remains of his old Trading Posts which included the Fort Defiance Trading Post. This was the biggest Silver Jewelry Trader deal I made during the modernization of the Navajo Reservation. I invite you to read a good Silver Jewelry Trader story. You can learn more about our Silver Jewelry Store online.
---
Victorian Silver Jewelry
Victorian silver jewelry is jewelry that is made in a fancy style simular to what was made between the years of 1840 and 1890. During this time period jewelers liked to make fancy silver jewelry with filigree designs, raindrop designs, and repose. Many of these designs resembled plant life as well as highly stylized scrolling wire designs. This type of jewelry really looks royal, high class and gives off a sense of wealth and sophistication. Today not many jewelers are designing this type of jewelry, however you will see some elements from this time period in certain designers jewelry such as the Hartmans from Durango Silver Co.
---
Quality Silver Jewelry
There are many different qualities of Silver Jewelry as well as different methods for creating silver jewelry. The quality of silver jewelry is mainly determined by the quality of the craftmenship. It can also be determined by the quality of the silver itself, whether it is Nickle Silver, Sterling Silver or Fine Silver. Most of the highend silver jewelry is made of Sterling Silver, however a lot of quality silver jewelry is made from 99.9% pure, or fine silver, especially in Asia. Low quality silver jewelry is usually made from German or Nickle Silver. You can really tell the difference when you are wearing silver earrings or nickle silver earrings as the nickle earrings will really hurt most peoples ears. Most quality silver jewelry is made sturdy and thick as oppossed to mass manufactured or low quality silver jewelry which is usually made as thin and light as possible to keep the price down. Handmade sterling silver jewelry is considered to be a higher quality than casted or manufactured silver jewelry.
Learn more on our Quality Silver Jewelry presentation page.
We hope you have enjoyed our Silver Jewelry Presentation and have gained some useful knowledge from it. We invite you to learn more about Turquoise and Turquoise Jewelry by following the links in our Learning Center to other informational pages that we have written on different topics related to Turquoise Jewelry. In addition, we would like to invite you to join our E-Mail Newsletter - about once every other month we send out a Newsletter to inform our members of what's happening with Durango Silver Company, new products, specials for our members and more. We also have a monthly drawing from our member base to give away free Turquoise Jewelry from our company. Please take a moment to become one of our friends by signing in below. Please come see us in our Silver Gallery in Durango, Colorado USA.
Silver Jewelry Information:
---
---
Thank you for reading about silver jewelry.