Necklaces Jewelry
Durango Silver Company makes many styles of Necklaces Jewelry that are unique and different from any others you will find on the Market. We have been Southwestern Silver Jewelry manufacturers of nearly forty years. We specialize in high quality Turquoise Jewelry including Necklaces Jewelry with natural authentic Turquoise. Our pride is having spectacular stones set in designer settings that will endure the test of time and that are one-of-a-kind pieces of handcrafted Turquoise Jewelry.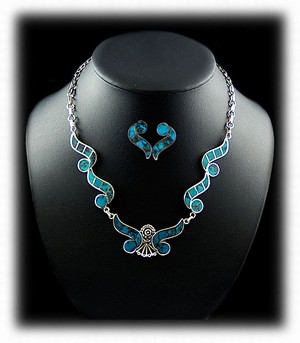 This Turquoise Necklace set was inlaid by Dillon Hartman with natural Bisbee Turquoise. The design was derived from the original patterns of Cecil Mickelson and Bob Mathews from their Bisbee Jewelry manufacturing company in Durango Colorado in the 1960's. Durango Silver Co purchased the balance of the Durango Bisbee Collection in 2002 and now has one of the largest collections of Bisbee Turquoise in the world. Bisbee Turquoise is known to be the most mineral rich Turquoise on earth and to have special holistic qualities for spiritual and metaphysical powers to Navajo Medicine Men and healers from around the world.
Read more on Bisbee Spiritual Powers.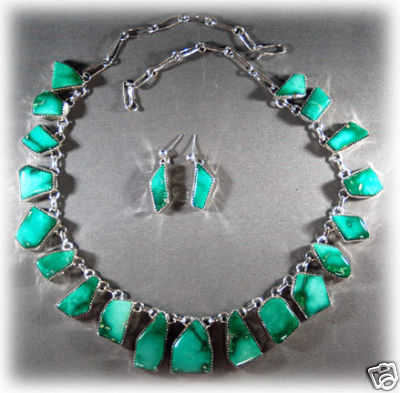 The Necklace Jewelry set above was made with Broken Arrow Turquoise from Nevada. The Turquoise Stones were bezel set in Sterling Silver to highlight the stones. The Broken Arrow Turquoise Mine produces fabulous green color's of Turquoise from a mint green to a outstanding Emerald Green, often in the same stone which is beautiful.
See more on our Nevada Turquoise Mines Presentation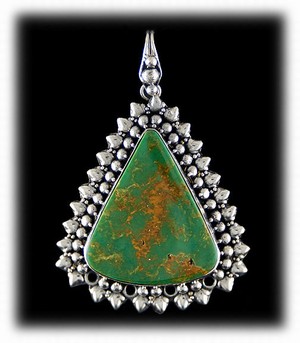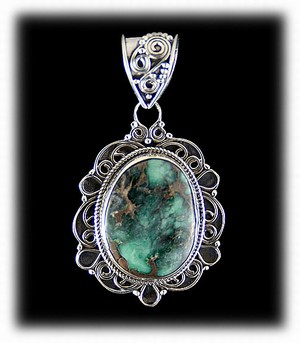 The Turquoise Pendant on the left is a contemporary piece made with Manassa Turquoise from Colorado. The Manassa Turquoise Mine stopped producing about 25 years ago. The Damele Turquoise Pendant on the right is also made by a contemporary Southwest Artist. Damale Turquoise is from Nevada, it produces a wide range of color's from lime green to rich blues with beautiful brown matrix.
Read more about Manassa Turquoise.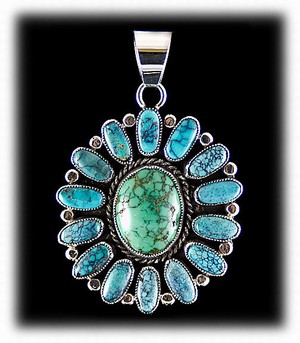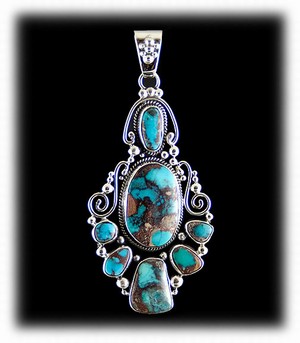 Here are two different types of Navajo Cluster Turquoise Necklaces, both made with very high quality Turquoise. The Pendant on the left is a typical Navajo Cluster Necklace Jewelry made with Spiderweb Turquoise from Nevada. The Necklace on the right is made with the most famous Turquoise in America, "Bisbee Turquoise", it is also Navajo Indian made.
See our Turquoise Mines Presentation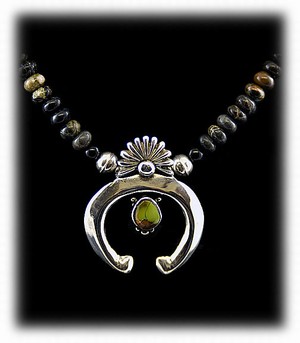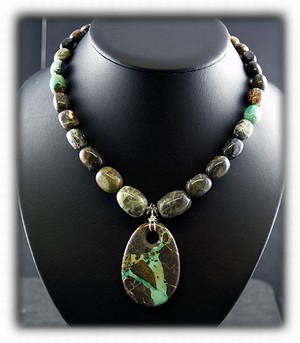 Above are two Necklaces Jewelry produced by Durango Silver Co - On the left is a Navajo Style Naja Necklace strung on Tortoise Turquoise Beads and on the right is a Pilot Mountain Ribbon Turquoise Pendant on Pilot Mountain Ribbon beads. Necklaces Jewelry are often a ladies first piece of Turquoise Jewelry. There are many choices when choosing Turquoise Necklace Jewelry, what color of Turquoise, the style - Navajo, Zuni, Hopi or Contemporary. Durango Silver Company is here to help you find her special piece of authentic Turquoise Jewelry.
| | |
| --- | --- |
| | |
The two Turquoise Necklaces above are Native American Made Jewelry with high quality natural American Turquoise. The Pendant on the right has Green Turquoise from Nevada and the pendant on the right has Blue Turquoise from the Morenci Turquoise Mine in Arizona which is now out of production.
Read more about Turquoise Pendants
Turquoise Jewelry Necklaces from Durango Silver Co
You will notice a major difference between the unique Jewelry being produced by Durango Silver Company and the general production Jewelry that is coming out of the Southwest. High quality natural Turquoise with attention to detail in design is what makes our Turquoise Jewelry Necklaces superior, individually one-of-a-kind.
Read more on Royston Turquoise
Above are two beautiful Necklaces made with Royston Ribbon Turquoise. Many call this Brown Turquoise, actually the brown in Ribbon Turquoise is the host rock. See more on Brown Turquoise. Ribbon Turquoise is a new way of cutting Turquoise being cut these days - it is Turquoise in its natural state as it runs in seams through the host rock. It is very striking!
Read more about Ribbon Turquoise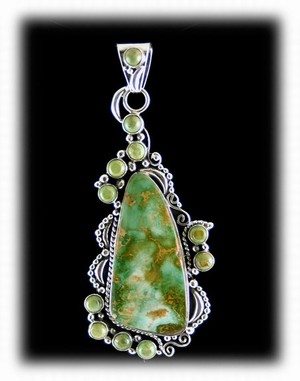 Above is a multi-stone Turquoise Necklace with beautiful Royston Turquoise stones accented with unique designed silver ornamentation by John Hartman of Durango Silver Company. We have a great supply of Royston Turquoise as we helped the Otteson's develop a movie for the Travel Channel and was fortunate to be able to pick through hundreds of pounds of high grade material to build our Royston Turquoise Collection.
See our Royston Turquoise Video
---
We hope you have enjoyed our presentation on Necklaces Jewelry and have gained some useful knowledge from it. We invite you to learn more about Turquoise and Turquoise Jewelry by following the links in our Learning Center to other informational pages that we have written on different topics related to Turquoise Jewelry. In addition, we would like to invite you to join our E-Mail Newsletter - about once every other month we send out a Newsletter to inform our members of what's happening with Durango Silver Company, new products, specials for our members and more. We also have a monthly drawing from our member base to give away free Turquoise Jewelry from our company. Please take a moment to become one of our friends by signing in below.