Western Silver
Western Silver and Silversmithing of North America began in Mexico. Cortes discovered Silver in Taxco and staked his claim in 1522. It is believed that the working of Western Silver into adornments began shortly after its discovery by Cortez. By the end of the 16th century Taxco, Mexico had become famed throughout the world for the beauty & wealth of its silver, making intricate and gorgeous western silver jewelry. Early Conquistadors admired Silver and had horse regalia made from the metal which then spread the popularity of using Silver in adornments of all sorts, including Jewelry, to Mexico City and beyond.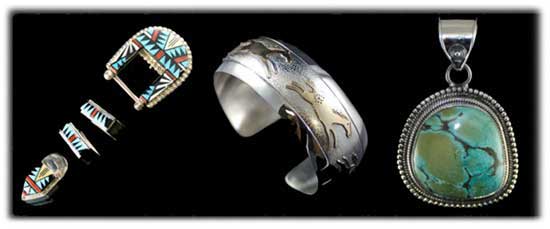 Western Silver from the Southwest
It is of record that Francisco Vazquez de Coronado as well as Alvar Nunez Cabeza de Vaca, (Spanish Conquistadors), made it to what is now known as Southwestern United States (Arizona and New Mexico) by 1542 in quest of Silver and Gold which makes us believe the Native Americans became aware of these precious metals at that period. Previously Native Americans were making jewelry out of shells, turquoise and other gemstones and rocks, not western silver jewelry. We do know the Conquistadors followed after and certainly by the mid 1700's with Silver regalia on their horses. We also know that the Navajo traded with the Conquistadors for fancy horse bits and posibly other regalia and western silver. Spaniard Conquistadors most likely taught the Native Americans Blacksmithing by the early 1800's as that trade was necessary to maintain horse drawn equipment. This was the beginning period of western silver.
Read more at: http://www.newmexicohistory.org
By 1860, and most likely earlier, Atsidi Sani, a Navajo blacksmith, was taught Silversmithing by the Spaniards and Western Silver began in Southwestern North America, (now known as Arizona and New Mexico). As Silver was bright and shiny, Native Americans were attracted to it immediately and western silver pieces made by the early Navajo Silversmiths were in high demand by Native Peoples throughout the Southwest. Western Silver and the Silversmithing trade spread rapidly. By 1880, Turquoise was introduced into Silver adornments made by the Navajos and Western Silver Jewelry items such as Bracelets, Rings, Earrings and Concho Belts with Turquoise became even more desirable by the Native Peoples and soon white Settlers and Indian Traders.
Indian Traders of the Southwest brought Western Silver and Turquoise made by the Navajo Indians to Southern California which was in a full boom. The Western Silver was immediately accepted by the Californians and a brisk trade began between the Southwestern Region and California for Western Silver Jewelry made by the American Indians, specifically, the Navajo Indians.
By 1900, Western Silver Jewelry, now made by the Navajo, Zuni and the Hopi Indians was in high demand and tourism had began to the Southwest, mainly due to the Crand Canyon National Park.
A lot of the authentic Antique Western Jewelry is very collectible and hard to come by.
---
Western Jewelry Examples from the Southwest
Above are two pieces of Western Silver that were made by Navajo Silversmiths in the 1920's. The Western Silver Turquoise Bracelet was made from melting Silver Coins, pouring the molten Silver into an ingot and then pounding the ingot into sheet. It was then handcrafted into a Bracelet and forged together in an open fire pit. The Concho Buckle was handmade from Silver sheet, stamped with handmade stamps made from old files and the forged together in the same mannor.
To the left is an old Navajo made Concho Belt, cut out of a sheet of Silver, hand stamped and made aproximately 1930. On the right is a vintage Navajo handcrafted Silver Squash Blossom Necklace, this is a classic Western Silver piece from the 1940's.
Here are two differant Western Silver Rings produced by Durango Silver Company. Both of these Rings focus on the stone by being bezel set and then having very nice Ring Shanks for the charicter of the Rings. We have many styles of Western Silver Rings, our specialty is Sterling Silver Southwestern design with Turquoise, however, we produce a lot more than that. Check out our Rings catagory to see what we have on hand now.
| | |
| --- | --- |
| | |
Western Silver Buckles from the Southwest have been popular for years as they stand out and make a statement when worn, they are an American tradition and part of our heritage as well. Many men do not wear a lot of Jewelry and for those men, a Western Silver Buckle is a perfect choice. Durango Silver Company produces a lot of differant styled Western Silver Buckles and we also have Buckles made by Native American Silversmiths as well as other Contempory Artist throughout the Southwestern region. Check out our Western silver belt buckles catagory on our site to see what we presently have available.
| | |
| --- | --- |
| | |
Western Silver Bracelets are one of the specialties of Durango Silver Company. We specialize in high quality handcrafted Sterling Silver Bracelets with exceptional natural Turquoise Stones. There are a many Silversmiths and Manufacturers in the Southwest that make Turquoise Bracelets, however, we make high quality Western Silver Turquoise Bracelets that are unique and unusual. Check out our Bracelets section of our site to see what we have available at this time.
Durango Silver Company produces a lot of Western Silver Pendants. Our specialty is unique Silverwork surrounding a spectacular gemstone, and Turquoise is our specialty. We have been in the Turquoise business for nearly forty years, we mine Turquoise in Nevada and we have collected high grade natural Turquoise for many years. We do use many other Gemstones and we make many differant types of Western Silver Pendants, visit our Pendants catagory to browse through our extensesive collection of Western Silver Pendants.
The links below provide additional information on the history of Western Silver or Southwest Jewelry and Silversmithing. Sterling Silver Jewelry has been a large part of the history of America. We specialize in Western Jewelry from the Southwest, Turquoise Jewelry and Native American Indian Jewelry, so we put a large focus of our information are these types of jewelry.
Southwestern American Silversmith / Western Silver Jewelry Information

Hopi Silversmith Info | Navajo Silversmith Info | Zuni Silversmith Info
Back to the Jewelry Learning Center
We hope you have enjoyed our presentation on western silver and have gained some useful knowledge from it. We invite you to learn more about Western Silver and Turquoise Jewelry by following the links in our Learning Center to other informational pages that we have written on different topics related to Turquoise Jewelry and Western Silver. In addition, we would like to invite you to join our E-Mail Newsletter - about once every other month we send out a Newsletter to inform our members of what's happening with Durango Silver Company, new products, specials for our members and more. We also have a monthly drawing from our member base to give away free Turquoise Jewelry from our company. Please take a moment to become one of our friends by signing in below.
Thank you for reading our short informational page about western silver.