Antique Turquoise Jewelry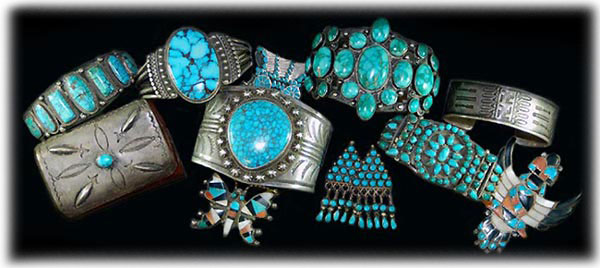 Antique Turquoise Jewelry has been sought after for decades by Antique Collectors as well as collectors of Antique Indian Jewelry. There is no doubt why Antique Turquoise Jewelry is so collectible, it has an extremely colorful past in history and its beauty is beyond belief. Just holding a piece of Antique Turquoise Jewelry in your had will give you the chills and if you're lucky enough to own a piece that you love, you will immediately feel a sense of calm and happiness come over you. Fashion Turquoise Bead Jewelry
In the days of old and from when Antique Turquoise Jewelry is from, these old pieces of Indian Jewelry were what made very spiritual people, the Native American Indians peaceful and happy. A tranquil people they are and good medicine flows from the spirits that have been left in these fine old pieces of art and culture.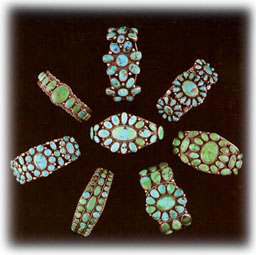 This photo show a grouping of Antique Turquoise Bracelets from the 1910-20 period. This is the second phase of Antique Turquoise Jewelry, most of the Jewelry at this time was made for the Native Americans to wear themselves. As the opportunity would arise, they would sell their Turquoise Jewelry, but, until it did they would wear it. All of these pieces were Navajo made and when there was no electricity, gas or otherwise. Totally Handmade!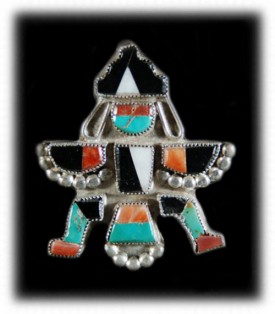 This is an Antique Zuni Knife wing Pin made in about 1930. It was made with Turquoise, Coral, Jet and Mother of Pearl. Antique Turquoise Jewelry like this can still be found for sale, however, it is becoming more and more rare as time goes on. Many tourists would buy a piece like this when they came to see the Grand Canyon, Turquoise Jewelry from the Native American Indians was the favorite tourist item of them all.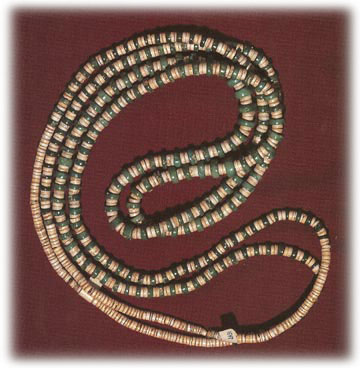 Here is a marvelous Turquoise and heishi shell Bead Necklace made by the Santo Domingo Indians about 1920 or so. It is a colorful piece of Antique Indian Jewelry from the Santa Fe Trail. The Santo Domingo Indians would make their Turquoise Bead Necklaces and then take them to Santa Fe where travelers would purchase them or trade the Native Americans their goods for. Good authentic Antique Santo Domingo Turquoise Bead Necklaces are hard to find, buyer beware as many Jewelry makers in the Santa Fe area have been making reproductions of Antique Indian Jewelry for decades.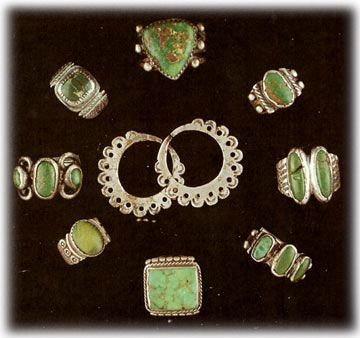 Above is a selection of Antique Navajo Indian Turquoise Rings. Most of these pieces of Antique Turquoise Jewelry were made around 1900 and have been well worn by the Navajo peoples. Most of these rings are made on silver bands and rings. Many of the designs from these early Native Bands are still in use today. In the center of the photo is a pair of first phase Antique Navajo Earrings that were definitely not worn by white people. These old Silver Indian Earrings were probably made around 1880.
If you have Antique Indian Jewelry that you may part with, we would like to see it. Send a photo to John@DurangoSilver.com and I will tell you what you have.
If you are interested in Antique Turquoise Jewelry, we usually have a good selection on the Durango Silver Online Store.
---