Turquoise Stones
The Hartman's of Durango Silver Company have been collecting, mining and cutting American Turquoise for over 40 years - our specialty has always been Top quality Turquoise from Arizona, Nevada, Colorado and New Mexico. This is an informational page about American Turquoise and Turquoise Gem Stones created by John Hartman, a leading authority on Turquoise.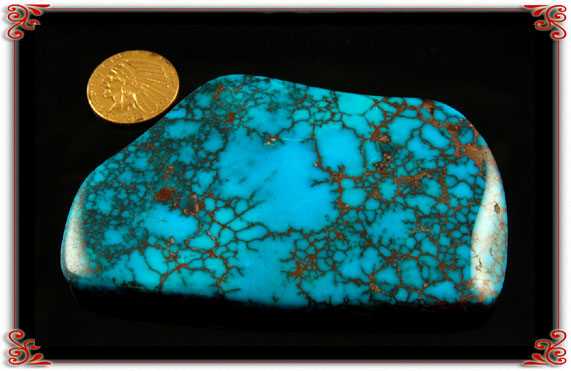 Above is a 156 carat Bisbee Turquoise Stone that I (John Hartman) recently cut (April of 2013), this quality and size of Bisbee Turquoise cannot be found anywhere else in the world - This is authentic, natural, red spiderweb Bisbee Turquoise and this is a very valuable Turquoise Cabochon, in fact, it may be the most valuable Turquoise Stone in the world!
High Quality Turquoise Stones - Turquoise Cabochons
Above and to the left is a Blue Gem Turquoise Cabochon that was hand cut by Dillon Hartman from the Durango Silver Company Blue Gem Turquoise collection. There were two Blue Gem Turquoise Mines, one was located near Battle Mountain, Nevada and the other near Tonopah, Nevada. The Blue Turquoise with this coloration is from the northern Blue Gem Mine located near Battle Mountain. The Battle Mountain Blue Gem Mine produced Turquoise from about 1955 to 1985.
Above and to the right is a Tonopah Blue Gem Turquoise Stone. This Turquoise Mine was located in the Royston Hills, it produced a lot of fine quality Turquoise from about 1935 to 1965. The Blue Gem Mine gave way to many other great Turquoise deposits such as the Royston Turquoise Mine and the Easter Blue Turquoise Mine. This beautiful specimen was recently cut by John Hartman out of the Durango Silver Company Blue Gem Turquoise Collection - it weighs 22 carats.
Above and to the left is a beautiful Turquoise cabochon from the Kings Manassa Turquoise Mine which is located near Manassa, Colorado USA. This specimen was hand cut by Bill King, the owner of the Kings Manassa Turquoise Mine for many decades. Bill has been a good friend of the Hartmans for over 40 years, John, Dillon and Bill are great friends that go way back and cherish many great experience from their colorful past.
The beautiful rich blue Turquoise cabochon to the upper right came from the Pilot Mountains, which are located northeast of Tonopah, Nevada. Dillon and I mined this rock near the top of the Pilot Mountains many years ago - I just cut this 38 carat Turquoise Stone in February of 2013. The rich deep blue in this fine Turquoise stone is spectacular! This is rare material from the Pilot Mountain Turquoise mine.
| | |
| --- | --- |
| | |
Above and to the left is a 19 carat water-webbed Morenci Turquoise cabochon with wonderful character. This beautiful gemstone was cut by Dillon Hartman in March of 2013, it came from a rock I purchased from the Brown Turquoise Company, which was located in Gallup, NM, in 1974. In this period of time I was buying beer flats of Morenci Turquoise from the Browns and as I recall, I was paying about 120.00 per pound - I was able to hand pick the Turquoise at that time. It was mostly wafer material with a fair amount of iron pyrite matrix, I also purchased larger rocks that were deep blue with heavy iron pyrite spiderweb matrix for $250.00 per LB, however, the highgrade was very limited.
The Morenci Turquoise Stone above and to the right is awesome with iron pyrite matrix, the iron pyrite looks like Silver, very shiny and attractive. Iron pyrite was often found in Morenci Turquoise but with great matrix configuration like this stone is very rare. This stone is from the highgrade Turquoise the Browns were selling in the 1970's. I cut this Morenci Turquoise Stone in the mid 1970's and was very excited about it way back then.
Above and to the left is a lovely natural Arizona Blue Turquoise Stone from the Kingman Turquoise Mine located near Kingman, Arizona. In 2009, the Colbaugh's ran into a great cash of spider webbed Turquoise rock. There are many variations in this spiderweb Turquoise from blue-green to rich blue with black spiderweb matrix. This particular Kingman Turquoise stone has water webbing, red spider webbing and black spider webbing
Above and to the right is an enhanced Turquoise Stone from the Kingman Turquoise Mine. There is good reason to stabilize some types of Turquoise - often Turquoise is to soft to use in Jewelry and by using acrylic or oil base resins to stabilize the rock it becomes hard and great for use in Jewelry. Typically, enhanced gemstones of any type are not natural and therefore their value is much less then high quality gemstones - Turquoise is no exception. In the case of this Turquoise stone, it is beautiful and very attractive, this Turquoise Stone does have good value being worth about 1/3 of what it would be if it was natural.
| | |
| --- | --- |
| | |
To the above left are three Turquoise Stones from the Number 8 Mine that was located in Northern Nevada, near Battle Mountain. This Turquoise was mined by Cutler Edgar in the late 50's and well into the 1960's. Estell (my wife) and I were very fortunate to mine Stormy Mountain Turquoise with Cutler, he had great stories about Turquoise mining and was a great guy. We got hundreds of pounds of Turquoise from Cutler in the 70's - Stormy Mountain, Number 8 and more. This Number 8 came from Cutler Edgar of Battle Mountain, Nevada.
Above and to the right are two chartreuse colored Turquoise Stones from the Orvil Jack Turquoise mine that was located Crescent Valley, Nevada. The actual mine that lime green Orvil Jack faustite came from was call the Blue Ridge Mine, which produced beautiful blue Turquoise with black spiderweb matrix. To read a good Orvil Jack story follow this link.
To the above left is a Green Turquoise Stone from the Kings Manassa Turquoise Mine which was located near Manassa, Colorado. The Manassa Turquoise Mine was one of the first Turquoise deposits found in north American by the Native Americans, this was about 1000 A.D. The mine produced both blue as well as green Turquoise but in recent years the Manassa Turquoise Mine is known for it beautiful emerald green Turquoise.
The Turquoise Stone above and to the right is from the Royston Turquoise Mine located near Tonopah, Nevada. The Royston Mine produces blue Turquoise, green Turquoise and gorgeous two tone that includes both blues and greens. This particular Royston Turquoise Stone is considered a Military Green with gold brown matrix.
Above and to the left is a matching pair of lime green Carico Lake Turquoise Stones that John cut many years ago. I remember buying a lot of Carico Lake Turquoise from Indian Jewelers Supply in the 1970's, most being blue in color. My wife Estell and I went to Nevada in the 70's and purchased a five gallon bucket of lime green Turquoise nuggets, about 50 Lbs - we paid about $1800.00 for the bucket and got thousands of carats of this quality Carico Lake Turquoise Stones, which were made into Silver Jewelry.
Above and to the right is a deep blue Turquoise Stone from an old Nevada Turquoise Mine known back in the day as Montezuma and is now called Pilot Mountain. There is a tremendous amount of Turquoise that is from mines that have had their name changed through thier existence most of the time these stones are unidentified when purchased, we can conclude an approximate area the stone came out of but often it is just a good guess. Turquoise in most Nevada Mines can vary dramatically from different areas of the mine, often there will be a lot of the same color, matrix configuration and character in the rock and then you will find areas the the Turquoise will have a completely different look.
Bisbee Turquoise
Bisbee Turquoise came from the Bisbee Copper Mine located near Bisbee, Arizona. Turquoise from the mine began coming out in miners lunch boxes in the 1940's. There was only one permit issued to mine Turquoise at the Bisbee Mine - Bob Matthew's and Cecil Mickelson from Durango, Colorado mined Turquoise there from 1962 until 1976. I purchased the balance of the Cecil Mickelson collection in 2001. Bisbee Turquoise is admired worldwide and it is agreed by most Turquoise authorities - Bisbee Turquoise is among the best Turquoise that has ever come out of the ground, on earth!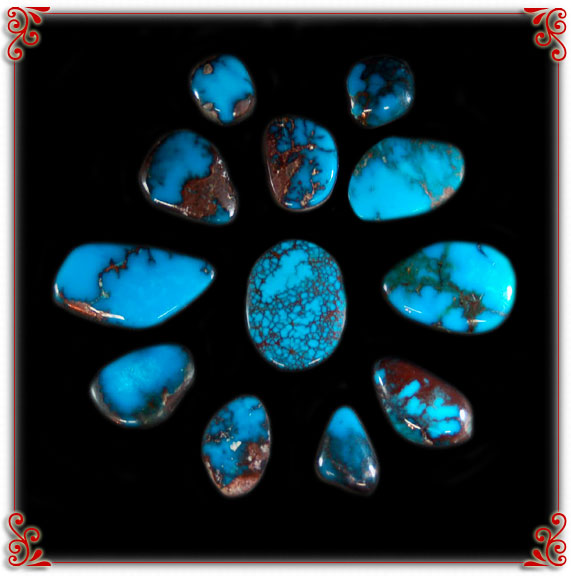 Above is a gorgeous selection of Bisbee Turquoise Stones from the Hartman collection. The blue coloration's of Bisbee Turquoise are spectacular and with the beautiful chocolate brown to red colored matrix, there is no other Turquoise in the world that compares to it. The photo above shows you a cross spectrum of just some of the looks of Bisbee Turquoise.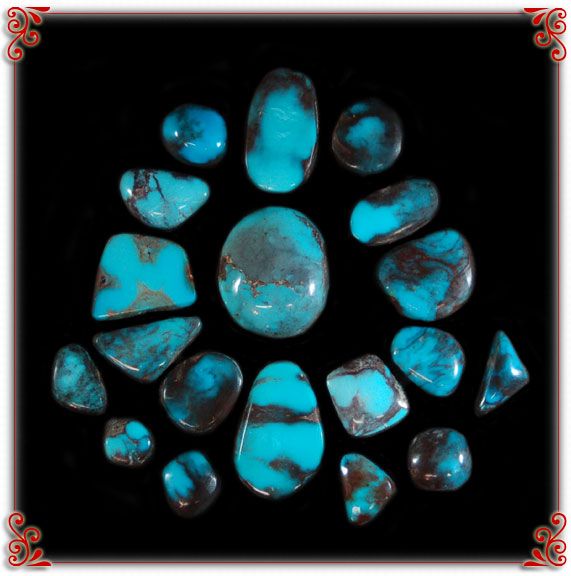 The photo above is a selection of Bisbee Turquoise Stones showing you the broad spectrum of Smoky Bisbee Turquoise.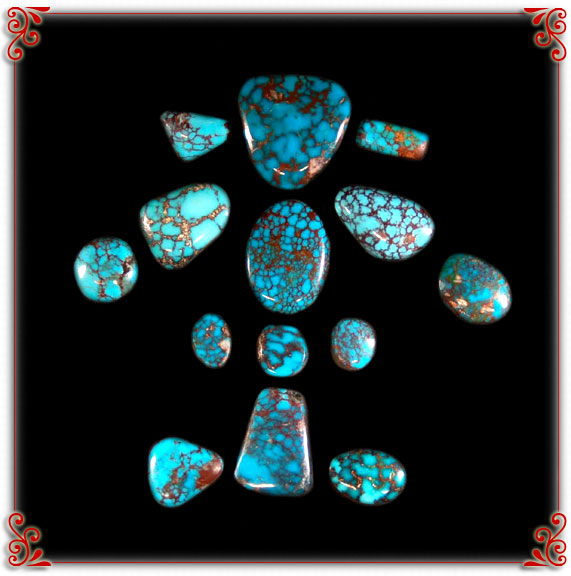 The photo above shows you many different examples of Bisbee Turquoise with spiderweb matrix. You can also see several stones with red matrix, the red coloring is caused from high iron concentrates, it is rare and it is beautiful when found in Turquoise.
The State of American Turquoise and Turquoise Stones (2013)
American Turquoise has had an amazing past, it was discovered over 2000 years ago by the Anasazi Indians of the American Southwest. We have a great informational page on Anasazi Turquoise - check it out! There have been many amazing tales on the Turquoise Trail which leads us to this modern age. American Turquoise has become known to be the best Turquoise on earth!
When you look at the variations of Turquoise that has come out of the ground in North America, it is truly astonishing! The blue color range that that is found from southern Arizona all the way up through northern Nevada is memorizing. The luscious green hues from lime green, emerald green and Turquoise greens that come out of Nevada, Colorado and New Mexico are breath taking. American Turquoise Mines have it all - every variation of Turquoise anyone in the world could desire.
The relentless thirst for American Turquoise Jewelry in the United States since the opening of Grand Canyon National Park, through the Roaring 20's and throughout the Hollywood Movie era pushed for perfection in both Jewelry design as well as quality Turquoise. By 1970, there were over 180 active Turquoise Mines in the United States working hard to produce the finest Turquoise the world had seen to date. The Native American Turquoise Jewelry market was so brisk that a major Jewelry producing industry had developed throughout the American Southwest in this period of time as well.
In 1985, Chinese Turquoise made is debut at the Tucson Gem and Mineral Show. The initial Turquoise that came to the U.S. was from an accumulation of what the Chinese considered inferior in the past due to it's having matrix, host rock. After hundreds of years out of the mine the Turquoise became hardened and of very high grade, plus the bulk of the material was rich blue spiderweb Turquoise. American Turquoise and Turquoise Jewelry collectors went nuts over this Turquoise which began a whole new era in the Turquoise Jewelry industry of the United States and then the world.
Shortly, the good stuff ran out and when they began pulling more Turquoise out of the mines they found that the quality was nowhere near as good. By the mid 90's, the Chinese had flooded the world with their inferior Turquoise and the price of Chinese Turquoise dropped so low that it put most all American Turquoise Miners out of business. The Chinese continued flooding the market and then began to make fake Turquoise by using magnisite and howlite, dying it and treating it with acrylic and plastic resins. Today, the Chinese government put a halt on all mining of Turquoise and we have heard they are revoking export licensees of those involved in exporting Turquoise. We can only imagine, will they allow the exporting of fake Turquoise!
Today, the public, American Turquoise Collectors and Jewelry Connoisseur's are waking up to the fact - Authentic Natural American Highgrade Turquoise has become very scarce. The reason? Turquoise Mining, for the most part, has come to an end over the past 20 years and it will take some doing to get mining going again. Between government restrictions and the cost to mine, Turquoise will have to increase in value substantially or it simply will not happen.
So, how do you obtain high grade American Turquoise Jewelry? There are a few collectors and dealers that had stocked up on highgrade Turquoise when it was available in the past. These individuals realize what they have and it is not easy to buy it from them. If you look for highgrade American Turquoise Jewelry, you will find, exceptional Turquoise is hard to find.
The Hartman family began mining and collecting qualtiy Turquoise over forty years ago and we have specialized in authentic, quality American Turquoise Jewelry for the duration of their business. Durango Silver Company produces exceptional quality American Turquoise Rings, American Turquoise Bracelets, American Turquoise Earrings, American Turquoise Necklaces and other quality Jewelry from the American Southwest with exceptional American Turquoise Gemstones.
Turquoise Stone and Jewelry Investing
Turquoise is one of the most beautiful gemstones on earth, it was also one of the first gemstones found by man. It has been the belief of spiritual leaders of the world, throughout history, Turquoise possesses metaphysical powers which bring its bearers good health, happiness and fortune. Our entire family is a testament to this! we believe our lives have truly been blessed!
There are relatively few authorities on authentic, high quality, Turquoise - I have come to this qualification due to the fact that I have been engulfed in Turquoise for most of my life, I have collected, mined, cut and dealt heavily in American Turquoise for well over 40 years. I offer my consulting and accusation services to well qualified buyers.
---
We invite you to learn more about Turquoise Stones by following the links in our Learning Center to other informational pages we have written on different topics directly related to Turquoise Stones. In addition, we invite you to join our E-Mail Newsletter - about once every other month we send out a Newsletter to inform our members of what's happening with Durango Silver Company, new products, specials for our members only and more. We also have a monthly drawing from our member base to give away free Turquoise Jewelry from our company. Please take a moment to become one of our friends by signing in below. We hope you have enjoyed our presentation on Turquoise Stones and have gained some useful knowledge from it.