Royston Turquoise Jewelry
---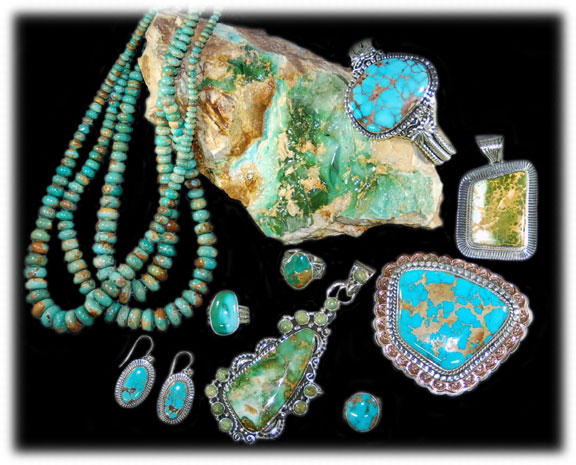 Above is an assortment of Royston Turquoise Jewelry. As you can see Royston Turquoise has a wide range of color, in fact, Royston is known for having the most dynamic color change of any American Turquoise. It is common to have a blue stone with a streak, band or river of green going through or across the stone, this type of Turquoise Jewelry is called "Ribbon or Boulder" Royston Turquoise Jewelry.
---
Royston Turquoise Jewelry
Royston Turquoise is unmistakable in Jewelry, it can be detected by its bold color variations. Often you will see blue with dark blue areas or light green with clouds of dark greens and the ultimate is beautiful blue with emerald green areas and a golden brown matrix in unique patterns.

Jewelers love making Royston Turquoise Jewelry as their imagination goes wild creating designs to accommodate the splendor of the beautiful Turquoise. Today jewelers use all types of Royston Turquoise in their jewelry and make blue Royston Turquoise Jewelry, green Royston Turquoise jewelry, and "Boulder or Ribbon" turquoise jewelry.
These pendants to the right are two examples of the rainbow of different colors of natural Royston Turquoise. Using Royston Turquoise in your jewelry you can have great green Turquoise Jewelry and great Blue Turquoise Jewelry.
You can see how the same different the inspiration was for these two pieces of Royston Turquoise Jewerly, no doubt inspired by the vast difference in the Turquoise cabochons.

When you look at the two different cabochons of Royston Turquoise used in this jewelry you will see that even the matrix in the Royston Turquoise has so much variation it is almost unbelieveable.

The blue Royston Turquoise Pendant features a stone with golden yellow/brown matix. The green Royston Turquoise pendant features a cabochon that has white matrix.
Here you see a lighter aqua blue color with golden colored matrix, the pendant comes alive as the outstanding color and matrix configuration of the stone is breathtaking.

This stone has wonderful waterweb matrix in the blue and golden yellow matrix. This stone is truely the top of the line as far as Royston Turquoise.

This stone has been accented with four deep purple amethyst cabochons, both round and teardrop shaped. The Deep purple goes very nicely with the bright blue Royston Turquoise in the great piece of jewelry.
It is possitively sure you will never see another piece of Turquoise Jewelry like this mainly due to the unique patterning in the natural Royston Turquoise, but also due to the unique stylings of John Hartman.
The Turquoise Pendant on the right is another classic example of a piece of Royston Turquoise Jewelry that is dynamic due to the bold coloration of the Turquoise.

In this case there does not need to be extensive silverwork as the Royston Stone is the focal point. The clean and classic silverwork really accentuates the stones.

This pendant is a great example of natural Royston Turquoise Jewelry. The Pendant features a wonderful, large, dynamic forest green cabochon of natural Royston Turquoise and a secondary stone of natural royal purple Sugilite from South Africa.
Royston Turquoise is known for its forest green or "millitary" green variety of color. This coloration of Turuqoise is great in Royston Turquoise Jewelry.
---
Royston Turquoise Jewelry Origins
Royston Turquoise comes from the Royston mining district located near Tonapah, Nevada. "Royston Turquoise," originally consisted of four old Turquoise claims: Bunker Hill, Easter Blue, Oscar Wehrend, and Royal Blue. Lynn Otteson moved to Tonopah to mine Royston Turquoise in 1958 and the family has been mining Turquoise at Royston and throughout the area since.
The Royston Hills have a historic past for being one of the top Turquoise producing locations in Nevada. Turquoise from this area has spectacular color variations and has even been named Blue Gem in the past – Tonopah Blue Gem! Many people call Royston "Nevada Green Turquoise" and there have been many other nick names for it in the past, however, the underlying factor is the Royston Turquoise Mine in the Royston Hills of Nevada is one of the best producing mines of high grade natural Turquoise in the United States.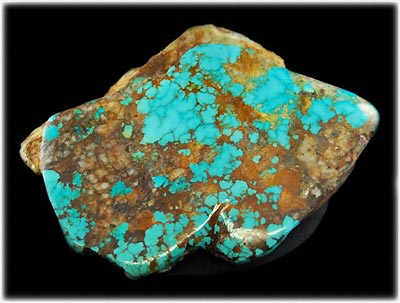 If you are a Turquoise collector, Royston Turquoise or Royston Turquoise Jewelry is a must for your collection. This mine has had a historic past and there is still a brilliant future for this Turquoise. See more examples of Royston Turquoise Jewelry.
The Ottesons have a Store in Tonopah, Nevada which cannot be missed when driving through their town. They have Royston Turquoise Specimens, Jewelry and they offer Mine Tours at the Royston Turquoise Mine, if you are going to be in the area make it a point to take the tour – It's a Blast! If you would like book a tour in advance, which is customary, their phone number is 775.482.9889 or you can visit their site at www.tonopahturquoise.com .
John, Dillon, the Ottesons and the Travel Channel made a movie for the series "Where to find Cash and Treasures" on the Travel Channel, you can read more about the flick at http://www.roystonturquoise.com/travelchannel.htm
Also Check out our page on Ribbon or Boulder Turquoise| Royston Turquoise Mine Site | Turquoise and Jewelry Learing Center
---
Thank you for reading about Royston Turquoise and Royston Turquoise jewelry. We hope that this informational page has been of some use to you. Next time you go to buy Turquoise Jewelry or Silver Jewelry maybe you will have a better idea what you are looking at and you may even choose to buy some Royston Turquoise Jewelry.