American Turquoise Earrings by Durango Silver Co
Durango Silver Company has been producing American Turquoise Jewelry as well as American Turquoise Earrings for nearly forty years. Below is a presentation to help you understand one of our great American heritages - American Turquoise Earrings from the American Southwest! Below you will find several photos of Turquoise Earrings along with brief descriptions, you can click on any photo which will take you to its presentation page.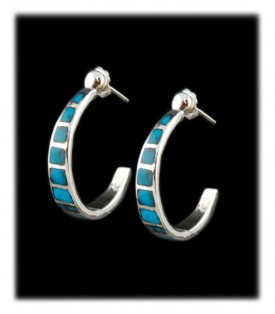 The photo above is of a pair of Bisbee Turquoise Inlaid Hoop Earrings. We are the only company or source for Inlaid Bisbee Turquoise that we are aware of. Bisbee is one of the most coveted types of American Turquoise, it is very scarce as very little, if any Turquoise has come out of the Bisbee Mine since 1978. Bisbee Turquoise is also Known as the most beautiful American Turquoise that has ever come out of the ground.
American Turquoise Earrings from Durango Silver Company
Durango Silver Company produces and handles a wide variety of American Turquoise Earrings, out specialty is authentic natural high grade Turquoise from America's most famous Turquoise Mines.
Above and to the left is a very large pair of American Turquoise Dangle Earrings accented with Sugilite gemstone studs. This pair of beautiful blue Turquoise Earrings were designed by John Hartman and inlaid by Bill Anderson. Although this pair of Turquoise Earrings are large, John designed the large earring bottoms with open backs - this accomplishes two things, it keeps the earrings lightweight and it makes them unique as you can see the front as well as the back sides of each earring.
And to the right are a beautiful pair of Nevada Green American Turquoise Earrings that were Native American handmade. The Green Turquoise stones match well as they were butterfly cut, this means the stone were split in half and then carefully cut to match. The Turquoise is from the Broken Arrow Mine of Nevada.
In the photo to the left above you see a pair of unique American Turquoise Earrings due to the cut of the Turquoise Gemstones. Ribbon Turquoise is crosscut to expose the vein of Turquoise that runs through its host rock. This pair of Silver Earrings are Navajo Indian hand made in a bezel setting.
To the upper right is a pair of Native American Turquoise Earrings - Navajo Handmade. Beautiful Sleeping Beauty Turquoise stones were wrapped with Silver bezels and then designed in a cluster style of Navajo Silverwork. This is a classic style for Navajo Turquoise Jewelry and they have been creating Turquoise Cluster Jewelry for nearly one hundred years.
To the left is a pair of Green Turquoise Earrings with a unique design created by John Hartman of Durango Silver Company. The Turquoise is Verde Green from Nevada. This is a pair of Turquoise Stud Earrings, they are of a great weight that can be worn all day long.
American Flying Beetle Sleeping Beauty Turquoise Earrings created by Navajo Artisan Ben Yazzie of Southwest Colorado USA. Ben makes great bugs, frogs and other animal designs, it is so much fun giving him stones and telling him to make bugs as he keeps coming up with one great bug after another!
Another interesting informational page you would enjoy is Blue Turquoise Earrings from Durango Silver Company.
Quality American Turquoise Earrings
Above are two pairs of American Turquoise Inlaid Earrings, both are Navajo Indian handmade in the USA. Turquoise Inlaid Earrings are created by making a Silver cup type setting that accommodates the gemstones to be hand cut to fit into a design with the confined area of the setting. The cut gemstones are fitted ground and sanded to shape and then ultimately polished. There is many types of inlay and intricacy.
The American Turquoise Inlaid Earrings on the left are a geometric mosaic style, inlaid with Sleeping Beauty Turquoise.
The pair of Native American Inlaid Earrings on the right are multi colored gemstone inlays in a more classic style of Inlay.
Above and to the left is a pair of Antique American Indian Turquoise Earrings created by a Zuni Indian, circa 1930. This pair of earrings is called Zuni Turquoise Needlepoint Earrings and the Zuni Indians did many different shapes and styles of Needlepoint designs. This style is name Needlepoint as the stones are cut in the shape of the eye of a needle.
Above and to the right is a pair of Silver and Turquoise Earrings created by John Hartman of Durango Silver Company. John designed this pair of Turquoise Earrings in a Victorian Silver style. Durango Silver Company produces this style of Earring in Sleeping Beauty Turquoise and Nevada Green Turquoise on request.
We invite you to visit our informational presentation on American Turquoise Necklaces - you will find many great photos along with descriptive text informing you of many factors regarding American Turquoise Necklaces.
We also invite you to visit our presentation on American Turquoise Rings - this is an informational page specifically dedicated to Turquoise Rings made in the American west with authentic American Turquoise.
If you enjoy the above presentation along with these others you will surely love our informational page on American Turquoise Bracelets.
We invite you to take a look at a few of our many other presentations in our Learning Center - take a look at the information pages we have to offer.
---
We invite you to learn more about American Turquoise Earrings as well as American Turquoise Jewelry by following the links in our Learning Center to other informational pages we have written on different topics directly related to American Turquoise Jewelry. In addition, we would like to invite you to join our E-Mail Newsletter - about once every other month we send out a Newsletter to inform our members of what's happening with Durango Silver Company, new products, specials for our members only and more. We also have a monthly drawing from our member base to give away free Turquoise Jewelry from our company. Please take a moment to become one of our friends by signing in below. We hope you have enjoyed our presentation on American Turquoise Earrings and have gained some useful knowledge from it.