American Turquoise Bracelets by Durango Silver Co
Durango Silver Company has been producing American Turquoise Jewelry as well as American Turquoise Bracelets for nearly forty years. Below is an educational presentation to help you appreciate our great American heritage - American Turquoise Bracelets from the American Southwest!
Our company produces and has produced by Native American's - authentic, quality American Turquoise Bracelets with the finest Turquoise from Arizona, Nevada, Colorado and New Mexico, USA! We have been American Turquoise collectors, miners and cutters for well over forty years and are purveyors of one of the finest authentic, natural, highgrade Turquoise collections in the world. As American Turquoise has become very scarce, our company is one of few still producing exceptional quality American Turquoise Bracelets with authentic, natural American Turquoise.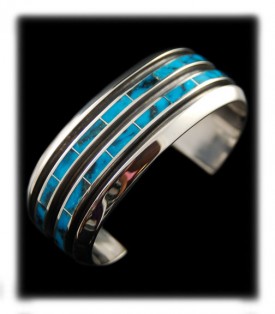 Above is a fantastic inlaid Men's Turquoise Bracelet handmade by Larry Loretto. Larry is an award winning Zuni artisan that has great talent that he uses creating wonderful Native American Indian Jewelry and his specialty is American Turquoise Bracelets. This Bracelet is inlaid with highgrade Kingman Turquoise from Arizona.
Make certain to click on the photos, they will lead you to their presentation pages.
American Turquoise Bracelets from Durango Silver Co
This Beautiful lime green Inlaid American Indian handmade Bracelet is a remarkable piece. Although it does not have American Turquoise, the Tibetan Turquoise was hand cut by an American Artisan of the Southwest. We invite you to view more photos of this American Silver and Turquoise Bracelet on its presentation page where you will see other photos showing the very nice Silverwork that was also put into the design of this very nice piece. Click on the photo.
This Native American Turquoise Bracelet was handmade by Tim Charlie, Navajo. Tim did a great job on the design, both on the Silverwork as well as the intricate Turquoise, Sugilite and Opal inlays. The Turquoise used in this piece came from the Kingman Mine located near Kingman, Arizona USA. Make certain to visit the presentation page for this quality American Indian Turquoise Bracelet as there are several photos showing your what great inlay work is!
Above and to the left is a Native American Turquoise Bracelet created by Ben Yazzie, Navajo. John Hartman cut the Bisbee Turquoise Gemstone and had Ben set it in this classic setting. This American Indian Silver and Turquoise Bracelet has a marvelous Bisbee Turquoise Gemstone from the Bisbee Mine located near Bisbee, Arizona USA. The simplistic, yet, outstanding Silverwork of this Bracelet is classic Navajo with respect to the greatest Turquoise on earth, Bisbee Turquoise.
The Tortoise Turquoise Bracelet to the right was American Indian handmade by Ben Yazzie. Tortoise Turquoise is from the Candelaria Hills, which is near Mina, Nevada. This American Turquoise Mine produces a large variation of color's as the Turquoise run with Variscite, we find beautiful white Turquoise with black spiderweb matrix, yellow Turquoise, brown Variscite, mint green Variscite, a multitude of green Turquoise and Variscite and many color's of blue Turquoise with black matrix. There is a lot of black spiderweb matrix in this formation and the stone is very hard. This Silver and Turquoise Bracelet sets off the beautiful Turquoise gemstone nicely.
| | |
| --- | --- |
| | |
Above and to the left is a spectacular inlaid American Indian Turquoise Bracelet by Julius Burbank, Navajo. This is an outstanding, one-of-a-kind, masterpiece of inlaid Turquoise, Sugilite and Gaspeite. There are so many individual inlays it is hard to count! Julius made the Silver Bracelet frame to have channels in which he inlaid a remarkable mosaic pattern that is truly out of control!
Above and to the right is a Turquoise, Sugilite and Spiny Oyster Shell inlaid Bracelet, Native American handmade by Edison Yazzie. This is a beautiful piece of American Indian Art that is easy to appreciate as it is colorful with a excellent geometrical design. This is a fairly wide cuff bracelet with inlay most of the way around the piece. Edison is a talented American Indian Artisan, he is Navajo.
The Blue Gem Turquoise Bracelet to the left is an outstanding piece of art, which was created by John Hartman. John hand cut all of the stones, a highly unusual freeform Blue Gem Turquoise cabochon and two Sugilite side accent stones. The Bracelet was carved in wax, the lost wax method was used to cast it into Silver and this American Turquoise Bracelet turned out to be an American Southwest marvel. This Blue Gem has not been mined for over 60 years and is rarely scene available, the Hartman's have one of the largest authentic highgrade American Turquoise collections in the world.
Above and to the right is a Victorian style Turquoise Bracelet from the American Southwest created by John Hartman of Durango, Colorado USA. This Southwest Silver Bracelet features a large Blue Gem Turquoise Gemstone accented with six Sugilite Gemstones, all hand cut by John as well. The design has John's carved Victorian motif's wondering in and out between the multiple gemstones. Another rare Blue Gem Turquoise gemstone from the Hartman collection.
Another interesting informational page you would enjoy is Blue Turquoise Bracelets from Durango Silver Company.
Quality American Turquoise Bracelets
Above and to the left is a Victorian American Turquoise Bracelet by John Hartman. This Silver Bracelet is from the American Southwest and by an important Silversmith who was born into this enchanting land of the Southwest. John's work is outstanding and it always stands out in a crowd. This Victorian style Bracelet has great style, it is a good example of John's American Turquoise Bracelets.
The beautiful Royston Turquoise Bracelet in the upper right hand photo was highlighted in the Cowboys and Indian Magazine. This is a spectacular American Turquoise gemstone that is truly one-of-a-kind and this Victorian style Silver Bracelet enhances the beauty quite nicely. John's Victorian style of Silverwork is remarkable and highly unusual.
The Bisbee Turquoise Cuff Bracelet was handmade by Ben Yazzie, Navajo Native American. The design is heavily stamped, tooled and then overlaid with three Bisbee Turquoise gemstones that were hand cut by John Hartman. John owns one of America's finest and largest Bisbee Turquoise collections and cuts quality authentic Bisbee Turquoise gemstones from his collection on a regular bases. The Durango Silver Company group sort the stones and make or have them made into some of the nicest American Turquoise Jewelry coming out of the American Southwest today.
Above and to the right is a Bisbee Turquoise Bracelet that was designed and created by John Hartman. This is a channel inlay Bracelet, old Navajo style, that is inlaid with Bisbee Turquoise from the Durango Silver Company collection. Our company produces these Bracelets periodically, they are very comfortable to wear and exceptionally attractive in style. There are very few American inlaid Turquoise Bracelets being inlaid with Bisbee Turquoise.
We invite you to visit our informational presentation on American Turquoise Necklaces - you will find many great photos along with descriptive text informing you of many factors regarding American Turquoise Necklaces, you can visit our presentation on American Turquoise Rings - this is an informational page specifically dedicated to Turquoise Rings made in the American west with authentic American Turquoise and we have a page all about American Turquoise Earrings.
---
We invite you to learn more about American Turquoise Bracelets as well as American Turquoise Jewelry by following the links in our Learning Center to other informational pages we have written on different topics directly related to American Turquoise Jewelry. In addition, we would like to invite you to join our E-Mail Newsletter - about once every other month we send out a Newsletter to inform our members of what's happening with Durango Silver Company, new products, specials for our members only and more. We also have a monthly drawing from our member base to give away free Turquoise Jewelry from our company. Please take a moment to become one of our friends by signing in below. We hope you have enjoyed our presentation on American Turquoise Bracelets and have gained some useful knowledge from it.